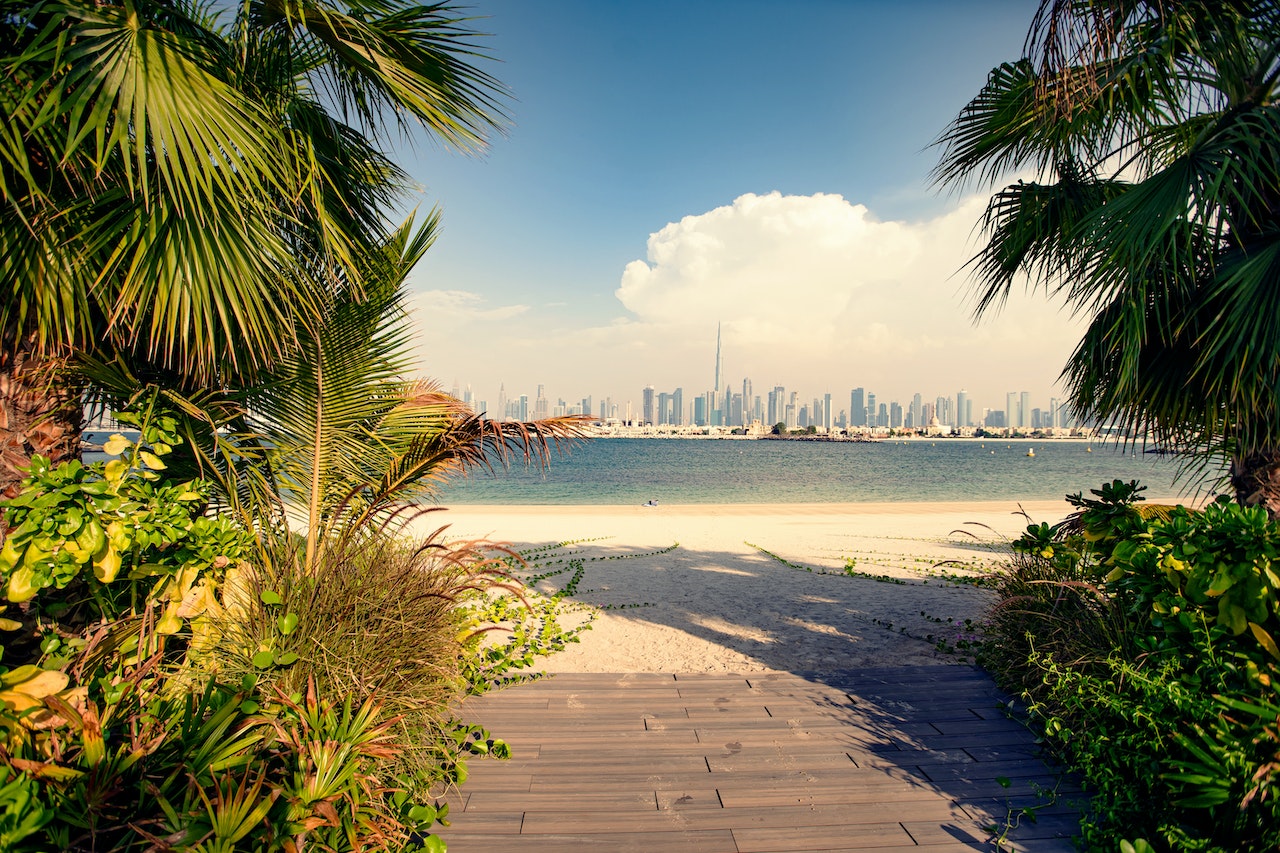 The most populated city in the United Arab Emirates and arguably, the most well-known tourist city in UAE, Dubai, towers over the Arabian sands with its majestic skyscrapers, the most prominent of which is Burj Khalifa (the world's tallest building). But Dubai's arid desert and futuristic architecture are contrasted by a touch of serenity provided by its numerous beautiful beaches. The clean, crystal clear waters paired with the stunning view offered by these beaches are what makes them an extremely popular site for tourists. Here's a list of 5 of Dubai's wonderous beaches you can take a dip in for a perfect getaway from the heat. 
The Jumeirah beach, lined with white sand, overlooks the Persian Gulf Coast. It is a public beach that stands at a distance of about 15 km from the Dubai International Airport. The beach coasts the south of the Al Fahidi historic district to the Palm Jumeirah junction. For adrenaline seekers, the beach offers water sports activities like jet skiing, parasailing, donut riding, and many more. For a more tranquil experience, the gardens and parks surrounding the beach offer a great picnic spot to lounge in and unwind.
Public Transport:  
Bus/Metro (nearest metro station is about 10 mins away)
Entry Fees: 
Free for all (sports activities and sun loungers are paid)
Timings: 
7:30 am to 10 pm 
Nearby Tourist Attractions: 
The Burj Al Arab or Arab Tower: 7 km away

Dubai Zoo: 5 km away

Wild Wadi Water Park: 9 km away
Visiting Tips:
  – Avoid peak summers due to high heat and humidity. 
  – The beach gets crowded during peak hours, so try to get there a little          earlier.  
Kite Beach, just off Jumeirah Road to the south, is most famous for the extensive kitesurfing that takes place along its coast. Another white sand beach, it has a 14 km long jogging track laid along it for all those who want to burn some calories while enjoying a breathtaking view. Other than kitesurfing, you can also find a range of watersports activities offered here such as paddle boarding and wakeboarding. The multiple food trucks lining the beach are there to cure your hunger after a long, active day at Kite Beach. 
Public Transport: 
Bus/Metro (nearest metro station is 5 km from the beach)
Entry Fees: 
Free for all (water activities are paid)
Timings: 
Open always (beach water is closed off after sundown)
Visiting Tips: 
Avoid peak summers due to high heat and humidity
If you're looking for an aesthetic beach that perfectly combines city luxury with the seaside experience, La Mer, in Jumeirah 1, is the beach for you! The city skyline view from here is not to be missed, catch a glimpse of the Burj Khalifa in this breathtaking scenery. A quick stroll around the area will have you find that La Mer beach is lined with lavish shopping stores and movie theatres to meet all your retail and entertainment needs along with play areas for families with children. If walking around this 13.4 million square foot beach area has got you feeling famished, the innumerable eateries and restaurants ranging across a vast number of cuisines from Japanese to Indian are sure to leave you with a satisfied appetite. If you're looking for a thrilling way to end your day, explore their various water sports options or just drop by the Laguna Water Park at La Mer Beach! 
Public Transport: 
Bus/Metro (nearest metro station is a 4 min walk away)
Entry Fees: The open beach area is free to all, some other amenities such as the water park, restaurants, shopping outlets, cinemas, and parking are paid.  
Timings: 
Retail outlets: 10 am to 10 pm (open till midnight on Fridays & Saturdays)
Restaurants: 10 am to 12 am (midnight) 
Water Park: 10 am to 8 pm
Visiting Tips: Optimum time to visit is between October to February, avoid peak afternoons.
Al Mamzar Beach Park in Deira sprawled over an area of 106 hectares, consists of 5 public beaches, a wide park area, and 3 swimming pools. Grab your baskets and quilts and have a memorable day of picnics, swimming, and soaking in the beach sun with your friends and family here. This is the place for your perfect Barbeque night opposite beach number 5, with BBQ grills and chairs available. Enjoy swimming in the moonlight, with the second-of-its-kind night swimming facility in Dubai at Al Mamzar. Experience jet skiing and other water activities, or you can rent out a cabin for a night in. Kids' play areas are also available for families with young children. 
Rule: Only women and children (including boys under 4 years of age) are permitted on Mondays and Wednesdays. 
Public Transport: Bus/Metro (nearest metro station is 6 km away)
Entry Fees: – Park entrance : AED 5/person
– Swimming Pool entrance: AED 10/Adult, AED 5/Child
Entry is free for children under 2 years of age and people with special needs. Water activities and rentals are paid. 
Timings: – Sunday to Wednesday: 8 am to 10 pm
– Thursday to Saturday: 8 am to 11 pm (including public holidays)
– Ramadan: 8 am to 11 pm 
Visiting Tip: Be mindful of the women and children-only days and plan your visit to Al Mamzar accordingly. 
5 km into the Persian Gulf, Dubai boasts its largest man-made island, the Palm Islands. Within this is the lavish Palm Jumeirah island, which houses 22 of some of the most luxurious hotels and various shopping malls, deluxe holiday homes in Dubai, and beaches. In this opulent island city, you can visit the Aquaventure Water Park belonging to Atlantis Resorts, which is one of the largest water parks in the world. The Pointe Shopping Centre is spread across a large area and holds hundreds of shopping outlets and restaurants. Get up close and swim with dolphins at Dolphin Bay, or snorkel and dive alongside marine species including sharks and stingrays. For an adrenaline rush, speedboat across the Palm Jumeirah with Splash Tours, or for those who dare, strap yourself in and skydive over the island with Skydive Dubai for the most memorable aerial view of this archipelago. The View Palm Jumeirah is the place for a surreal sunset sight of the island. The shores of Palm West Beach are also known for their alluring sunsets. 
Public Transport: The Palm Monorail connects the island to the mainland. 
Timings: Palm Jumeirah is open at all times. Timings of hotels, malls, and tourist sites vary.
Entry Fees: Anyone may enter Palm Jumeirah, but individual establishment and tour costs vary. 
Visiting Tip: November to April is a good time to visit the Palm. However, January and February are peak tourist months.
Conclusion
It's no mystery as to why Dubai is such a popular tourist destination, receiving an influx of over 14 million international visitors as of 2022. The pristine beaches welcome a large number of these tourists, and Palm Jumeirah hosts over 4 million guests every year. Dubai's allure lies in its land and coasts, and its beaches should be an unmissable destination in your itinerary. 
FAQs
Are there lifeguards on Dubai beaches?
 Ans – Yes, most of the popular beaches in Dubai have lifeguards across the shoreline to ensure the safety and comfort of all beach visitors. It is imperative to make sure you obey the instructions given by the lifeguards to allow a hassle free experience.
Is swimming in the water allowed at Dubai beaches?
Ans – Yes, most beaches in Dubai have a designated swimming area where you may take a dip in the water. Swimming beyond these demarcated boundaries is dangerous and might incur penalties. 
Is there a dress code at Dubai beaches?
Ans – In most popular beaches, any swimwear is acceptable. However, it is important to ensure that you cover up once you step outside the beach area as this attire will not be considered respectful if worn in other public places. It is always helpful to carry a set of regular clothes to change into after you are done swimming. 
Are there changing stalls/shower stalls and toilets available at Dubai beaches? 
Ans – Typically, Dubai beaches have public changing rooms and washrooms right next to the beach area. You can use these to wash up and change into regular attire after your beach visit.