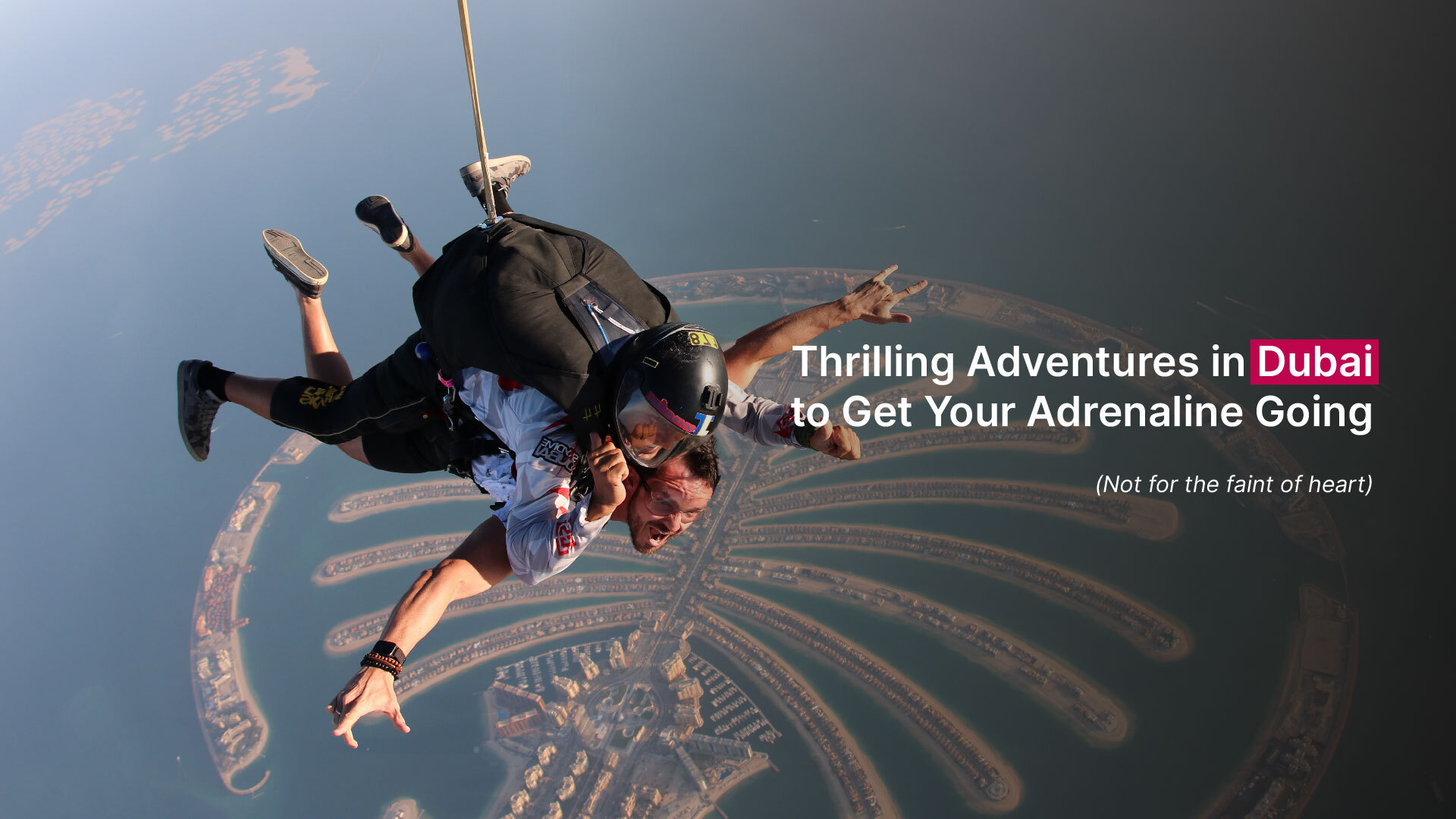 Dubai, being an extremely popular tourist destination, has no lack of recreational activities to give you a happening stay with numerous attractions and activities to fill up your day. Right from deluxe holiday homes to mind boggling adventures activities, Dubai offers a plethora of options that are truly an adrenaline rush. Dubai has something for all types of tourists. 
Here are some of the best extreme Dubai adventures to evoke the thrill seeker in you.
Sky High Adventure
Sky's the limit for this one. Experience Dubai from a unique perspective with these various types of sky adventures.
SkyDiving
Skydiving in Dubai is a popular open-sky thriller that can get your heart pumping while adrenaline rushes through your veins. Jump or free fall 4000 meters out of an airplane or from a tall building and experience this high-risk, high-reward adventure.
Enjoy the bird's-eye view of the amazing Palm Jumeirah and Dubai skyline and parachute through iconic buildings like Burj Khalifa and Burj Al Arab.
Ziplining
Ziplining will make you feel like Superman as you slide down through the city of Dubai. Experience the thrill of a lifetime in this exciting adventure that will surely get your adrenaline going.
The zipline takes you over land or water at up to 80 km/h and 170m high above the ground, where you can view the luxurious yachts and great Dubai architecture. The best location for ziplining is Dubai Marina, Jebel Jais Ras Al Khaimah.
Helicopter Tour
Buckle up and fly above the grand and lively cityscape on a Dubai helicopter tour and get to experience the breathtaking vistas of the Gulf Tiger.
Feel the thrill as you soar into the skyline of the golden city, viewing the iconic landmarks, including the marvelous Burj Khalifa, the wonderful Palm Jumeirah, and the glimmering coastline that stretches into the horizon.
Hot Air Balloon
Get your spirits lifted as you take off into the serene skies of Dubai and tour around the modern city. Feel the gleaming sun's energy radiating through your body as you view the sunrise or sunset up in the sky.
Enjoy the amazing backdrop of Dubai's architecture, which is a bonus, making a great photo moment for you to keep and remember. Make the most of your trip and go for a trip to a desert safari in Dubai, which includes an early morning hot air balloon ride along with a delicious breakfast.
Sea Adventures
This is one's for the thrill seekers, enjoy the wide variety of sea adventures in Dubai and explore the Persian Gulf Coasts.
Scuba Diving
This popular sea adventure is an interesting way to explore the underwater world of exotic marine life and vibrantly colored corals. You can also go snorkeling on Dubai beaches and get to know the sea life of the Persian Gulf Coast.
Relive the experience of watching 'Finding Nemo—except you're actually in the ocean swimming with the colorful fish and turtles. Jumeirah Beach is one of the best scuba diving spots in Dubai, offering a beginner-friendly ocean to swim in.
Jet Skiing
The thrill of speeding with only raw power and velocity represents the perfect combination of form and function. Jet skiing, one of the most popular water adventures, makes you feel like you're in a cool action movie, chasing down bad guys.
Riding a jet ski on the coast of Palm Jumeirah and Marina is a guaranteed fun adventure that you can tell everyone about, so don't forget to click pictures of you looking cool on a jet ski ride.
Flyboarding
Fly like a superhero in this amazing water adventure by standing on a jetpack powered by a strong motor that sends you to the sky.
An expert will guide you through the adventure, so you don't have to worry about trouble, as Dubai Marina has plenty of water sport service providers. 
Seabreacher 
The seabreacher is designed to look like a shark with a jet-powered engine, and when you take it to the sea, people will be left wondering if there was a shark in the ocean.
This two-seater adventure pod that takes you on a joy ride at a speed of 88 km/h is piloted by an expert, so you get a breathtaking view of the vistas of Dubai.
Water Skiing
If you are looking for an sea adventure that is as thrilling as skydiving, then the water equivalent water skiing promises to give you that adrenaline rush.
Towed behind a powerful machine that zips you along the surface of the water, making it the perfect activity for thrill seekers.
Parasailing
This thrill ride is like hot air ballooning, except you're above water that is guided by a boat. Parasailing is for people who like to take things slowly, making this water sport perfect for couples.
You can try out both paragliding and parasailing, as these are must try experiences when traveling to Dubai. 
Desert Adventures
The expanse of the Arabian Desert encloses Dubai on the inlands. The golden dunes and sand sprawled over a vast area make for the perfect desert adventures and safaris for tourists. Be sure to catch the immaculate desert sunsets during your safari, while engaging in some of these thrilling sand activities!
Dune Bashing
Experience the feeling of being in a Mad Max movie as an SUV climbs up and down the dunes of Dubai. 
Hop on a 4×4 and ride around in the desert, where sand is spraying in the air and the ground feels like it is slipping underneath. Dune bashing in Dubai will be a mixed sensation.
This roller coaster ride will definitely amuse you with its alluring scenery, where you can capture those magnificent moments and remember them.
Buggy Riding
Just like dune bashing, buggy riding is also another 4×4 adventure that takes you on a thrill ride. This powerhouse monster can house up to four passengers and a driver, making it easier for a group of friends to have fun together.
Some of the best deserts where you can go for a buggy ride are Al Faya Desert, Liwa Desert, Lahab Desert, and more.
Quad Biking
One of the most popular activities in desert adventures is going on a thrill ride with this beginner-friendly 4×4 ATV that guarantees a great adventure and an adrenaline rush.
Quad biking is for those thrill seekers who love speed, as the power can be overwhelming to handle, although you will be guided by an expert throughout the adventure to ensure safety.
Sand Boarding
This adventure puts your balancing skills to the test as you slide down the dunes with a board. Whether you go by yourself or with friends, this activity is more fun and exciting when you're competing to see who can slide down first.
Dubai is truly a city with innumerable opportunities for adventure. If you're looking for a vacation brimming with thrills, then Dubai is a great destination. So strap in and leap into the plethora of daring deeds, relax in the furnished apartments in Dubai, and feel the bliss that makes it a memorable, once-in-a-lifetime experience.
To know more about the various aspects of Dubai, visit HolidayKeepers UAE, or contact us for more information.
FAQs
What is the best time to visit Dubai?
It is recommended to visit Dubai during the winter months of November to March.
What is the Best time for a Dubai helicopter tour?
The mornings are usually the best time for a helicopter tour in Dubai, so that you can carry on with the rest of the plans you have.
What time of the day is best for Hot air ballooning in Dubai?
The sunrise and sunset is mostly a better option, as the sun during this time of the day wouldn't be that harsh.
What extra activities are there in Dubai?
Apart from the outdoor activities, there are several indoor activities like visiting Burj Khalifa, IMG Adventure Park, Dubai Aquarium, Shopping at Dubai creek, etc.