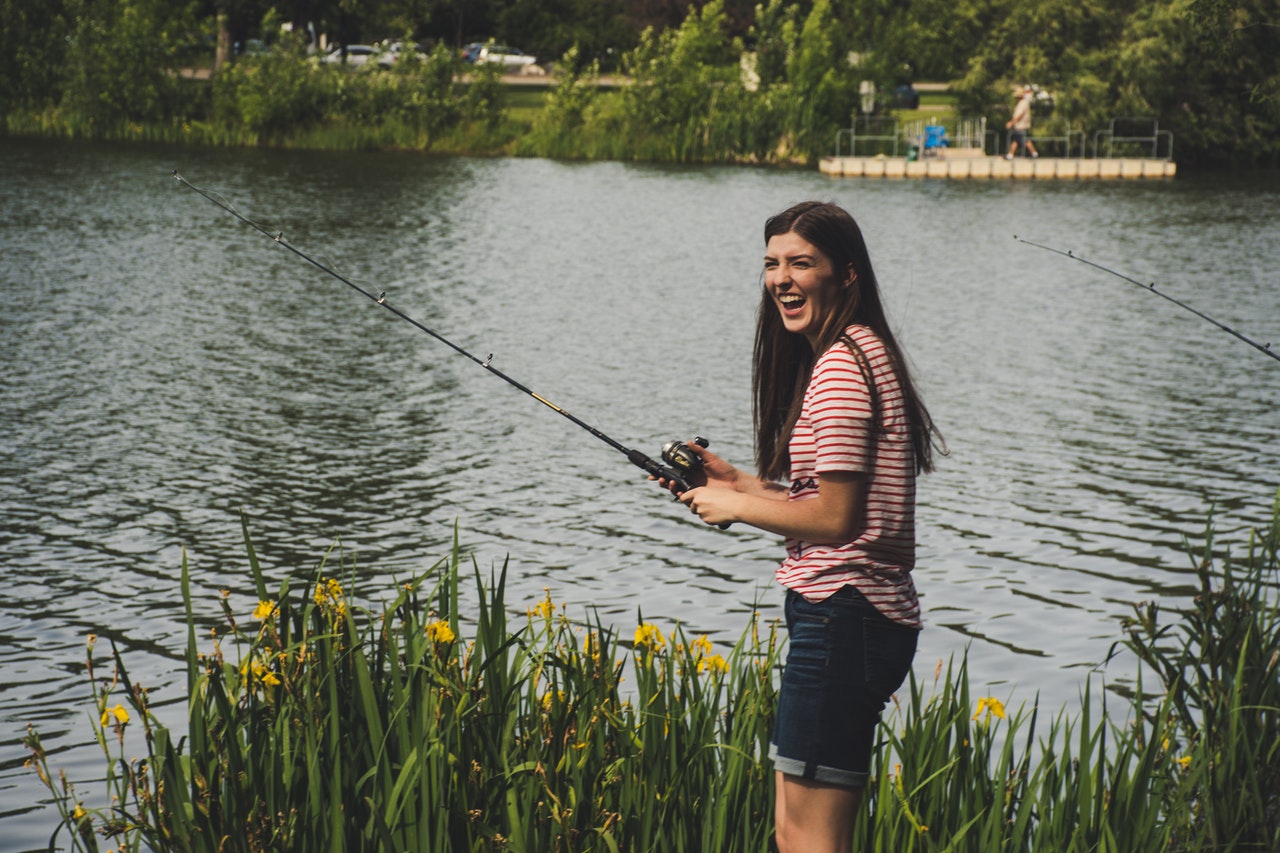 Everyone likes fishing, isn't it?
Fishing can be a fun sport for young and adults alike and promotes quality family time. It's an excellent way to get away from those hectic urban schedules. So, we have compiled a list of great fishing spots for you in the Poconos for a relaxing and fun getaway. So, prepare the baits and reel them in.
Lake Wallenpaupack
First on our list is Lake Wallenpaupack. It is a reservoir and offers a great place to relax and enjoy. This 13 miles long Lake provides an excellent opportunity to catch several fish species, and different types of fish thrive at different sections of the reservoir, such as towards the north end near Hawley and Wilsonville; you can find striped bass, walleye, and smallmouth bass. Towards south near Ledgedale Rec Area, is best for bluegill and largemouth bass, and at the center, calico and perch. And at Wallenpaupack Sports Shop you can buy any equipment you need for fishing.
Please note that you must sign a fishing license if you are 16 or above.
Fish species of Lake Wallenpaupack
Striped Bass
Walleye
Largemouth Bass
Smallmouth Bass
Rainbow Trout
Northern Pike
Rock Bass
Yellow Perch
Brown Trout
Bluegill
Muskellunge
Lake trout
Promised Land State Park Fishing Spots
Another great spot for fishing in the Pocono is Promised Land State Park with 442 acre of Promised Land Lake and 172 acre of Lower Lake. The Lake is stocked with varieties of fish including brook, brown, and rainbow trout. This fishing point is ADA accessible and requires a fishing license.
Some of the common fish species are:-
Largemouth bass
Pickerel
Muskellunge
Yellow perch
Sunfish
Catfish
Mauch Chunk Lake
Mauch Chunk Lake is 345 acre and you can fish on this Lake throughout the year. Fishing is permitted throughout the shoreline except in the area designated for swimming. Due to the abundance of natural and man-made habitats, several species of fish thrive in this water, but the Lake is designated as big bass, so any bass below 15 inches are illegal to capture. The Mauch Chunk Creek along the switchback trail is a good spot to hook rainbow and brook trout.
Fish Species:-
Perch
Chain Pickerel
Catfish
Bluegill
Crappie
Largemouth bass
Smallmouth bass
Walleye
Fishing in Lake Naomi
Lake Naomi is one of the largest private lakes  and is one of the cleanest in the Poconos. Fishing is permitted in all three lakes of Lake Naomi as well as in Fishing Pond and these lakes are stocked with several types of fish which makes it one of the best spots for beginners to try their luck with fishing. Lake Naomi also offers several fishing programs like Annual Bass Tournament, Kids Fishing Clinic, Youth Fishing Clinic etc, but requires a fishing license for all anglers aged 16 or above.
You can expect to catch below species on this water.
Largemouth Bass
Smallmouth Bass
Black Crappie
Walleye
Yellow perch
Bluegill
Rainbow trout
Chain pickerel
Bradys Lake
Just 5.5 miles from Pocono Pines and surrounded by woods, this pond is secluded from the outside world and teeming with shoals of fish. This 223-acre pond is considered the favorite spot of anglers, so visiting this fishing spot will never disappoint you.
Fish Species of Bradys Lake
Largemouth bass
South Mouth bass
Yellow perch
Bluegill
Pumpkinseed
Hickory Run State Park
Hickory Run State Park is the most renowned park in the Poconos and an excellent place to anchor your reel. With many streams and lakes within the park boundary, it's a paradise for anglers, and most of the streams are stocked with brook and brown trout. Some of the best spots are Fourth Run, Hawk Run, Hickory Run, Mud Run, and Lehigh River, but keep in mind that fishing is prohibited at Sand Spring Lake.
Most Common Species here are:-
Brook trout
Brown trout
Rainbow trout
Black Bullhead
Tobyhanna State Park
A hidden gem in the Poconos, the park offers several outdoor activities, but nothing comes close to the excitement and joy brought by fishing. This is a must-visit place for an unparalleled fishing experience. This 170-acre Tobyhanna lake offers warm water fishing, and it's ADA accessible so that everyone can enjoy the fishing time.
Common Species are:-
Bass
Pickerel
Yellow Perch
Catfish
Sunfish
Brook
Brown Trout
Please note:-
Fishing License in Poconos
In order to fish in these Lakes you require a fishing license.
Fee Annual: $22.97 (Resident age 16-64)
$11.97 (Sr. Resident age 64 & up)
$52.97 (Non Res. age 1& up)
1- Day Fee: $26.97
2-Day Fee: $26.97
7-Day Fee: $34.97
Embark your journey to the wonderlands of the Poconos and experience these fantastic and one-of-a-kind fishing spots with your family and friends. And to experience a one-of-a-kind luxurious stay, check in to HolidayKeepers and select from a wide range of luxurious cabins, villas, cottages, and lakefront homes with exclusive modern amenities.
Summit Lake Poconos
Summit Lake is the ideal destination if you're looking for a great catch during spring. Known for its stellar landscapes and diverse species of fish, you'll be more than happy to make this destination your favorite whenever you feel like casting a line. The atmosphere and beauty are bound to make you fall in love with the place, even if you've been here many times, making it the best relaxing getaway. 
The fishing season goes on till fall through spring. Many anglers find a lot of catches during April and May when they're reeling for rainbow trout and kokanee, yellow perch, and bass in the months of summer and fall. 
There are also a ton of fishing events held on the lake annually. The Trout Derby is held annually with a list of fish to catch to earn the prize. There are also calendars set up and events for specific fishes through the seasons, so you'll never miss out on a challenge.  Here you get to catch fish like: 
Rainbow Trout 

Kokanee

Largemouth Bass

Smallmouth Bass

Yellow Perch

Brown Bullhead

Pumpkinseed Sunfish

Coastal Cutthroat Trout (Resident)

Northern Pike Minnow
Arrowhead Lake
Arrowhead Lake is a natural lake, known for being one of the biggest spots for fishing in the Poconos. The lake is home to mesmerizing views and breathtaking surroundings, bound to make anyone's stay more than memorable. Arrowhead lake is also known for its crystal-clear waters, helping anglers to aim their throws and catch the fish rather easily, compared to other conventional fishing spots. The destination is great for fishing, even if you're a beginner or a seasoned fisherman. If you're looking for a destination for all your fishing retreats, you're at the right place. 
The destination is also a secluded and gated community. Only residents and guests have access to go fishing, making it a great spot to catch fish and enjoy some peace and quiet throughout your day. 
Finally, the lake also hosts a ton of boat launches, allowing fishermen to go about and select the best spots to make a catch without breaking a sweat. If you feel like taking a break, the picnic spots are great. The picturesque views will make your day and have you back in the action in no time. Here are the fishes you get to catch: 
Largemouth Bass

Bluegill

Rock Bass

Yellow Bullhead

Yellow Perch

Smallmouth Bass

Black Crappie

Chain Pickerel
FAQ
Lake Wallenpaupack is 13 miles long.
The fishing programs in Lake Naomi are Annual Bass Tournament, Kids Fishing Clinic, Youth Fishing Clinic.
The best spots in Hickory Run State Park are Fourth Run, Hawk Run, Hickory Run, Mud Run, Lehigh Run.
Promised Land State Park comprises 442 acres of Promised Land Lake and 172 acres of Lower Lake.
The fish species found in Mauch Chunk Lake are Perch, Chain Pickerel, Catfish, Bluegill, Crappie, Walleye.