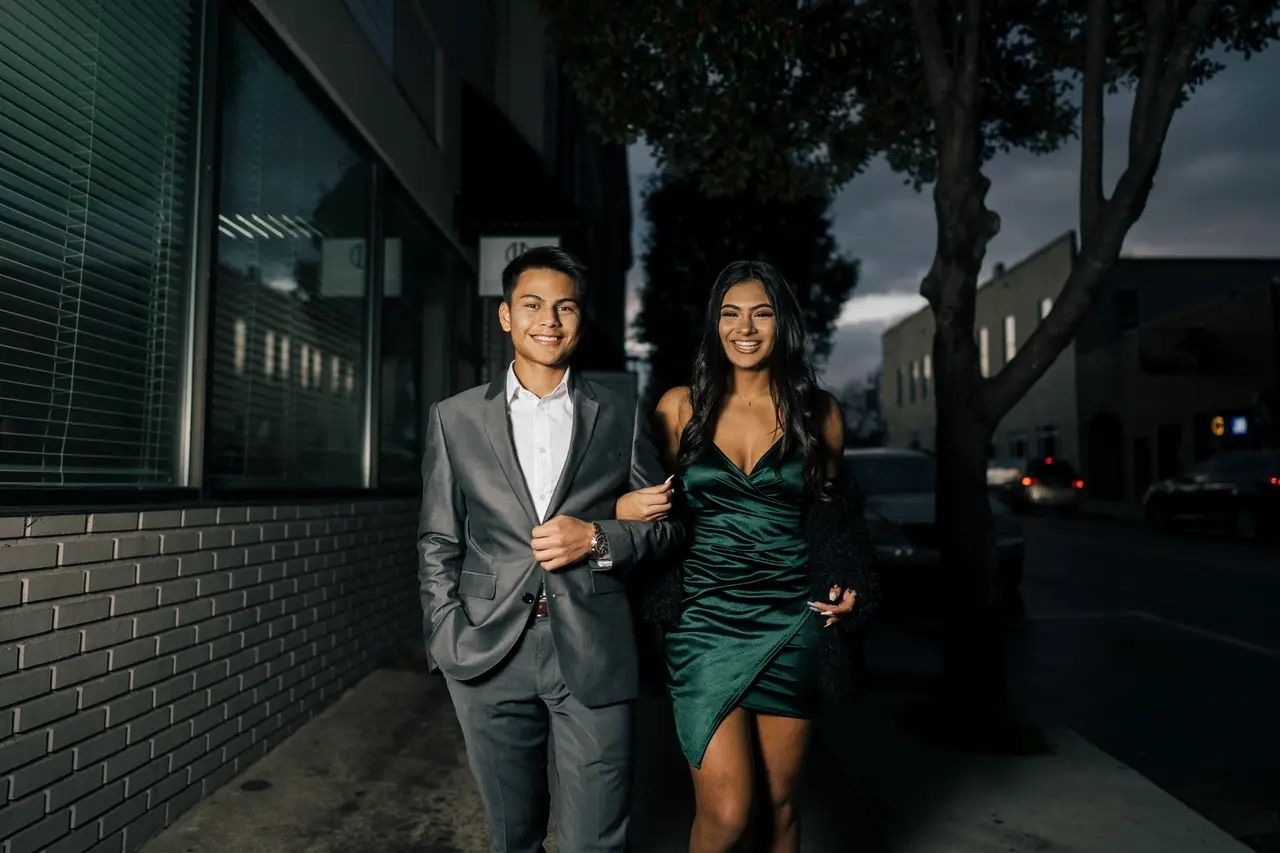 Are you a black belt in shopping just like Phyllis Nefler from Troop Beverly Hills? Even if you are not, we have you covered! Just summon your inner Carrie Bradshaw and we'll take you through your transcend from a homebody to being the perfect homecoming star of the night.
Glam up for your prom night with the best of prom dresses and suits as you gear up like never seen before.
FOR THE GIRLS
Outfits:
Plan your outfit well in advance. We don't want the last-minute ruckus of a thread falling apart or a corsage not complimenting our fit. With a myriad of outfits to choose from, you can plan your entire look around the palette which sits just right with your aesthetic.
You can find your fashion inspiration from Y2K. Go complete Olivia Rodrigo with your outfit, accessories and footwear. Inspired by the late 90s, you can be radically distinctive from your peers with your outfit. 
If Y2K is not your vibe, you can never go wrong with black. Be it black off-shoulders or LBD, there is just no way that you can mess up that look. Nail the goth princess look with a graceful black dress that falls just right off your shoulders as you pair it up with subtle gold ear and neck pieces and strut around with the right shade of silver or rose gold stilettos.
Look like a dream as you wake your inner Jane Austen up and go for a cottage core aesthetic. Elegant flowy dresses with puffed sleeves paired with the perfect golden hoop ear pieces and a small neckpiece are the prettiest look ever. A touch of wavy hair and perfect heels is just the perfect icing on the cake.
The Evening gown aesthetic:
For all those who want to play it safe, you just could not turn it off with classic evening gowns. A gown of the perfect shade of crimson or green with the classiest of silver or ivory-white stilettos is just the chef's kiss.
Make sure you know your aesthetic while planning your look for the big night.
Makeup:
As much as the outfit plays the biggest role, you need to focus on your hair and makeup as well. The holy trifecta of your attire, hair and makeup, and footwear is what is going to make your entire ensemble just out of a midsummer night's dream.
Base

:
To get the perfect makeup look, make sure that your skin is well hydrated and prepped. Apply moisturizer and serum to get the perfect makeup finish. This will also prevent your skin from breaking out because of all the makeup. 
While applying foundation, make sure you dab some of it onto your ears as well. We don't want to look like a monkey with our ears turned red with sweat from all the dancing. Apply your under-eye concealer in a triangular shape to give the perfect blend with your foundation without making it look absurd. 
Prime your eyelids with white liner before you do your eye makeup lest you want to mess your eyeliner and mascara up with your eye shade. Fill in your brows but don't go all Cara Delevigne while you are at it. To get the smooth eyeliner finish, warm your pencil up a little before applying to get the perfect glided wing. If your eyes bear an uncanny resemblance to the Pufferfish, use the goodness of chilled green tea bags to reduce the puffiness of your eyes.
If you have a zit that just will not quit, you can use an extra primer to cover it up or soak a Qtip in eye solution and keep it for a few hours in the freezer. This will help you get rid of the redness of your unwelcome guest.
 Get the perfect lip shade by using the 2 step lipstick hack. First, apply a shade of one colour on your whole lip and then blend 3 dots of a light shade to give it the perfect hue. You can use lipstick shades with a blue undertone to enhance the whitening of your teeth. 
Do yourself a favour and apply deodorant to the sides of your feet before your soul leaves your body while dancing in those high heels.
FOR THE BOYS
Guys who take skincare seriously are just a notch above the rest. Even if you don't, make sure you do some kind of skincare just for the sake of prom night. 
Choose the right tuxedo. Make sure it fits you well without making you look too loose or too tight in it. You can opt for a black cummerbund to add the oomph factor to your outfit. 

Wear the perfect shirt with your tuxedo. Preferably white, make your shirt sit just right and compliments your entire look.

Add the extra swoon with a bow tie and you will surely make heads turn. This entire ensemble paired with the perfect hairdo of Angled Faux Hawk or textured haircut and the perfect dress shoe will not let you down in any way.