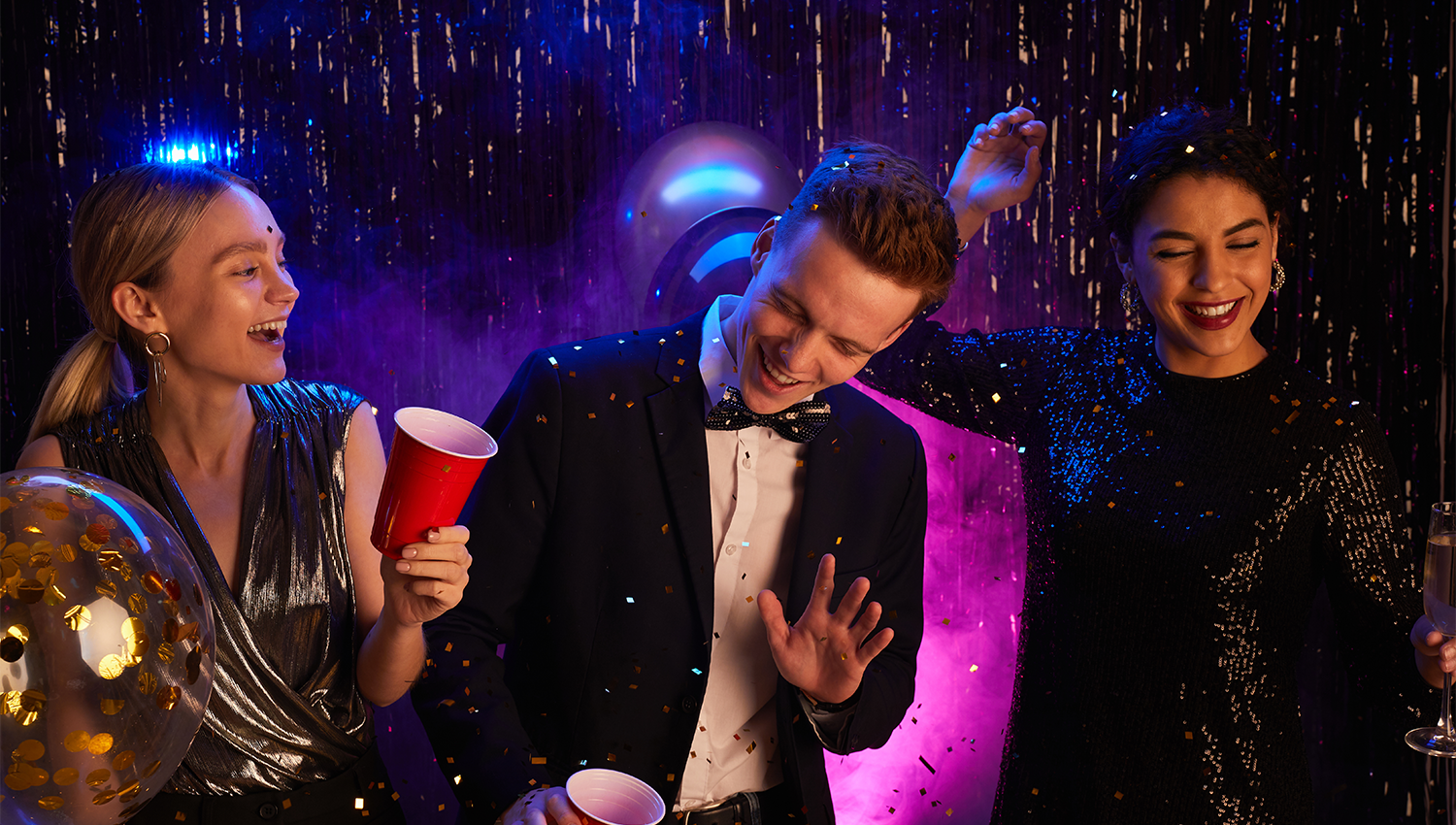 So, you are on the Prom committee this year and you are brainstorming on how to make it the best prom everyone has ever seen? Well, we couldn't help but overhear that you are looking for games to enthrall your guests with and we could help! Having planned a few proms ourselves, we would know a thing or two about planning one!  
Here is something, why don't you go to prom games? This is one of the really good prom theme ideas that would get everyone involved! 
Let the prom games begin! 
Playing Dominoes is enjoyable before, during, and after the prom. A cardboard domino will be given to each boy and girl. A full set of 28 dominoes, from blank to double sixes, will be distributed. Both the boys and the girls will receive a set of each. If more people arrive, place additional dominoes if necessary. The leader now creates dancing pairs according to the numbers before the dancing starts. A boy with a 4-6 domino, for instance, could dance with a girl who had a 4 or a 6 on her domino. Change partners occasionally while dancing while adhering to the same idea.
A large group of close friends would enjoy playing the game Circle of Friends together. Place all of your friends in the middle of a sizable room after gathering them all. Make sure they are entangled and close together. Have them quickly grab the hand of someone else after that. This needs to be completed quickly and mindlessly. They must then work to free themselves from the tangled web after each person has grabbed two hands. They are unable to release their grip. To untangle everyone, it might be necessary to crawl or jump over people. Everyone will laugh a lot as they try to split up during this game. Everyone will end up in a circle holding hands once the web has been untangled.
The party game "Never Have I Ever" is well-known. Although it's frequently played as a drinking game, this isn't appropriate for high school, so dares should be used instead. Each participant in Never Have I Ever sits in a circle and raises ten fingers. The first player then declares something they haven't done while adding, "Never have I ever." For instance, they might state, "I've never been to Florida." The person to the right of the first person repeats, "Never have I ever been to Florida," if they have never been there. People who have never visited Florida continue to say "Never have I ever been to Florida" in the direction of the right.
Try a silent disco after prom if there are noise restrictions but you still want to keep the party going! To enable them to continue dancing long after the rest of the world has gone to sleep, students will be given headphones that all play the same music.
After the dance is over, rent some black lights for your school's gym and hold glow-in-the-dark contests! Everyone will enjoy playing glow-in-the-dark Frisbee in large groups or creating their own glow-in-the-dark bowling.
For a memorable evening, create gigantic versions of your favorite board games! EVERYONE will always remember the night even if it takes some creativity to set up life-size Jenga, horseshoes, or even CandyLand (with real slides)!
One of THE BEST prom entertainment ideas you'll EVER come up with.
You can either reserve a laser tag field nearby, or you can give them a call a few days beforehand to see if they can fit you and all of your friends. Make sure to get a change of clothes at home before continuing. Create teams out of everyone and engage in some friendly competition.
Many bowling alleys stay open late, particularly on prom night. To keep their high school students safe at night, some schools will even rent out an entire bowling alley. Find out what the local bowling alleys have to offer by doing some research. Tell all of your friends to dress in a theme for your after-prom activities, such as a hippie, 90s, school spirit, or whatever you want! You can bring your own bowling shoes if you don't want to use the communal ones. Even bowling shoes that match your attire might be available.
Activities after prom don't have to involve traveling. Whether you're good at it or not, ping-pong is a fun party game that anyone can enjoy. To encourage guests to play, leave some paddles and ping-pong balls on the table. If enough people show an interest, you can even organize a tournament. Players should be put into a bracket, and the winner should be crowned the "Prom Party Ping-Pong King/Queen." Any tabletop game, including air hockey, foosball, pool, and ping pong, can be used in place of ping pong. Yet another great prom game! 
Draw two parallel lines and divide everyone up. There will be a stack of clothing or other props at the beginning of each line. Each participant must don every article of clothing before having a phone photo taken of them. After the photo is taken, they are required to remove all of their clothing and pile it up for the following player to do the same. The first-place finisher team wins. This game can be a good way to break the ice at the start of the after-party. Doesn't it seem like one of those super intriguing prom games?
There is absolutely NO WAY that you can go wrong with karaoke. And there is guaranteed fun included. Absolutely fool-proof. Get a karaoke machine or rent one so that you and your friends can demonstrate your musical prowess or lack thereof. Having performers at your event will draw a crowd and keep your guests entertained for a while. If your visitors are really into it, you could host a spin-off of American Idol called "Insert High Schools name" Idol. Have each performer be eliminated after receiving a rating from the audience on a scale of 1 to 10.
These prom games are sure to lift everyone's spirits and make it a night to remember. 
Happy Prom! 
FAQs
What are some unique prom games to make the night memorable?
There's karaoke, bowling, truth or dare, never have I ever and so much more.
Are there any prom games that can be played with a large group? 
Yes! There's karaoke, bowling, truth or dare, never have I ever and so much more.
What are some creative ways to use props in prom games?

 
You can use balloons, tinsels, confetti, beads, flowers and so much more! 
What are some tips for hosting a successful prom game night? 
Make it a team effort, pick a date and time, pick a theme, come up with great entertainment ideas and refreshments, and send out witty and beautiful invitations.