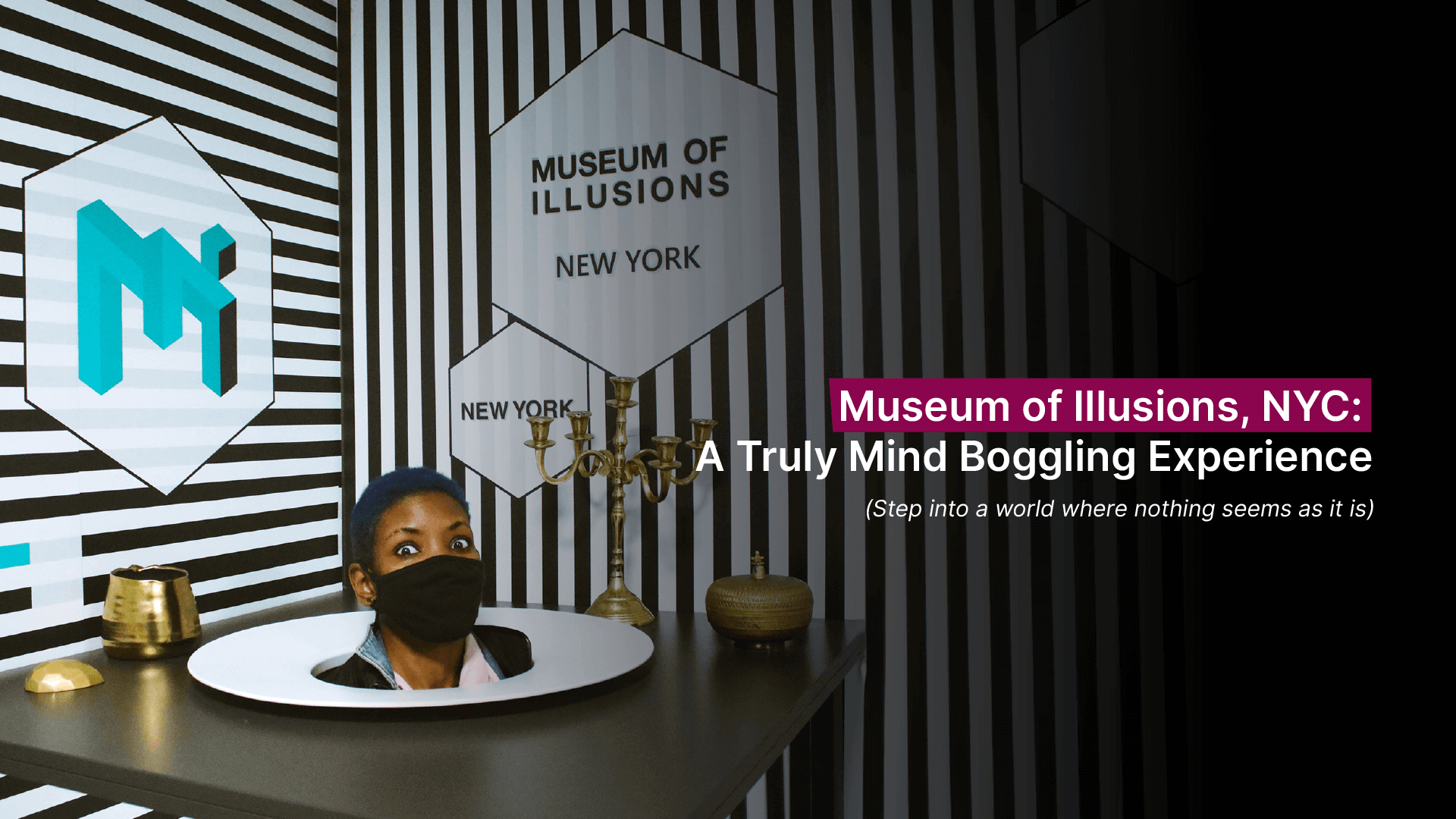 Walk on walls, turn into a giant or shrink into a dwarf and experience more mind bending tricks at the  Museum of Illusion in NYC. If you are looking for a unique experience in the city then this is the place for you.
It is one of the most instagrammable museums in the city and is extremely interactive, so don't forget to bring a camera with you. So, let's explore the wonders of the Museum of Illusion, New York and know why it's a must-visit.
What is the Museum of Illusion? What to expect?
The Museum of Illusion, New York is the seventh of its kind, the first one was started in Zagreb, Croatia. It's a museum with 70 fun and amazing exhibits. The museum is also educational as it employs architecture, design, psychology and math to make their illusions and puzzles work, and  try to teach how vision, human brain and its perception work.
The museum spans over 4500 sq ft which is spread across two floors. This place lets you touch and interact with the exhibits, they even let you take as many pictures as you want, making it very instagram friendly.
List of exhibits categories
Photo Illusions:
Test your brain and find out what these images are hiding in plain sight. Photo illusion can be fun and fascinating at the same time, providing info on how the brain works differently in every individual.
Optical Illusions:
 Get baffled and amazed by the images trying to play tricks on you. If you love optical Illusions, then this is the right place to experience mind-boggling eye-mind coordination. 
Holograms:
No more science fiction, find some of the best holograms in the world at the Museum of Illusion in NYC. Holograms are known for producing amazing 3D images created by the meddling beams of light that reflect real and physical objects.
Bottomless Pit:
Watch your steps near the Bottomless Pit. A great and amazing illusion that will for sure make your mind wonder if you could really fall into the dark pit. 
Beuchet Chair Illusion:
If you are a great fan of the Beuchet Chair trick, then you don't want to miss out on this great illusion at the Museum of Illusion in NYC.  The illusion involves using a carefully crafted and placed large chair back, seat, and a normal base of the chair, which makes people appear to be tiny.
Ames Room:
Human brain is no doubt a sophisticated product of millions of years of evolution, but it's surprisingly not very hard to trick the mind. Experience this incredible room of illusion wherein just walking back and forth makes you a giant or a dwarf, a fascinating mental deception. 
Reverse Room:
Look at the world from a different angle and defy the laws of gravity in the Reverse Room. Pose for the baffling photos with a jaw-dropping backdrop. 
Infinity Room:
Embark on a journey where the fun never ends, a world where mirrors are installed at full height, creating an optical illusion of endless space.
 Tilted Room:
Experience the unique way to test your sense of balance in this puzzling world of tilted rooms, specially designed to challenge and boggle your mind in a fun and entertaining way.
True Mirror:
What does it mean to see your true self? Come and look at the True Mirror in the Museum of Illusion, which doesn't reverse your image, see your true self in a really deep and profound way.
Stereogram:
Experience the mind-boggling fun and find the hidden image within the stereogram. It will take a couple of tries to master the trick to find what exactly the stereogram is hiding. Make sure not to focus on the picture, but anywhere behind the picture.
Kaleidoscope:
Fall into the colorful world of Kaleidoscope. The Kaleidoscope at the Museum of Illusion is unique in that sense, here you will not find the pattern of colorful papers and pearls, instead, it offers an opportunity for visitors to create an environment of colorful movements.
Hollow Face Illusion:
This is probably the most intriguing illusion of all time. The amazing face appears to follow you wherever you go, by playing tricks with your powerful brain.
Rubin's Vase:
Is it a vase or a face, would you be able to see both at the same time? Your brain has to make a decision and discover how many faces it hides.
Head on the Plate:
Put your head through the hole in the table and experience the illusion of a head on the plate with a hidden body. The illusion works for both you and someone standing in front of the exhibit. The optical illusion uses mirrors to create these awesome effects. 
Everything you need to know
Here's everything you need to know while visiting this spectacular museum.
Ticket Price
| | |
| --- | --- |
| TICKET TYPES | PRICE |
| Adults | $24.00 |
| Children (ages 6-13) | $18.00 |
| Children (under 6 years) | FREE |
| Students (ages 14-22) | $22.00 |
| Seniors (ages 62+) | $22.00 |
| Essential Workers (with valid ID) | $22.00 |
| Family (2 adults + 2 children) | $75.00 |
Address:
77 8th Ave, New York, NY 10014, United States
Hours:
Monday- Thursday (10 am- 11 pm)
Friday- Sunday (10 am- 12 pm)
Conclusion
Museum of Illusion, New York City is a perfect place for a weekend getaway with family or friends, a place packed with fun and a new experience. And if it's your first time in New York, you might as well explore some of the nyc attractions, historical sites or make the most of the free things to do.
If you've had enough of illusions and tricks, and want to relax your mind, take a short trip to the beautiful Poconos. The Poconos is perfect for taking some time off, surrounded by mountains, forests and lakes, not far from the city. You should experience staying at the luxurious vacation homes by Holidaykeepers while visiting the Poconos. Our vacation homes and properties include splendid villas, farmhouses and tranquil lakeside cabins. 
FAQ's
Q: Which metro station is closest to the Museum of Illusions?
A: The closest subway station to the Museum of Illusions in New York is St. Patrick Station. It's about a 5-10 minute walk to the museum from the station.
Q: How long does it take to walk through the Museum of Illusions?
It will take approximately 45 minutes to explore the museum of Illusion.
Q: When did the Museum of Illusions open in NYC?
A: The Museum of Illusions opened in New York City on September 20, 2018. The museum's first American location opened in the Meatpacking District.
Q: What is the Illusion Museum NYC about?
A: The Museum of Illusions is a chain of museums that feature exhibits that challenge the senses and teach visitors about vision, perception, an