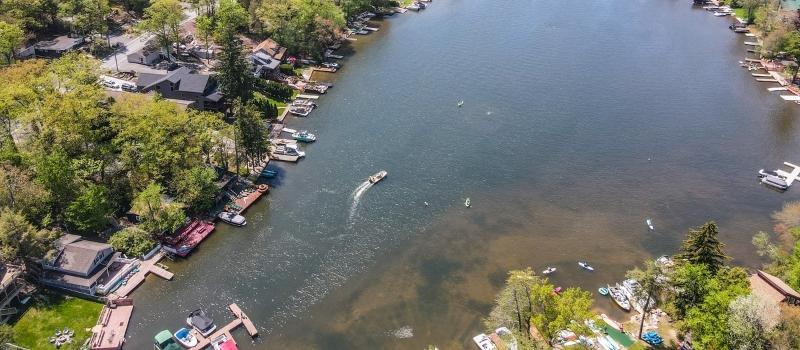 Lake Harmony- is it a lake? Is it a resort? Or is it a community? Turns out it is all of the above and much more. Lake Harmony (the community) is an unincorporated and non-CDP (census-designated place) community/village with zip code 18624 and named after the glacial lake- Lake Harmony. It is part of Carbon County and Kidder Township. The total area of the community is 16.9 sq. miles out of which 0.46 sq. miles is water.
What makes Lake Harmony Special?
Lake Harmony has been the go-to vacation destination since the 1900s. Until the Split Rock Lodge was burnt in a fire accident in August 1970, it was a part of a private retreat for the Lehigh Coal and Navigation company executives, along with Lake Harmony (the Lake). Now, they are amongst the most popular vacation and adventure hotspots in the Poconos.
Lake Harmony as a community is always in season and there are many yearly events that mark the calendar. The prime attraction is Lake Harmony, which is a glacial lake. The pristine water of the lake is drawn from the mountains and it is drained by the Tobyhanna creek, which flows into the Lehigh River. Along with the natural attractions, Lake Harmony is also famous for restaurants, resorts, golf courses, hiking trails, vacation homes and recreational areas.
Where is the lake of Lake Harmony Located?
Lake Harmony (also known as Big Pond) is located in the elevated Western part of the Poconos. The lake nests beside the resort community of Lake Harmony. It is privately owned and well-maintained.
Landscape and Time Zone
The landscape of Lake Harmony comprises molding mountains, a glacial lake (Lake Harmony), a man-made lake (Big Boulder Lake), multiple resorts, boat docks, short term vacation rental homes, restaurants, water parks, hiking trails, beaches and other wide range of amenities.
Lake Harmony is located in the Eastern Time Zone, PA (GMT/UTC-4h during daylight saving & GMT/UTC-5h during standard time).
Best Time to Visit Lake Harmony
All seasons are in season at Lake Harmony. July (3.66 inches) is the month with the highest average rainfall and September (2.01 inches) is the driest month in Poconos. Snowfall is highest in January (9.02 inches) and least (0 inches) from June through September. The hottest month in Lake Harmony is July with an average maximum temperature of 86℉ and coldest month in Lake Harmony is January with an average temperature of 39.2℉.
Transport
Lake Harmony is well connected via air, road and railways. Some of the well-known airports close to Lake Harmony are the Pocono Mountains Municipal Airport (21.4 miles away), Hazleton Regional Airport (32.2 miles away), Wilkes-Barre Scranton international airport (34-37 miles away), and Wilkes-Barre Wyoming Valley airport (31-36 miles away).
By road, Lake Harmony is roughly 110 to 120 miles away from Manhattan (via I-80 W, I-78 W and I-287 S) and 95 to 120 miles away from Philadelphia (via I-476 N, US-422 W, I-476 N, and PA-33 N).
There are also multiple train and bus routes connecting Lake Harmony. There are over 19 buses that travel to Poconos every day from New York. The ride is about 3 hours-long and the closest bus stop to Lake Harmony is at Mount Poconos, PA. A bus ride to Poconos from Philadelphia is also about 3 hours-long and there are multiple buses departing everyday starting from 5:30 am.
Best Things to Do in Lake Harmony
Lake Harmony is an exciting outdoor vacation destination. With a perfect blend of nature and hospitality, it is known to offer the best of both worlds. The most popular things to do in Poconos include:
Boating:
Lake Harmony is 2.5 miles long and has the perfect conditions for boating. The area offers multiple boat docks and marinas. You can also enjoy the stunning view of Lake Harmony on power boats, kayaks, canoes, or even on a cruise. The best places for boating in Lake Harmony include Yeti Watersports, Lake Harmony Watersports and Lake Harmony Cruises. You can also opt for a private lakefront rental vacation home to go on your own boating adventure.
Ski Resorts:
Winter is the season of adventures in Lake Harmony. Experience the thrill of skiing, snowboarding, snow tubing, ice skating and everything snow. Big Boulder Mountain, Jack Frost Ski Resort, Harmony Pocono Rentals and Camelback Mountain Resort are the top destinations for your winter vacation itinerary in Lake Harmony.
Hiking:
Lake Harmony is a hiking haven with more than 58 hiking trails covering about 673 miles of pure scenic spots. Hickory Run State Park, Shades of Death, Boulder Fields, and Split Rocks Hiking Trails are some of the best hiking trails in and around Lake Harmony.
Water Sports and Recreational Activities:
Rethink the possibilities of outdoor entertainment at Lake Harmony. You can enjoy water skiing, wake surfing, water tubing, and paddle boarding. Experience the thrill of the outdoors at Yeti watersports, Lake Harmony Watersports, Harmony ATV Tours, Split Rock Country Club and Big Boulder.
Golfing:
In love with golf? Beginner, advanced or pro, there's a golf course for all levels of golfers in Lake Harmony. Fore! Look out for some serious golfing in Lake Harmony at Split Rock Country Club, Jack Frost Golf Cub, Hickory Run Disc Golf Course and Mountain Laurel Golf Club. Read more for the best golf courses in lake harmony.
Fishing:
Fishing is a must do activity in your Lake Harmony itinerary. There are multiple fishing spots near Lake Harmony like the Tobyhanna State Park, Hickory Run State Park, and Big Brown Fish and Pay Lakes. The most common fish species in Lake Harmony are Largemouth Bass, Yellow Perch, Flathead Catfish, and Smallmouth Bass.
NASCAR and Racing:
Lake Harmony is also at the heart of stock car experience at Poconos. It is super close to the Pocono Raceway a.k.a The Tricky Triangle. IndyCar Series races and NASCAR races are both conducted in the Pocono Raceway. There are many clubs including the Bertil Roos Driving School and SCCA (Sports Car Club of America) where you can grab some of the stock car racing action from behind the steering wheel. Read more about NASCAR 2022 Event at Pocono Raceway
Waterfalls:
There's no better way to enjoy nature than experiencing majestic waterfalls. Luckily, Lake Harmony has several mesmerizing water falls in its vicinity. Nature lovers should not miss a chance to visit the Hawk Falls, Tobyhanna Falls, Buck Hill Falls and the Hickory Run State Falls.
Horseback Riding:
Saddle up at one of the many finest horse stables in Lake Harmony. From learning how to mount a horse to galloping around the trails, you can experience paradise on a saddle. Some of the stables near Lake Harmony are Deer Path Riding Stable, Mountain Creek Riding Stables, Mountain Laurel Riding Stables and Daisy Field Farm to name a few.
Train Rides:
Experience nature on wheels with the scenic train rides in Lake Harmony. Lehigh George Scenic Train Rides offers a relaxing round-trip that runs parallel to the Lehigh River, chugging over the bridges, passing high-rising cliffs, scenic mountains and wildlife.
Wildlife Photography:
At Pocono Mountains, Lake Harmony in particular provides a safe habitat for wildlife to coexist and thrive alongside humans. Shutterbugs and professional photographers can shoot some amazing pictures of wildlife in Lake Harmony. Bald eagles, eastern wild turkeys, osprey, and hawks are some of the common avian species found near Lake Harmony. Bears, squirrels, foxes, bobcats, coyotes and deer are the common mammals found near Lake Harmony.
Museums:
There are several interesting museums and historical sites near Lake Harmony that you should not miss. Some of the local recommended sites include Mauch Chunk Museum and Cultural Centre, No 9 Coal Museum, Old Jail Museum, Toy Soldier Museum and Cresco Station Museum.
Top Sights near Lake Harmony
Split Rock:
Split Rock is a wonder of nature. It is as old as Lake Harmony. This natural formation is a result of glaciers creeping across the land and forming Lake Harmony. The hiking trail to Split Rock is beautiful and offers a vantage point to admire the landscape of Lake Harmony.Split Rock Resort is an all-season vacation destination in Lake Harmony. It has a huge list of amenities including a bowling alley, indoor water park, gaming arcade, golf course, Movie Theater, indoor and outdoor pools, and beach access to Lake Harmony. The resort also offers dining options where you can enjoy gourmet dishes.
Bear Mountain Butterfly Sanctuary:
Your family is going to love every moment spent at the Bear Mountain Butterfly Sanctuary. It features live butterflies and exotic frogs like the dark frog and oriental fire belly toads. The main attraction is the lepidopterarium or the butterfly flight room. You can learn a lot about butterflies through hand feeding, live releases, butterfly 101 classes, butterfly scout programs and educational videos.
Hickory Run State Park:
This 15,990-acre state park is one of the "25 must-see state parks" in Pennsylvania. The park offers exciting recreational activities depending on the seasons. The hiking trail is 44 miles long and offers versatile hiking experiences. The Sand Spring Lake within the resort is perfect for swimming in summer and ice skating in winter. The most popular attraction at Hickory Run State Park is the Boulder Field.
Austin T Blakeslee Recreation Area:
This 130-acre preserve along Tobyhanna creek is at the center of community life and recreational activities near Lake Harmony and Blakeslee. It is one of the top destinations for hiking, fishing, picnics, nature photography and other outdoor escapades. The hiking trail journeys towards the Lehigh River at several points and through the Lehigh valley.
Tobyhanna State Park:
The Tobyhanna State Park extends over a vast landscape of 5,440-acres, which also includes 160-acre Tobyhanna Lake. In summer, the Tobyhanna Lake is open for rowboats and canoes. In winter, it is open for ice skating, ice fishing and snowmobiling. This state park has well-marked hiking trails, bicycle trails and picnic tables. Tobyhanna State Park also permits hunting on the park land with clear signs that distinguish the hunting regions.
Delaware Water Gap National Park Service:
The Delaware water gap is surrounded by 70,000 acres of dense forest, tall mountains and the pristine Delaware River, which runs for 200 miles to merge with the Atlantic Ocean via the Delaware Bay. It is a haven for adventure lovers and it flaunts a vacation appeal like no other. You may camp in the backcountry, the primitive sites, by the river or even in an RV, just ensure to officially book your camping. The park is also home to a variety of wildlife like black bears, bison, deer, foxes, owls, bats and wild birds. There are many waterfalls in the park and hiking to a frozen waterfall in winter is a spectacle in itself.
Food and Culture
Wine, beer and food are never short in supply at Lake Harmony. From classic American menu to oriental, and seasonal there's a long list of restaurants you can explore in Lake Harmony. Some of the top restaurants to try include Shenanigans, Piggy's, Terracottage Café, Boulder View Tavern and Nick's Lake House Restaurant.
Family Vacation
There's a whole bouquet of activities and attractions for a fun-filled family vacation in Lake Harmony. The top family vacation spots and checklist in Lake Harmony includes camping, hiking, snow tubing, boating, water parks, state parks and so on.
Couples' Getaway
From romantic dates to wedding destinations and honeymoon to romantic getaways, Lake Harmony is the perfect nesting ground for love birds. There are tons of activities to do for couples. A romantic getaway far from a busy schedule is what you can truly experience in Lake Harmony.
Shopping
Small-town shopping can give you big-time fun. Check out the sweet spots to pick up souvenirs, clothes, antiques, savories, and trinkets exclusive to Carbon County in Lake Harmony.
Resorts
Lake Harmony is famous for its resort culture. Resorts have been the top attraction in Lake Harmony since the 1900s. Resorts in Lake Harmony host several indoor and outdoor attractions. From adrenaline-pumping adventures to calm relaxing resting spots, resorts in Lake Harmony have something installed for everyone.
Zoos and Animal Parks
Catch a glimpse of exotic animals and learn more about them at the Claws 'N' Paws Animal Park and the Lehigh Valley Zoo. Both the destinations are home to different species of animals from around the world.
Places to Stay
Lake Harmony offers a wide range of accommodations including lakefront vacation homes rentals, cabins, cottages, resort stays, and camping. Modern living space coupled with rustic charm is the motto of accommodations and rental homes in Lake Harmony.
Camping Grounds:

If you want an RV camping experience, you should try the Scotrun RV Resorts. For outdoor camping experience you can choose the Hickory Run State Park, Camp Shehaqua,or the Peaceful Woodlands Family Campground.
Resorts:

Split Rock Resort, Mountain Laurel Resort, Mountaintop Lodge at Lake Naomi, Kalahari Resort and Camelback Mountain Resort are some of the top resorts near Lake Harmony.
Hotels:

Lake Harmony Inn, Comfort Inn, The WoodLands Inn, The Village at Pocono, and the Holiday Inn Wilkes Barre are some of the best hotels near Lake Harmony.

Private Accommodations:

The best way to enjoy the beauty and adventures that Lake Harmony has to offer is to rent your own private vacation home. HolidayKeepers has a luxurious assortment of rental homes to pick from like vacation homes, cabins, mansion, Lakefront homes, villas, cottages and much more.