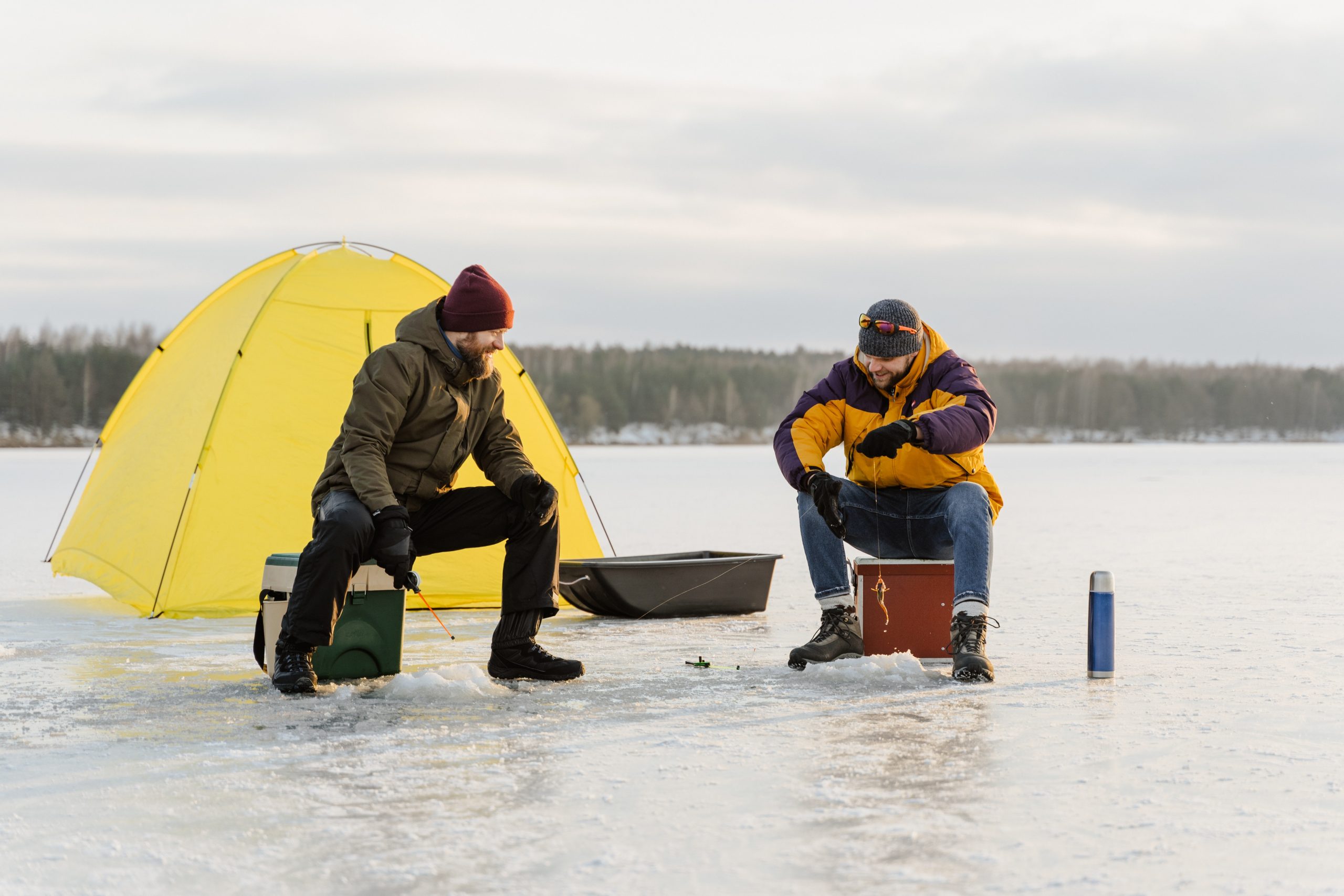 Ice fishing is a form of fishing on frozen water bodies like lakes by drilling a hole through the ice. The Poconos Mountains are a hub for ice fishing, with several enchanting lakes housing a healthy population of fish species. In this blog, let's explore everything you need to know for  successful ice fishing  in the Poconos.
Popular Species 
The Poconos are home to several species of fish, but during the winters it can be difficult to get a hold of the fish as most species enter a hibernation-like state. Some species are still active and you can catch them if you know where to look and have the right tools and techniques. Some of the most popular species you can hope to find in the Poconos waters are largemouth and smallmouth bass, pickerel, muskellunge, yellow perch, sunfish, and catfish.

Gear and Supplies 
Some basic gear required for ice fishing are
Warm clothes

A set of ice picks

A PFD (Personal Flotation Device)  for each person

A few small jigs, or fishing lures, called tear-drop jigs

Some bait like wax worms or spikes

An auger to drill your fishing hole in the ice

A scoop to clear ice from the holes you drill

A jigging rod or two
Regulations for ice fishing in Poconos
Ice fishing is fishing through holes in the ice.

 You are not allowed to use more than five fishing devices like rods, hand lines, or tip-ups, and each of these devices must contain a single fishing line.

 Rods, lines, and tip-ups used for ice fishing should be under the immediate control of the user.

It is unlawful to cut or use holes more than 10 inches wide on the ice for fishing.

All participants over 16 must have and provide a valid Pennsylvania fishing license from the Pennsylvania Fish & Boat Commission (PFBC) to fish in Pennsylvania waterways.

While fishing in state parks and state forests, all PFBC regulations apply and all DCNR rules and regulations apply. Some waterways have special regulations, so it is important to be familiar with the seasons, sizes, and creel limits before fishing at a location.
Tips for Successful Ice Fishing in the Poconos 
Location: Best places for ice fishing in the Poconos
Beltzville Lake 
This lake is located in Beltzville State Park, at 950 acres it is somewhat of a big lake in size but has many characteristics of a smaller lake. Beltzville lake is home to a variety of species like bass, trout, walleye, perch, and bluegill.
Its convenient location makes it easily accessible to the ice, and this lake is very well maintained and stocked. It is easily one of the best walleye fisheries in the state. 
For a successful and safe fishing trip, stick to the established fishing spots. Be prepared to share the ice with fellow anglers, as this is a sought-after site due to its easy access.
Lake Wallenpaupack
Lake Wallenpaupack is  known for being one of the top places for ice fishing in the entire state. This 5,700-acre lake has plenty of bass, trout, perch, and many species of panfish.
The most popular areas of the lake are Martin's Cove and the area around Caffrey Ramp, located near the Caffrey Recreation Area Campground. 
Bait and Lures 
While ice fishing, try live bait like wax worms, maggots, spikes, wigglers, or minnows. You can drop your bait and relax or slowly jig to attract fish. Jiggling works when you're using artificial bait, but remember live bait is king, especially for species like panfish, perch, and trout. If you're looking to catch big fishes use a larger hook with live bait like minnows or salmon eggs.
Safety Precautions 
It is not advisable to head out on the ice alone, it's better to go with a group for both fun and safety.

Share your plans with friends and keep them updated on your location and when you plan on returning.

Check the weather and plan accordingly.

Wear multiple layers to keep yourself warm and also wear hats, gloves, and appropriate footwear for icy conditions. It is also advisable to carry a lantern or propane heater to keep yourself warm.

Carry a change of clothes in case you become wet.

If you do become wet, cold, or tired it is time to pack up for the day.

Wear a personal flotation device (PFD)

Test the thickness of the ice with an auger before setting up for fishing. Four inches is the minimum recommended thickness for a single person, and for a small group, it is at least seven inches.

Carry safety equipment such as ice picks, and be familiar with how to use them.

Avoid risky areas like spots with cracks and standing water over ice, and areas with things protruding from the ice like logs, docks, and plants.
Best time of the year for ice fishing
Ice fishing season in Poconos usually starts in peak winters when the lakes and ponds are frozen. In the Poconos, it lasts from late December to early March. Many ice-fishing patrons say February is the best time for ice fishing in the Poconos when the ice is more stable and the conditions are optimal. 
Places to rent fishing equipment in the Poconos
Poconos Boat House
This store has been serving for more than 20 years. Poconos Boat House offers Waders, coolers, poles, and reels along with several types of live bait. Pocono Boat House is the one-stop shop for everything outdoors and the expert staff will guide you through their complete line of fishing equipment, kayak and boat rentals, bathing suits, water shoes, and much more.
Evening Hatch Fly Shop
Located in lake harmony this little store is a one-stop solution for all things fishing. Evening Hatch Fly Shop has everything from rods and reels to boots and waders. They also offer services like guides, fly tying classes and fly fishing schools and even provide info on the best spots for fishing.
Riglin's Outdoors
Riglin's is a 24- hr fishing tackle, camping supplies, and general outdoor
equipment. They are located close to bald eagle state park and are frequented by people who fish here. Some of the most popular items are wax worms, fluorescent-colored, and neon jigs, also they are the only store to have colored wax worms that are scented and flavored.
Ice fishing can be a fun activity with friends and family. It is a great opportunity to leave the house in the winter when most people would be under the blanket. It is a great way for bonding and enjoying the lake together. With the right gear, skills, and info you are sure to have a successful catch during your time on the ice in the Poconos. Also, remember to follow all the regulations and safety precautions. So how about you try ice fishing this winter in the Poconos?
FAQs
What are the best times of year to go ice fishing in the Poconos?
Ice fishing is typically done in the winter months when lakes and ponds are frozen. In the Poconos, ice fishing season usually starts in mid-December and lasts until mid-March. 
What types of fish are most commonly caught while ice fishing in the Poconos? 
The Poconos offer a variety of fish that can be caught while ice fishing. Some of the most commonly caught fish include panfish like perch, crappie, and bluegill, as well as larger game fish like trout, pickerel, and bass.
What safety precautions should be taken while ice fishing in the Poconos? 
Ice fishing can be a dangerous activity, so it's important to take the necessary safety precautions. Always check the thickness of the ice before venturing out, wear appropriate clothing and gear to keep warm and dry, and bring safety equipment such as ice picks, a rope, and a life jacket. It is also recommended to fish with a partner and avoid going on the ice at night or during a thaw.
What are the regulations for ice fishing in the Poconos? 
Regulations for ice fishing in the Poconos can vary depending on the specific body of water you plan to fish in. It's important to check with the Pennsylvania Fish and Boat Commission for the most up-to-date regulations on fishing licenses, bag limits, and other rules and regulations.
Are there any special tips for successful ice fishing in the Poconos? 
 One of the most important tips for successful ice fishing is to find the right spot. Look for areas with drop-offs or underwater structures that may attract fish. It can also be helpful to use live bait or lures that imitate the natural prey of the fish you're targeting. Lastly, be patient and stay warm!