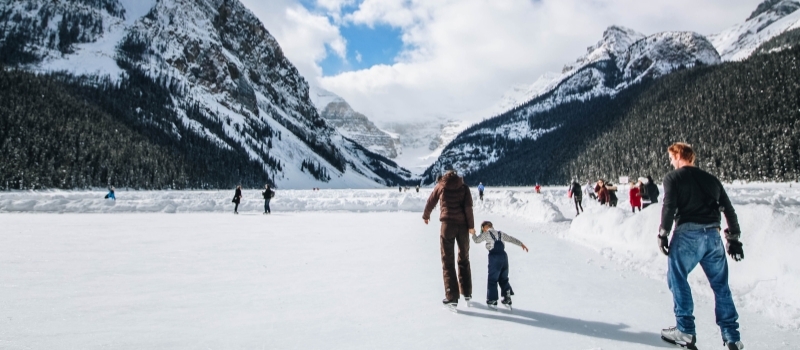 Winter in the Delaware Water Gap National Recreation Area welcomes you with literally the coolest things to do. The absence of deciduous leaves from
December
through
February
opens up an ideal snowscape for a variety of winter sports and winter recreation activities.
Here is our list of recommended winter recreational activities in the Delaware National Recreation Area:
Dog Sled Tours
If you love dogs and snow, dog sledding is an extraordinary thing to experience. Arctic Paws Dog Sled Tours is a premiere dog sled adventure spot located at the Shawnee Inn and Golf Resort. Here, you can be a driver (musher) of your own dog sled (with some guidance of course). However, dog sleds are only permitted when there is sufficient amount of snow, but don't be disheartened in case you visit a less snowy day because you can still learn about huskies, ride along the Delaware River in a UTV while having huskies as your wingmen, and be slobbered with some husky love. There's no lack of entertainment while you are around a pack of energetic huskies.
You may also bring your own dogs, if they are one among the following breeds:
       

Siberian husky

       

Alaskan malamute

       

Alaskan husky

       

Samoyed
Note:
Reservations are required for sled rides and husky tours.  
Ice Climbing
Depending on the conditions, many waterfalls within the Delaware Water Gap Recreation Area are suitable for ice climbing during winters. Ensure you have basic ice climbing gear and discuss the movement on ice, crampon techniques, balance and body positioning before you begin your climb.
Buttermilk Falls
and the
cascades
near
Slated Farm
and
Dingmans ferry
are some places to explore ice climbing in the Delaware Water Gap National Recreation Area.
Snowshoeing
Snowshoeing- what was initially a way of transport in extreme weather conditions has now evolved into a recreational activity like hiking. If you are trying snowshoeing for the first time, there are 4 snowshoeing trails in the Delaware Water Gap National Recreation Area (two each in PA & NJ). The feeling of floating without sinking into the ice is an experience in itself. The McDade Trail is the longest snowshoeing trail at around 30 miles. Delaware State Forest near Dingmans Ferry is another popular snowshoeing trail.
Cross Country Skiing
Cross country skiing is an amazing sport wherein you can explore the outdoors and have some fun. Downhill, racing, on trails, off trails- depending on your experience level, you can find all types of cross country skiing paths in the Delaware Water Gap National Recreation Area. McDade Trail (PA), Slateford Trails (PA), Blue Mt. Lakes Trails (NJ), and Blue Mt. Lakes Road (on the east of Blue Mt. Lakes Trails, NJ) are some of the popular trails for cross country skiing near the Delaware Water Gap National Recreation area.
Ice Skating
Recreation, exercise or competitive sports- no matter why you love ice skating, Delaware Water Gap National Recreation Area is an ideal spot for ice skating in winter. Just remember to check the weather and the thickness of the ice before you begin sliding on the ice. Some of the popular ice skating spots are the Inn at Pocono Manor, Tobyhanna State Park, Gouldsboro State Park, and the Steel Ice Center.
Snow Tubing
Do you want to enjoy a gravity powered, jolly ride down an ice covered hill? Snow tubing in the Delaware Water Gap National Recreation Area is a perfect way to do so. White Lightning Snow Tubing, Blue Lightning Tubing, Shawnee Mountain Ski Area, Camelback Snow Tubing, are some of the crowd favorite spots for Snow Tubing near the Delaware Water Gap National Recreation Area.
Snowmobiling
The Delaware State Forest within the Recreation Area has around 115 miles of snowmobile trails, which are open to the public during the winter. There are multiple groomed trails you can access- details of which can be obtained at the district office in Swift Water. If you are planning on bringing your own snowmobile, it must be registered and covered by liability insurance. Helmets are mandatory for all snowmobile riders. Promised Land Tract, Edgemere Snowmobile Trail System, and Dixon Miller Recreation Area are some of the groomed trail systems in the Delaware Water Gap National Recreation Area.
Places to stay during a winter vacation in Delaware Water Gap National Recreation Area
After an exciting winter vacation day, head down to HolidayKeepers to hang your snow boots and enjoy a cup of hot chocolate. We host whole holiday homes, cabins, cottages, mansions, villas, and Lake Front homes. Our rental homes have luxurious amenities like interior fireplaces, BBQ grills, fire pits, fully equipped modern kitchens, hot tubs and cozy bedrooms. We are located near the most popular winter vacation spots in the Delaware Water Gap National Recreation Area.
Feel free to contact our team if you have any questions.