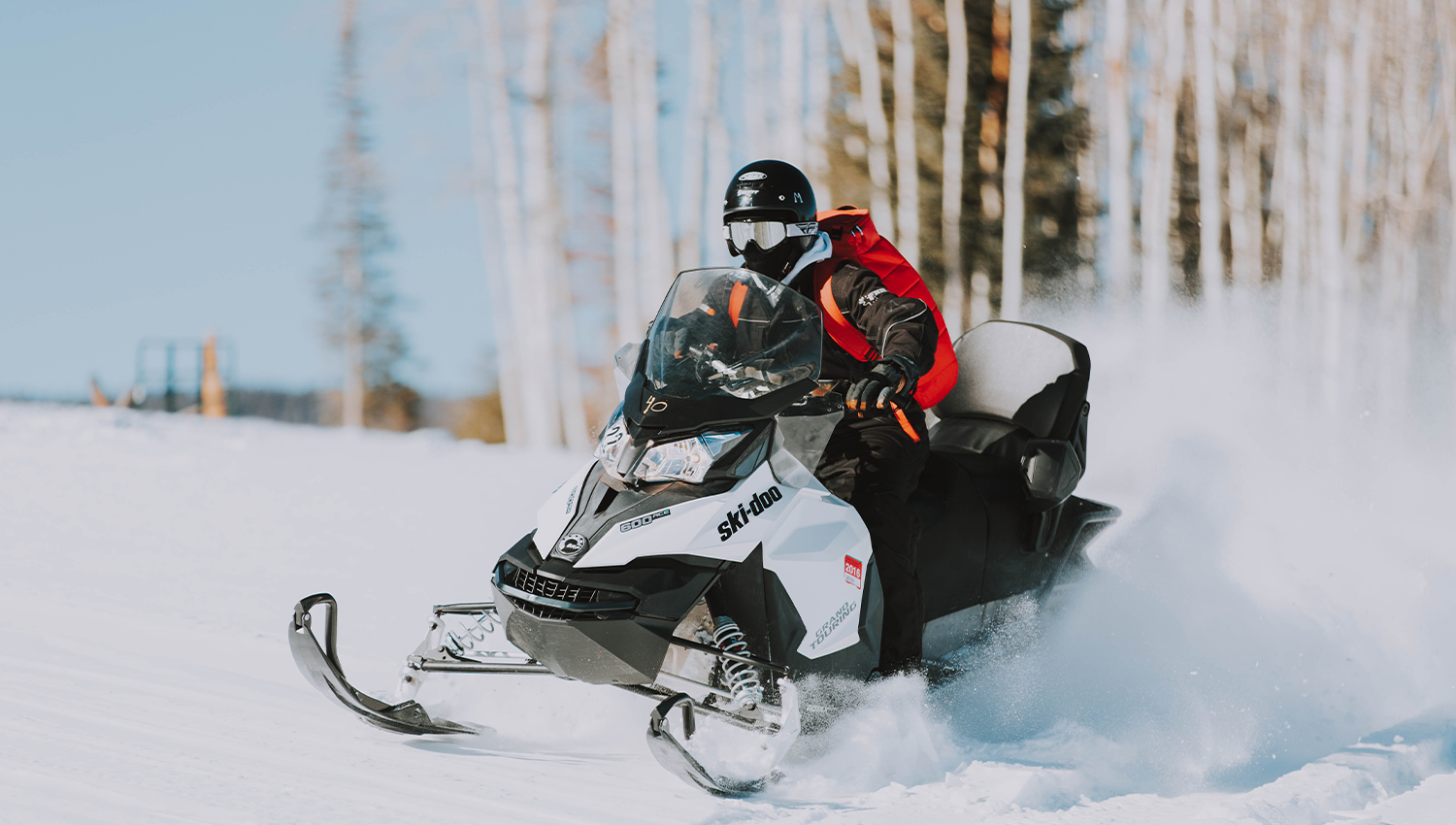 Trust us when we say this, Honestly, there is no better way of exploring the dream of Poconos than going snowmobiling through the winter wonderland.  The snowmobile trails of Northeastern Poconos are definitely worth a try. If the Poconos were a muse or poem, then the snowmobiling trails would be the Robert Frost of them all. 
Oh, and you don't have to worry about burning a hole in your pocket, we got you! With rental options starting at just $60 per hour, you can have the time of your life without having to money heisting your way through a bank to afford snowmobiles! Let's begin! 
Overview of the Poconos as a snowmobiling destination
Many people consider snowmobiling in the Poconos to be a wintertime tradition. Although the mountains are covered in miles and miles of trails, it's crucial that you  arrive ready to experience the thrills and chills that come with this outdoor recreational activity.
You should be aware that the Poconos have a season specifically for snowmobiling. The season doesn't start until after the deer hunting season, which usually happens in late December. It lasts until April 1. The Poconos will likely have a lot of snow during this time, which will provide numerous opportunities to hit the trails.
Using a snowmobile in the Poconos requires that you:
possess an active driver's license.

A snowmobile's registration must be verified.

Give evidence of your liability insurance.

When operating a snowmobile, wear a helmet.
There may be additional requirements or rules to follow if you are renting a snowmobile from an outside company. Before renting any equipment, it is crucial to read the rental company's policy in its entirety.
It would really help you to know a few things about the 'Snowmobile Rental Information'. 
There are not many businesses in the area that rent out snowmobile equipment, which is something that many tourists are unaware of. Therefore, we advise you to bring your own snowmobile. A UTV is a comparable choice if you'd prefer to rent while you are in town.
Having been in business since 1968, Pocono Outdoor Adventure Tours is one of the most dependable local suppliers of rental gear. These UTV tours are available through this store:
Four-Seater

 Double (Two Seaters)
One of the most accessible and practical places to rent equipment in the Poconos is this rental company, which is open seven days a week, even in the winter.
Now that we are done with what we like to call the "not-so-interesting but serious since we are responsible adults", let's get to the fun part! 
The best trails for Snowmobiling in the Poconos!
The majority of the snowmobiling routes in the Poconos are found inside state parks. This is good news for ardent snowmobilers because it gives them the assurance that the trail will be well-maintained by park officials as they set out on it. Although state park staff members expertly maintain these trails, it's important to remember that trail conditions can change depending on the weather. You should make sure the conditions are safe and the trails are currently open before setting out to go snowmobiling in the Poconos.
Some of the top snowmobiling trails in the Poconos are as follows:
Lehigh Gorge State Park Trail
The Lehigh Gorge Trail is one of the most well-liked recreational routes in the Lehigh Gorge State Park. Between White Haven and Penn Haven Junction, a 15-mile section of trail is accessible to snowmobiles during the snowmobiling season. The access points near Rockport and White Haven allow snowmobilers to leave their cars parked and get on their snowboards. It is advised that visitors who are interested in learning more about the trail's current conditions before they visit consult the state park winter report.
Promised Land State Park Trail
A 23-mile trail that is groomed and open to snowmobilers every day during the snowmobiling season can be found at Promised Land State Park. The trail only ever closes when it is too dangerous to travel or when it is bad outside to do anything outdoors. Snowmobilers who travel along these designated trails are treated to breathtaking views of the surrounding natural beauty as they wind through state forests and parks.
Hickory Run State Park Trail
In addition, Hickory Run State Park offers a snowmobile trail that is open all year long. More than 21 miles make up this snowmobile trail. Although it is not a groomed trail, bright orange cones are used to clearly mark it to guide snowmobilers in the right direction.
Riders of all skill levels can find the ideal trail thanks to the extensive network of snowmobile trails that run throughout the Poconos. Before selecting a trail, it's critical to assess your own skill set and level of comfort. During your winter vacation to the Poconos, you and your family are sure to find a suitable option among the long and short trails that are offered.
Clothing and Gear Recommendations
A Little Planning Goes a Long Way. Trust Us.
We occasionally get lucky and have ten inches of fresh snow close by, but other times we have to chase the snow. That's okay; the adventure is what counts here. Find recreation areas like trailheads and parking areas, observe slope angles, and read avalanche forecasts. You do not want to drive down a narrow road only to discover that you have to go back. That can quickly ruin a pleasant trip. Find parking areas and trailheads. We DO NOT want to get lost now, do we?
Let us now look at what to do and YES, most importantly, how to avoid disasters (obviously!)
Can we emphasize the phrase "just in case" a little more? Thank you. Even if you don't intend to travel far, it's a good idea to be aware of where to find fuel in case you get lost or end up being out longer than planned.
Honestly, pack as if YOUR LIFE depends on it.No need to list them all here, but we've made a lot of mistakes that have taught us important lessons. Follow our advice and pack as if your life depends on it. Here are a few items for our sledges, trucks, and selves that we never leave home without. You can thank us later! 
Sled Pack List
Tow straps or NRS straps (in case you break something or need a tow) 

Siphon (in case you run out of fuel) 

Tools and "clutch tool"

Spare belt, spark plugs, zip ties, and tie wire

Lighter for fire (use siphon for gas if you need to)
You will also need:
A map (in case you do not find a network to use Google maps on your phone)

A portable phone charger

Radio

Avalanche beacon (without forgetting the batteries, of course!)

Shovel

Waterproof gear and multi-layers

Extras

Plenty of food and water
A fine could be imposed for any of the following while operating a snowmobile:
Riding faster than the posted maximum speeds for vehicles or doing so in an unreasonable or improper manner given the circumstance 

riding carelessly enough to put another person or their property in danger

driving while intoxicated or under the influence of drugs or alcohol

Riding in a place, on a route, or on a street that is not accessible to snowmobiles

riding without a helmet that is properly fastened.
Coming to places where you can easily find snowmobiles to rent.
Pocono Outdoor Adventure Tours
Price – $50 per hour
Address – Pocono Summit Road
Timing – 9 Am – 5 Pm
Amenities –  ATVs and snowmobiles
Price – $89 per hour
Address – 432, Grange Road, Mount Pocono, PA
Timing-9 Am – 6 Pm
Amenities– ATVs and Snowmobiles
We hope you have gotten all the information that you may need to go snowmobiling. Don't worry about it too much, we know you are going to smash it!
Happy Snowmobiling! 
FAQs 
Where can I rent snowmobiles in the Poconos?
You can rent snowmobiles at Pocono ATV Tours and Pocono Outdoor Adventure Tours to name a few.
Are there any designated snowmobiling trails in the Poconos?
Yep! The trails are Lehigh Gorge State Park Trail, Promised Land State Park Trail, and Hickory Run State Park Trail.
Do I need a special license to operate a snowmobile in the Poconos?
You will need to possess an active driver's license.
What is the best time of year to go snowmobiling in the Poconos?
Late December onwards till early April
Are there any safety tips I should be aware of when snowmobiling in the Poconos?
Wear your warmest clothes, waterproof gear, plenty of food and water and do not go off road the trails