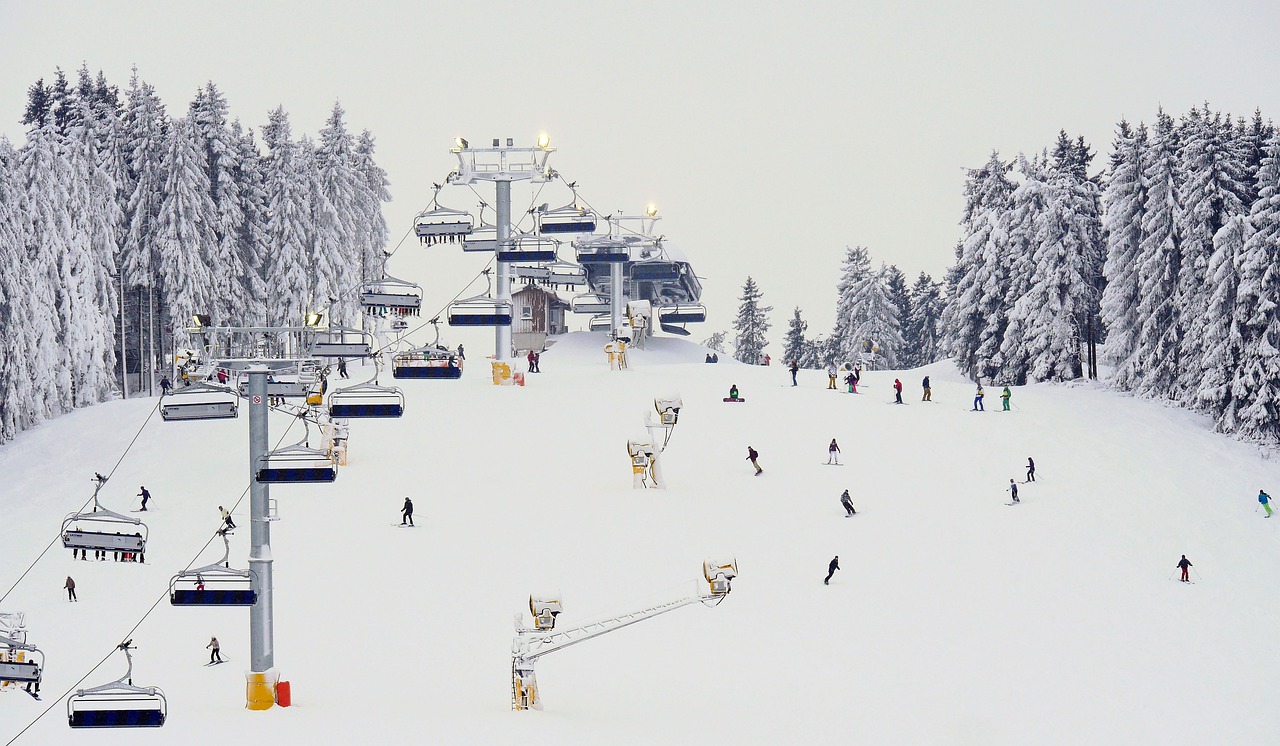 The Pocono Mountains are recognized for their beautiful views and towering grandeur, enchanting even the most hardened hearts when seeking a tranquil atmosphere. The Poconos are a paradise for every holiday enthusiast, hosting one of the most fabulous winter vacations, with ski resorts, hotels, and other opportunities to make the most of your favorite winter environment.
What's the best time to go Skiing?
If you want to go Skiing, the best time to visit the Poconos is from early January to late February. In January, the snow accumulates, allowing you to ski to your heart's delight. However, even if it begins to snow at the end of October, late December or early January will have you loving every second.
Hotspots for every Ski trip:  
Camelback Mountain is the ideal ski resort for anyone searching for a variety of slopes to pick from. Camelback Mountain has nearly 40 miles of trails and a variety of terrain possibilities, so you're sure to find what you're looking for. The Mountain offers over 2,000 acres of ski terrain for all skill levels. Aside from 35% black or double-black diamond courses, there are also beginner-friendly slopes with ski schools for kids and beginners.
If you're looking for a ski resort close to Philadelphia with some of the best slopes in Pennsylvania, look no further than Blue Mountain. Blue Mountain is perfect for skiers of all levels, with the most significant vertical drop in the state. Of course, intermediate and beginner trails are also available if you're inexperienced or just looking for a relaxing cruise. Located in the beautiful Pocono Mountains in eastern Pennsylvania, Blue Mountain is a four-season resort that offers endless outdoor adventure and relaxation opportunities for the whole family. Offering a variety of on-mountain accommodations ranging from hotel rooms to ski-in/ski-out condos, Blue Mountain is the perfect place to stay during your trip to the Poconos. In addition, choose from a range of dining options at mountain restaurants, from casual lunches to elegant dinners and everything in between. 
Shawnee Mountain, located in the middle of the Poconos, has something for everyone in the family. The basic trails are well regarded, but that's not all there is to offer. There are several challenging routes and terrain parks to get your pulse racing! No wonder this is one of the most well-known mountains in the Poconos, with over 20 paths to pick from. You can ski for hours without becoming bored with so many diverse terrain alternatives. Every trail is groomed daily and has excellent snowmaking capacity, ensuring that every run is flawless.
Elk Mountain is worth considering if you're searching for an off-the-beaten-path weekend trip. The Mountain isn't massive, yet its genuineness cannot be denied. You won't find the same crowds as you would at a more famous destination. Instead, you'll encounter meandering routes weaving through the forest and vintage ski lifts that are charming without sacrificing safety. After a long day on the slopes, unwind in one of the resort's hot tubs or saunas, or grab some supper and a cold one at one of the resort's restaurants. Nothing beats resting around the fire with your buddies and enjoying some excellent food and a great chat on the Mountain.
If you're looking for a thrilling outdoor activity that will keep you entertained, look no further than Montage Mountain. This beautiful resort features 26 trails of all different lengths and difficulties, as well as two terrain parks where you can show off your skills. Montage Mountain also has a North Face Complex for an expert-only ski/board area. Three lift tickets are available depending on your skill level: Beginner, Intermediate, and Advanced. No matter which ticket you choose, you can be sure that you'll have plenty of fun!
Plans that meet your spirit for not skiing
The Pocono Mountains offer many options for fun in the snow, apart from Skiing. Here are the most fun experiences you can have on your vacation:
Snow tubing or tubing is the most accessible sport for snow. All you need is a tube to help you slide down the snow. With incline and decline slopes on short intervals, you enjoy the best hands-free experience. The ice trails are carefully crafted free of bumps to help you want smooth sailing in the snow. Snow tubing is a trendy sport for children. 
Enjoy your snow-clad hike with shoes that let you walk through the snow without trouble. Snowshoeing is a great way to break the tension between Skiing. This will help you move around freely without your directional restriction in Skiing. Snowshoeing is especially helpful when you're doing a climb that cannot be traversed by motorized vehicles. 
Tread through the snow with your favorite group in a sleigh. These rides will take you around the whole resort with a view that'll have you enjoying the sights as you pass them. This helps you relax and recover from the fatigue of Skiing for a long day. You can enjoy the trails through the woods and the lake to lighten up your day after your skiing trip for the day is done. 
Slip and slide through the ice in a spin like no other. Our ice rinks will have you styling through before you know it. You have trainers who teach you how to ski around the ice without worrying about losing your balance. You can skate solo, pair up or move around with a crowd. Ice skating requires you to have a great equalizer, so before you pick up the pace, expect to fall a couple of times. 
The Pocono Mountains still have room for your adventure spirit. With all these activities to do, you'll be enjoying the time of your life. Skiing is a paradise like no other, so plan your schedule to hit every spot and enjoy your vacation just as you dreamed of.