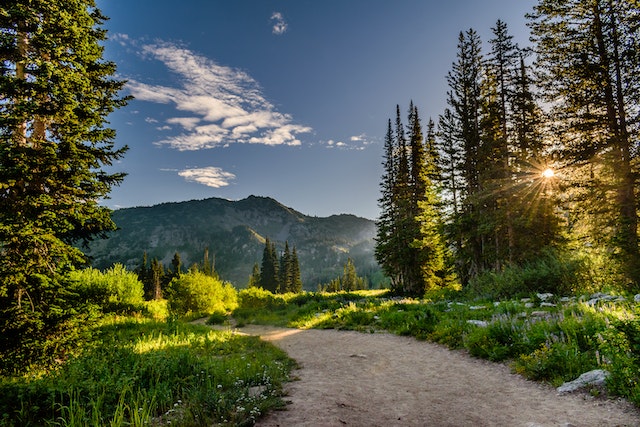 Austin T Blakeslee Natural Area is a 130-acre preserve located just off Route 115 near Blakeslee. This natural habitat is nestled along Tobyhanna Creek and just a few miles away from Lake Harmony and the Pocono Raceway. Read on to find out more about things to do in Austin T Blakeslee Natural Area.
Interesting Facts About Austin T Blakeslee Natural Area
The present day site at Austin T Blakeslee Natural Area was originally designed for farming, which made it a popular recreational area and it was named as Harrison Park. Later it was changed to Toby Park, which had a dance hall, swimming pool, steam-operated carousel, roller rink, penny arcade and softball fields.  However, it was destroyed by a flood in 1955. Now it is a natural preserve standing as a center of community life.
How to get to Austin T Blakeslee Natural Area?
The GPS coordinates for Austin T Blakeslee Natural Area is 41º 4' 59"N 75º 35' 4" W. It is located near Blakeslee and reachable through Route 80 (exit at 284) to Route 115 North.
Things to do in Austin T Blakeslee Natural Area
Go Hiking
Austin T Blakeslee has three main trails classified into Red, Blue and Orange. The Red-Blazed creek trail is the primary trail with a 2.3 mile loop leading to Tobyhanna Waterfalls. This trail is suitable for all skill levels and used for hiking, walking, fishing, and fly-fishing. The Blue-Blazed highland trail is roughly a mile long and treads through mixed pine and hardwood forests just above the creeks. The Orange-Blazed pine trail is the shortest trail with a quick half-mile loop.
Trout Fishing
The natural area runs along over a mile of Tobyhanna Creek that's a popular spot for trout fishing. The region is open to fly-fishing year-round. However, you need a valid Pennsylvania fishing license to fish in these waters.
Go Picnicking
A large picnic pavilion is available near the parking area. There are picnic tables, barbeques, an information kiosk and portable restrooms.
Rules and Regulations
 Austin T Blakeslee Natural Area is open daily from dawn to dusk.

Dogs are allowed with leash and poop scoop laws.

No littering is allowed.

No motorized vehicles are allowed within the park.

No alcoholic beverages are allowed.

No fires.

No hunting.

No swimming.

Fishing in season is allowed only with a valid fishing license.
Places to Explore Near Austin T Blakeslee Natural Area
Jack Frost Ski Resort
Jack Frost Mountain is home to more than 20 skiing trails. The resort also offers night skiing and riding where you can ski and ride under the lights. There are a variety of terrains ranging from beginner to advanced.
Pocono Raceway
The Tricky Triangle, also known as The Pocono Raceway is a superspeedway owned by NASCAR. You can drop-in at the Pocono Raceway to catch the Stock Car Experience first hand.
Tobyhanna Falls
Tobyhanna Falls is the crown jewel of Austin T Blakeslee Natural Area. The falls is formed by large boulders that step down gradually creating Tobyhanna Falls. The shores of the Tobyhanna creek are lined by boulders, making it a great place to go on a walk, go fishing, or just sit and relax.
Camelback Ski Resort
If you are an adrenaline junkie, Camelback Ski Resort is the ideal place to find an adventure. It has a 40+ lane snow tubing park and the tallest peak in the Pocono Mountains. It is also the number 1 skiing and riding destination in Pennsylvania.
Places to Stay Near Austin T Blakeslee Natural Area
Blakeslee is full of surprises and there are many places to explore along with Austin T Blakeslee Natural Area. There are multiple options for you to stay and explore this little town. However, if you want to explore Blakeslee to the fullest, come stay at one of HolidayKeepers.com, we offer some of the best accommodations with world class amenities like indoor swimming pools, large living spaces, game rooms, fully equipped kitchens and much more.