Are mesmerizing lakes and beach shores your weakness? Are you looking for a breath of fresh air in Poconos? We assist and recommend the best and must-visit lakes around Poconos to you. One can find more than 150 lakes in Poconos. However, we are listing out the top 6 lakes in Poconos. Every lake has its unique specialty. Some are famous for boating while others are good for swimming only. Check out our list to find more.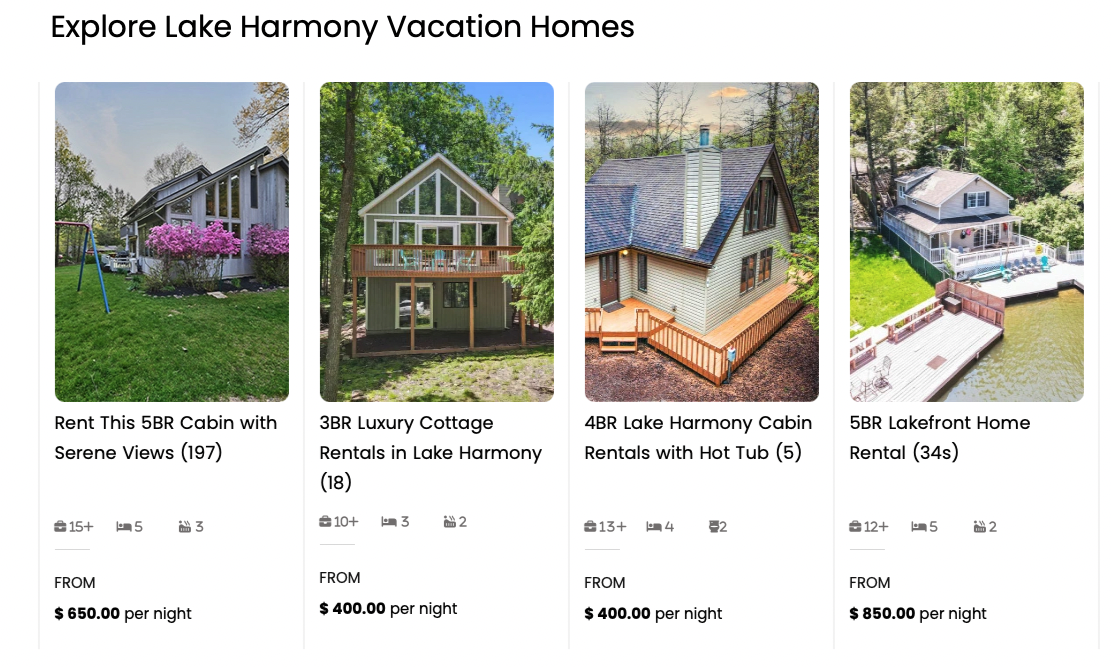 1. Gouldsboro lake – a combination of Gouldsboro park and lake
Area- 250 acres
A beautiful lake crafted by Humans in northeastern Pennsylvania will stun you with its evergreen beauty. Just a few hours away from New York and Pennsylvania, it is a popular spot among its inhabitants. The lake is rich in flora and fauna, with multiple activities to take advantage of.
Specialty- Gouldsboro lake is famous for ice fishing, boating, and swimming. Besides multiple activities, one can enjoy luxurious electrically powered and non-electrical boating. Not to forget, Gouldsboro lake comes under Goldsboro state park. It is spread across Wayne and Monroe county. Gouldsboro park can be one added advantage if you visit Gouldsboro lake anywhere between sunrise and sunset. Exciting wildlife in Gouldsboro park and soothing Gouldsboro lake scenery desperately awaits your presence.
Entry fees- Contact for more information
2. Lake Wallenpaupack – The largest lake around Poconos
Area- 5700 acres
Lake Wallenpaupack has already made itself into Pennsylvania's top 2 largest lakes. It is 13 miles in length and 60 feet in depth; it has earned a proper name among adventurers and scuba divers. Spending your summer vacations beside lake Wallenpaupack can be the decision you will never regret in your life.
Specialty- When it comes to specialty, water and jet skiing, scuba diving, kayaking, canoeing, camping, and hiking make themselves top of the list. On the other hand, ice fishing and ice skating take the front seat during winters. Besides, Promises state parks Caffrey and Ironwood points are the top choice among campaigners.
Entry fees- Absolutely free access to the area
3. Lake Harmony- The cleanest one
Area- 277 acres
Lake Harmony can be an ideal destination for cleanliness freaks and nature lovers. One can visit the lake any month for a lovely vacation. Perfect place for vacation homes and sports activities, the place is nowhere behind lake Wallenpaupack and Gouldsboro.
Specialty- Indulge yourself in boat paddling, kayaking, fishing, swimming, and even golf and tennis around Lake Naomi. Although lake Naomi is not large like Wallenpaupack, it has all the facilities which make it an equal contender among its counterparts. It is surrounded by cozy and affordable vacation houses where you can stay and enjoy the lakeside view.
Entry fees- Absolutely free with parking facility available
4. Maunch chunk and lake park- the 2 in one lake
Area- 345 acres
Do you wish to see mountains, rivers and wildlife parks? Maunch chunk and lake park is a complete package accommodating nature's park, lake, and mountains in one frame. The place has made its identity among tourists of every temperament, a major hub for outdoor activities and hiking.
Specialty- Maunch chunk and lake park includes every activity from fishing to hiking in a single place. Facility for every kind of water ride paddleboats, canoes, kayaks, and rowboats are available. However, reservation is necessary for boat rentals as they are the most popular ones. Family and sports freaks are more inclined to spend a vacation in Maunch chunk and lake park due to the campaigning facility and the various trails like Orchard and Board Bottom.
Entry fees- Carbon County residents($3 for adults and $2 for a child), Non Carbon County residents($10 adults and $7 for a child)
5. Brady's lake- The swimmer's lakes
Area- 223 acres
Brady's is another man-made lake that is a masterpiece in itself. It was initially designed to harvest ice; however, later, it was modernized, and more activities were included.
Specialty- The lake provides fishing and boating like any other lake of Poconos. However, swimming is one specialty that makes it different from other lakes. Brady's lake in Poconos is not as long and deep as other lakes of the Poconos, which makes it a viable option among swimmers. Brady's lake is an exact place to dive if you want to swim while watching the beautiful flora and fauna. Just be ready with your swimming costume, picnic items, and mosquito repellent.
Entry fees- Absolutely free
6. Arrowhead lake- the lake with luxurious surroundings
Acres- 350 acres
Arrowhead lake is famous for its amenities surrounding it. The lake itself is beautiful with open waters; however, the surrounding attracts more tourists than the actual lake. The residents are only allowed to visit a one-mile perimeter around the lake, and that too with permission. It is prohibited to visit the place for a picnic or any activity without consent.
Specialty- Being commonly known as Californian paradise, the lake resembles actual paradisiacal locations of California. The beauty of the lake and the actual amenities provided by the community surrounding it makes the spot an ideal place to visit. Heated swimming pools, tennis and basketball courts, Internet stations, and a fitness club make Arrowhead a luxury vacation spot.
Entry fees- $ 4 per day per person (13 years and above)
Conclusion
Lose yourself in these 6 must visit Lakes to feel what beauty, serenity and peace feel like. Not only are the Lakes appealing to your eyes but also your soul. Whether you are a newlywed, family, or just a group of friends, the picturesque lakes will make a permanent impression on your mind.