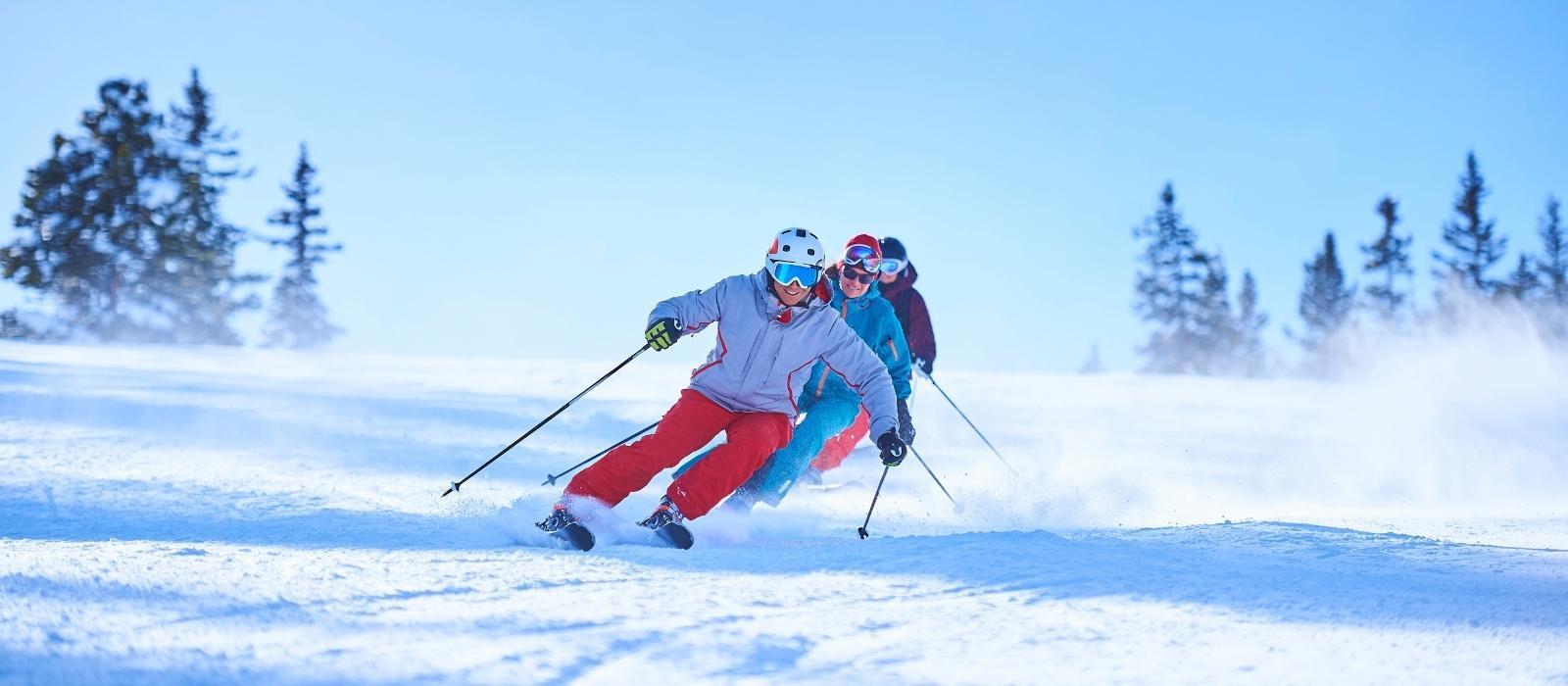 Want to feel the taste of vacation in the Poconos? And sports is your thing? If yes, then skiing areas around lake Harmony can be the best option for you. In addition to that, these ski areas also accommodate other winter sports like snow tubing and snowboarding. This blog is made for vacation enthusiasts for whom vacation is not complete without sports. Let's talk about some exciting ski areas around Lake Harmony.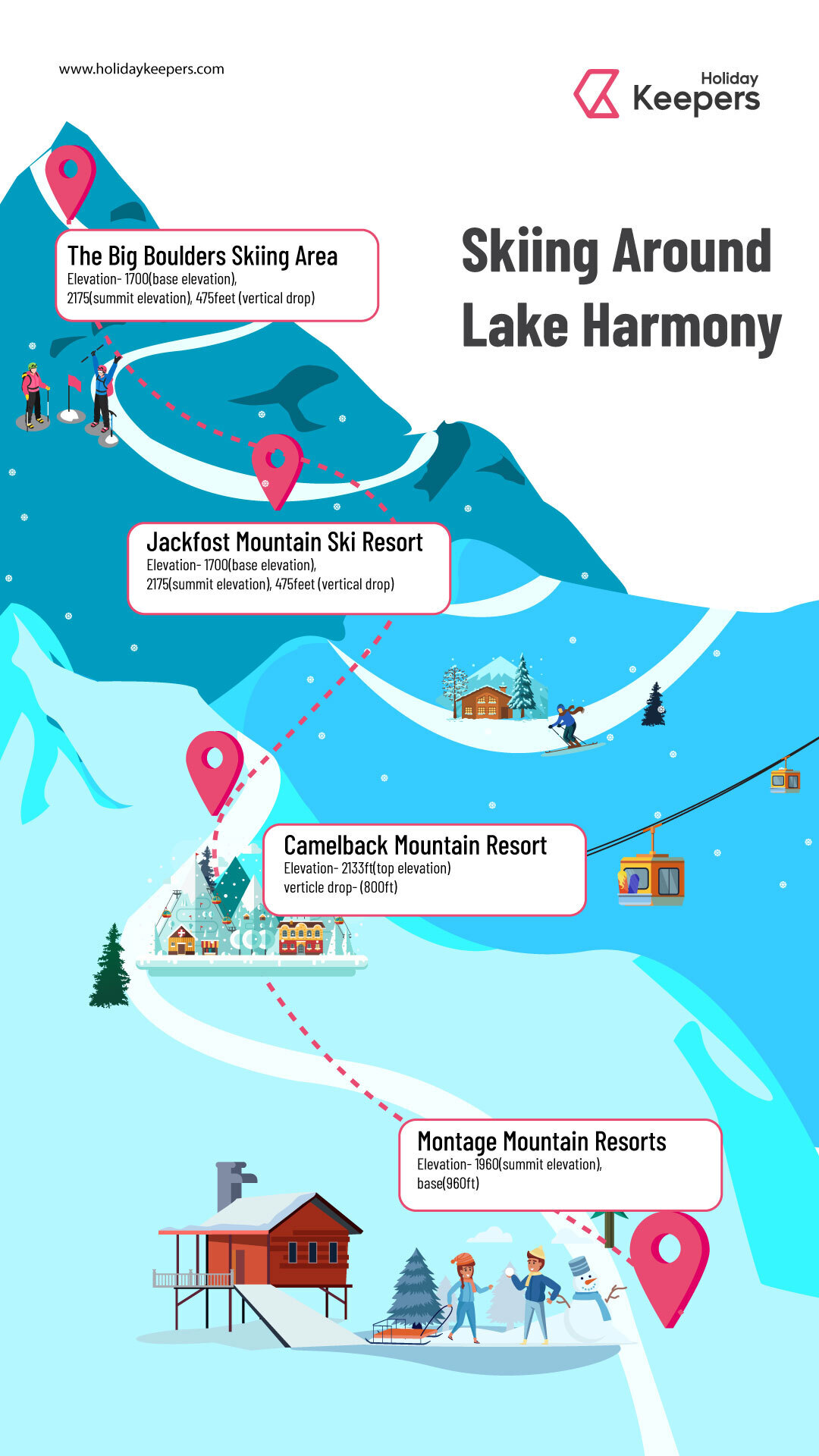 1. The Big Boulders Skiing Area
It is impossible to ignore Big Boulders while talking of the finest skiing spots in the area. It does not matter if your novice or an expert, the big Boulder ski area is made for everyone. There are nine main terrains of which 4 are beginner friendly and 3 are for experts. When it comes to slopes, there are 15 wide and gentle slopes which are very useful for learners. The management of the Big Boulders is very gentle and helpful and they do not leave any stone unturned in lending a helping hand to elderly and handicapped visitors.
Distance from lake Harmony–  1.1 miles  
Location– Big Boulder Dr, Lake Harmony
Elevation– 1700(base elevation), 2175(summit elevation), 475feet (vertical drop)
Timings– 12 pm to 8 pm (Saturday and Sunday)
                  Monday to Friday- 3 pm to 8 pm
                  Night skiing- 3 pm onwards
Entry fees– $61 to $78
Additional activities – Snowboarding and Snowtubing
Availability of equipment– The skiing equipment can be rented from the Big Boulders skiing area. Skis, boots, helmets, and poles are available on spot for rent. Do not forget to return all the rental equipment to the shop before leaving the skiing area.
CoVid protocols- Not to forget, Big Boulders is quite strict when it comes to following coVid 19 protocol. You have to keep your mask on and carry a vaccination card as proof to enter in Big Boulders area.
Suggestion- According to the experts, take one or two lessons before stepping on the Big Boulders on ski ground. It will make you more risk-free and will enhance your experience quality as well
Nearby Restaurants –  Have you burnt a lot of calories? Feeling hungry after playing your favorite sports? Fortunately, you can find a variety of foods and restaurants near the Big Boulder ski resort. For example, Thirsty Moose saloon is one famous restaurant for nonvegetarians around Big Boulder. Delicious jumbo chicken wings with buffalo sauce and nachos with cheddar cheese are the USP of this restaurant. Whereas one can opt for cafes like Piggy's and Terracottage cafe for tasty pancakes and gigantic omelettes for breakfast.
Before proceeding toward the Jackfrost skiing area, let us know if JackFrost and Big Boulder are the same?
People seldom get confused between Jackfrost mountain and the Big Boulder area. Are they separate mountains or are same? Well here is an answer to your query.  Interestingly, Jackfrost and Big Boulders are two mountains separated by 2 miles of road however one can lift a single ticket and enjoy skiing in both the mountains. 
2. Jackfrost Mountain Ski Resort
Opened in the year 1972, the resort has gained momentum because of Big Boulders, and with time it has become its partner. Now they both operate as wintersports companions. Jackfrost is famous for its skiing lessons. One can even grab a discount on the lift tickets if they book a skiing lesson in advance. A beginner, intermediate, and experts can find slopes and trails of their choice. The 20 trails and the terrain parks of the Jackfrost area are nothing but boons for skiers and snowboarders of every level. Skiing lessons are especially available for children starting from the age group of 5 onwards.
Distance from Lake Harmony–  11.2 miles
Covid Protocols– Same as Big Boulders
Elevation– 1400ft(base elevation) Summit 2000ft, vertical drop(600ft)
Timing– 9 am to 4pm
Entry Fees– $64 (adults) $46(kids or seniors)
Restaurants– Just 0.7 km from the Jackfrost area, the restaurant name 940 Plateau pizza is a heaven for pizza lovers. Visit the spot along with family and friends after preparing yourself for a hearty meal.   
3. Camelback Mountain Resort
Camelback mountain resort is nowhere less when we talk about the top skiing spots in Poconos. 
No of trails in Camelback mountain- 39

Best trails- Pharaoh(black), Bactrian(Blue), Nile Mile(Blue), Rocket(Black), Sullivan's(Green) and Marjie's(Black)

Easiest trails- Birches & Rocket
Unlike Big Boulders, the Camelback resort is more suitable for experts and intermediates but one can witness a reputed ski school and training center for kids within the Camelback resort mountains. The place also welcomes disabled individuals with a  compatible skiing program designed especially for them.  The resort has added a beautiful and comfortable space dedicated only to kids. It includes waterparks and a new ski terrain area for new learners. 
 Distance from lake Harmony– 21.8 miles(27mins via car)
 Location– 301 resorts Dr, Tannersville, PA United States
 Elevation– 2133ft(top elevation), vertical (800ft)
 Timings– Monday to Sunday (1 pm to 10 pm)
 Entry fees– $62 for a one-day lift ticket to $629(Super season pass)
 Additional activities– Snowtubing, waterparks
Nearby Restaurants – You do not need to find restaurants and eating spots if you are planning a visit to Camelback resort. Whether you are looking for an ideal pizza flavour or just craving sugar, the Camelback resort has every facility in its kitty.   Graffiti Pizza, Sugar Cravings, and  Trails end pub and grille are the 3 best eating spots where one can find the best quality Pizzas, ice creams, and main course respectively. 
4. Blue Mountain ski area
The Blue Mountain ski area because of the variety of terrains is fit for skiers of every level. Being a hub for longest runs and multiple kinds of the trail area, the Blue Mountain ski resort has gained considerable popularity among tourists. The Blue mountain resort comprises 14 trails for beginners, 6 for intermediates, and 15 for experienced holders. Additionally, the five terrains and 16 lifts within the area add up to its popularity. The lifts are quite quick and so well organised that you don't have to stand in a long queue and wait for hours. Luckily, there are no frills and one can easily run laps.
Distance from lake Harmony– 25.7 miles
Location–    1660 Blue Mountain Dr, Palmerton, PA, 18071
Elevation– Summit elevation(1600feet), base elevation(460feet)
Timings– 9 am to 4:30 pm
Entry fees– $29 to $44
Restaurants- You will find ample Cafes, lounges, and restaurants in the Blue Mountain ski resort.  One can opt for Slopeside Pubs and grill for entrees and wine, and Cornerstone Grill for classic main course and beers. There are also 3 main cafeterias with the name Valley, Tubing, and Summit for those who want to have some coffee, sandwiches, and light-hearted fun.
5. Montage Mountain Resorts
Comfortable slopes, trails, and long runs are the exact words one can use to describe  Montage mountain resorts. The resort is specifically famous for night skiing because of the floodlights. The floodlight allows you to ski till late at night just at the additional cost of $10. The bunny hill is 1 whereas there are 3 greens which are steeper and longer than that of two times Jack frosts. Besides, the tented areas to break from the cold and the firepits help the visitors a lot. Events like adult ski racing add more fun to the trip. The 27 trails including mainline, highball and Easy street of mountain Montage cover every level from beginner to expert.  It will not be wrong to call Mountain Montage as one of the best ski resorts in the Mid Atlantic area
Distance from lake Harmony– 39.6 miles
Location– 1000 Mountain Road, Scranton PA
Elevation– 1960(summit elevation), base(960ft)
Timings-  7 days a week(9 am to 4pm)
Entry fees– $15 to $40 and free for children  
Restaurant- Slocum Hollow bar Tops the chart when it comes to restaurants around Montage ski resort. The appetising hot dogs and chilled beer served by the restaurant will simply give you a foodgasm. Do not forget to stop by this spot whenever you go for a skiing adventure in Montage mountain resorts. On the other hand, Sammie Shed, Ticky Deck, and the fry hut are 3 eating spots inside the campus famous for soft drinks, fries and refreshment items.
6. SkyTop Lodge
Skytop Lodge is one of the best destinations in the Poconos to enjoy skiing. The resort is located in the pristine mountains of the Poconos, giving you an incredible view of natural beauty and landscapes. This destination provides the perfect backdrop for skiing, even for kids starting from the ages of 4. The resort has many trails that let adventurers enjoy a casual, beginner level or challenging terrain in steeper slopes for the experts. They also have a ski-school that offers 50 min lessons to help beginners or even seasoned skiers to take to the snow. Lift tickets are also offered with the skiing lessons. 
Distance from Lake Harmony – 11.2 miles
Elevation– 1400 ft(base elevation) Summit 2000ft, vertical drop(600ft)
Timing– 9 am to 4pm
Entry Fees- Resort Guests: $30 Per Day
                     Non-Resort Guests: $45 Per Day
Private Lesson: $100 Per Person (One-on-one instruction, must indicate whether skiing or snowboarding)
Semi-Private Lesson: $85 Per Person (Same reservation for 2-6 people. Entire group must be either skiing or snowboarding.)
Additional activities – Ice fishing, treetop adventure course, ice skating, snow tubing
Nearby Restaurants – SkyTop Lodge is close to a ton of landmarks, and restaurants are one such wonder that you'll be glad is close to your snowy retreat. Places like FrogTown Inn Bed And Breakfast, Butter at The Frogtown Inn, Library Lounge, The Taproom are some of the few restaurants available in the area. There are many restaurants, so don't shy away from looking forward to the meals you absolutely love.
7. Ski Big Bear
Wanna take your winter trips to the next level? Step right up! Ski Big Bear offers to take you on one of the best retreats you've ever had in the winter. Rested in the Northeastern part of Pennsylvania, the skiing resort holds 18 trials, 7 lifts and 3 magic carpet lifts and 650' of vertical lifts. If the snow starts to get a bit light, don't worry, the snowmakers ensure that the trails are more than ready for a ride. The terrains are designed in such a way that every skier, regardless of skill, can have a great time in the snow. 
Distance from Lake Harmony- 67.2 miles
Elevation- 8,805 ft
Timing- 9am – 7pm
Entry Fees – 
Full Day All Area, All Access – $64
Full Day Beginner Access – $42
Morning All Area, All Access – $58
Morning Beginner Access – $36
Night All Area, All Access – $40
Night Beginner Access – $35
Additional activities
Intro to Shotgun

Ice Skating

Snow Tubing

Treetop Adventure Course

Axe Throwing

Rifle Shooting
Restaurants- Peter's Europa House, The Summit Restaurant, TREE Restaurant & Bar, The Settlers Inn, The Heron are some of the finest restaurants close to Ski Big Bear. The restaurants are sure to have you enjoying every slurp and serve of food, giving you one of the best dining experiences Pennsylvania has to offer.
These five skiing resorts are the heart and soul of the Poconos mountains. Not visiting them will be a cardinal mistake on your part. We have mentioned every possible detail of the skiing spots along with the covid protocols one needs to follow. Reading this blog will be enough if you are planning a visit anywhere around lake Harmony.