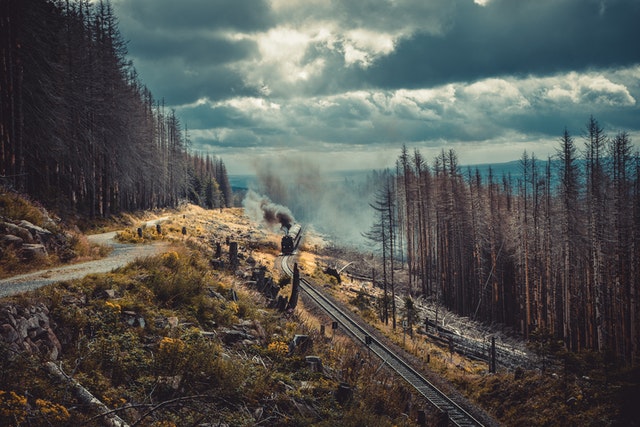 1. Lehigh Gorge Scenic Railway:
Have you ever experienced history on wheels? If not, this is your chance. The Lehigh Gorge Scenic Railway takes you 'down the memory rails' in vintage coaches, which were built as early as 1917, and pulled by classic diesel locomotives.
The standard narrated roundtrip lasts for 70 minutes and follows the Lehigh River, chugging through Glen Onoko, over bridges and into the Lehigh Gorge State Park. En route the trip you can view highrising cliffs, scenic mountains and wildlife along the forested route to Old Penn Haven. There are various types of coaches to choose from-
standard
,
open air
,
crown class, private cabooses
and
first class dome cars
.
Most standard coaches were built in 1932, have seats that are perpendicular to the direction of train movement, functional windows and toilets.
Open air coaches have seats facing outwards and parallel to the direction of train movement, and they have no windows. You can stand along the sides and enjoy the breeze and view of the gorge.
Crownclass coaches are much more comfortable than standard coaches as they come with plush and spacious recliner seats. These coaches have functional windows, heating in winter and toilets.
Firstclass dome cars (also known as the "Lehigh GorgeSuper Dome") is a fully climate controlled airconditioned coach with heating systems designed to keep tourists comfortable in all seasons.
Private Cabooses are ideal for those who prefer a more private train travelling experience. Each caboose can hold up to 6 people. It is available between April and September only. Call ahead to check availability and reservation.
Gondola cars are like open air cars but they have no roof. You can board in with your bicycle, get down at Old Penn Haven. This ride and bike experience is available from May through September.
The train ride schedules and fares are as follows:
Buffalo Express- Departs @ 11:00 am Black Diamond- Departs @ 01:00 pm Lehigh Limited- Departs @ 03:00 pm
Buffalo Express- Departs @ 11:00 am Black Diamond- Departs @ 01:00 pm Lehigh Limited- Departs @ 03:00 pm Gorge Express- Departs @ 04:30 pm
Standard coach tickets- Adults $19 and Children (age 3-12) $9
Open Air coach tickets- Adult $23 and Children (age 3-12) $10
Crown Class Coach- Adult $22 and Children (age 3-12) $10
Dome Car- $35
Gondola Car- Call ahead and check for reservation and price.
Private Caboose- $180 for each coach.
All children age 2 and under receive a FREE ticket.
2. Lehigh Gorge Bike Train:
If you are on the lookout for a distinct biking experience, get onboard the Lehigh Gorge Bike Train with your bike! The ride is about 25 miles long and the train commutes from the Lehigh Gorge to the town of White Haven. Once you get off at the station you can pedal your way back to Jim Thorpe. On the way back, you can catch some amazing spectacles like waterfalls, green bike trails, and breathe in some fresh Pocono air while riding alongside fellow bikers. The prices for train rides are as follows:
Oneway ticket with a personal bike $35
Oneway ticket with bike rental $55
You can also purchase the tickets online
3. Switchback Gravity Rail
Switchback Gravity Railroad is the second oldest railroad in the U.S. It was established in the year 1827, originally designed as a coal carrying line, it is now converted into a major railway history site. There are many historical remains and several walking tours on the trail. Some of the famous tours on this trail are:
Mauch Chunk Walker's Tours
Summit Hill Walker's Tours
Home Stretch Walker's Tours
Experienced Hiker's Tours
4. Old Mauch Chunk Train Display
Head down to the Old Mauch Chunk Train Display at 41 Susquehanna Street Jim Thorpe to see a scaleddown display of a railway network consisting of numerous model trains, 200 replica structures, and 13 separate main lines formed by 1,087 feet of tracks. This fascinating display's crown jewel is its 22'
47' H0 size (1:87 scale) train layout consisting of replicas of houses, churches, stores and sky scrapers.
5, Steam Town National Historic Site
If you want to learn the history of American steam railroading, you should visit the "
Steam Town National Historic Site
" located close to Jim Thorpe at the heart of Scranton. This site is home to several wellpreserved and protected artifacts and information that are linked to the history of railroading. It has a historic railroad yard, collection of technical knowledge, and skills that can help the general public understand the impact and significance of steam railroading. The most interesting things to do at the Steam Town National Historic Site are:
Take a seasonal train ride and explore National Parks nearby.
Explore the roundhouse and learn a thing or two about steam train mechanism and maintenance.
Visit the technology museum for an immersive learning experience.
Get some railroad souvenirs from

 

Watch the park's orientation film- "Steel and Steam"– which revolves around a child's journey into adulthood through their love of trains.
6. Mauch Chunk Station
The Mauch Chunk Station also known as New Jersey Station, is a one-ofakind architecture with historical significance in railway history. It has an impressive three and one-half story cylindrical tower with a conical roof, which is approximately 70 ft. in height. It features a series of semicircular door arches with multiple panels. Above the arches there is a unique belt course made of granite and a handsome dentil work that rests upon a granite plinth caps supported by engaged brick columns. The Mauch Chunk station is a remnant of architecture of the Victorian era, and it is also included in the National Register of Historic Places.
Places to stay in Jim Thorpe
If you are planning on exploring all the famous railroad attractions in Jim Thorpe, you might need to stay in Jim Thorpe for some time, and that's where HolidayKeepers can assist you. We offer bestinclass vacation rentals with amazing amenities like swimming pools, hot tubs, private estates, highspeed internet and more. Our accommodations are as fascinating as a luxury private caboose. Our holiday homes come in all sizes, suitable for solo to large group vacationers. For more information, get in touch with us.