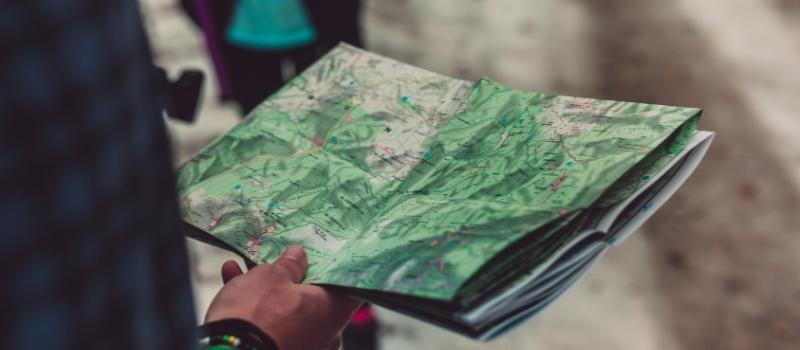 Jim Thorpe is a versatile town named after a versatile athlete. Earlier known as Mauch Chunk (Mawsch Unk), meaning Bear Place in the native Munsee-Lenape language, it was renamed in the year 1953 to fortify the achievements of the legendary Native American athlete 'James Francis Thorpe' aka Jim Thorpe. To this day, it remains the only American town to ever change its name to honor an athlete. Apart from this historical significance, Jim Thorpe is a popular destination in the Poconos Mountain region among railroad fans, athletes, history buffs and recreation enthusiasts.
Jim Thorpe-  The man behind the name
As we mentioned earlier, Jim Thorpe was a versatile athlete. He is considered as the Greatest American Athlete of the first-half of the 20th century. He won two gold medals in the 1912 Summer Olympics – in classic pentathlon and decathlon, he was also a major league baseball player and a pro-football player. Although he never set foot in this town, his mortal remains rest in Jim Thorpe as Thorpe's Monument, featuring a legendary quote from Gustav V- "You, Sir, are the greatest athlete in the world".
Is Jim Thorpe worth Visiting?
Is Jim Thorpe really worth visiting? Jim Thorpe was once the second most popular tourism destination behind Niagara Falls. It was ranked as the 4th most beautiful town (by Rand McNally, USA Today Road Rally Series) and the 7th coolest small town in the United States (by Budget Travel Magazine, 2009). So, Jim Thorpe is definitely worth a visit.
What is Jim Thorpe Known For?
Jim Thorpe is known for Victorian Era architecture, shops, restaurants, historic monuments, museums, beautiful landscape, and friendly hospitality. It is a top tourist destination for whitewater rafting, hiking, mountain biking, sightseeing and romantic getaways. Sport enthusiasts will have much to explore, as it is home to Olympic-distance triathlon and Anthracite triathlon along with many famous running, and biking courses.
Best Things to do in Jim Thorpe
Camping and Campgrounds
Skiing Resorts
Biking Trail
Outdoor Activities
Watersports, archery, ATV tours, camping, fishing, hiking, history tours, and railroad tours are some of the most popular outdoor activities to do in Jim Thorpe. In winter, you can enjoy snow tubing, skiing, snowboarding, winter eagle watching, and cross country skiing. There are also plenty of spots for some fancy dining and shopping in Jim Thorpe.
The Grand Pocono Mountain Adventure in Jim Thorpe, PA, and the Blue Ridge Winery in Saylorsburg are both must-see destinations. Taking the Lehigh Valley Railroad into the Lehigh Gorge allows you to see all of the great sights in Jim Thorpe.
Attractions Nearby
Jim Thorpe is a reflection of the 19th century architecture styles. There are plenty of historic buildings to explore like the Asa Packer and Harry Packer mansions, Lehigh University, Anthracite Triathlon, and Kalahari Desert Indoor Water Park. Jim Thorpe memorial is also a top contender for the top attractions in the town.
National Parks
Jim Thorpe has a handful of National and State Parks you can explore. Some of the popular parks near Jim Thorpe are Lehigh Gorge State Park, Mauch Chunk Lake Park, The Nature Conservancy, D&L Trailhead, Switchback Railroad Trail, Kemmerer Park, Twining Park, Josiah White Park, and Carbon County Park & Recreation.
Museums and Historic Venues
Jim Thorpe has several places that are listed on the National Register for Historic Places like the Lehigh Canal, Asa Packer Mansion, Harry Packer Mansion, Carbon County Jail, Central Railroad of New Jersey Station, St. Mark's Episcopal Church, Old Mauch Chunk Historic District, and the Mauch Chunk Switchback Railway.
Food and culture
Jim Thorpe has several exotic and unique cafes and restaurants. This food of this town is so cool that it can even cater to those with special food preferences like gluten-free, dairy free, and vegan diets. For example, Stone Row Pub and Eatery or If you are potterhead, you can drop in at Muggles Mug to get your hands on some elixir, eggnogs, and butter beans.
Things to do for Family
Jim Thorpe is an ideal family vacation destination, it has historically significant entertainments and landmarks. You can take your family on a self-guided Jim Thorpe walking tour, which is great for kids and adults alike. If your family is more into adventurous activities, you may set out for Whitewater adventures, biking, paintball, sidecar tours, rafting, hiking, and so on.
Things to do for Couples
Jim Thorpe is one of the most romantic getaways in Poconos. There are plenty of opportunities to stay active and plan your daytime and nighttime activities. There are numerous restaurants and cuisines to explore, exotic shopping destinations to explore and plenty of cozy places to stay. Together, you and your significant other can embark on adventurous activities, sightseeing and fun recreational activities in Jim Thorpe. 
Winter Sports
There's no better place to shake away the winter blues than Jim Thorpe. It has plenty of things in store during the winters- ice sculpting, winter train rides, winterfests, skiing, snow shoeing, warm cider, and more. Ice skating, snowboarding, skiing and cross country skiing can also be explored during winters in Jim Thorpe.
Golfing
Golfing in Jim Thorpe is predominantly about amazing venues, gorgeous views and excellent food. You can experience a whole new level of golfing with fantastic changes in elevation and challenging courses. Some of the popular golf courses near Jim Thorpe are Hideaway Hills Golf Course, White Birch Golf, Olde Homestead Golf Club, and Indian Mountain Golf Club.
Special Events
Jim Thorpe hosts several events throughout the year. The Fall Foliage Festival, Rotary Steam Train Excursion, Myco Fest, Goat Yoga, Jerk and Sound Fest are some of the events conducted every year in Jim Thorpe.
FAQs
Where is Jim Thorpe located?
Jim Thorpe is located near the center of Carbon County. The zip code of Jim Thorpe is 18229.
How to get to Jim Thorpe?
By road, you can reach Jim Thorpe via U.S. Route 209, Pennsylvania Route 903, PA 115, Pocono Raceway, Interstate 476, and PA 534. There are also seasonal passenger excursions to and from Jim Thorpe, provided by the Lehigh Gorge Scenic Railway.
What is the time zone in Jim Thorpe?
Jim Thorpe is located in the Eastern Time Zone, PA (GMT/UTC-4h during daylight saving & GMT/UTC-5h during standard time).
Which are the best seasons to visit Jim Thorpe?
Spring in Jim Thorpe is from March through May. The season is moderately cold and the temperature ranges from 75.2°F (24°C) and 34.2°F (1.2°C).

Summer in Jim Thorpe is from June through August. The weather is extremely comfortable during this season and it is the busiest season for tourism.

Fall in Jim Thorpe is from September through November. Fall is chilly with significant snow/rain. The temperature ranges from 75.6°F (24.2°C) and 41.6°F (5.3°C).

Winter in Jim Thorpe is from December through February. The average temperature ranges between 38.7°F (3.7°C) and 27.8°F (-2.3°C).
Places to Stay in Jim Thorpe
Jim Thorpe is a very hospitable town, the longer you stay, the better you can experience it. You may choose to stay at camping resorts, hotels, suites, and guest houses. However, if you want to explore and experience Jim Thorpe like never before, check in at HolidayKeepers. We offer luxurious rental accommodations ranging from mansions, villas, cabins, cottages and whole vacation houses.