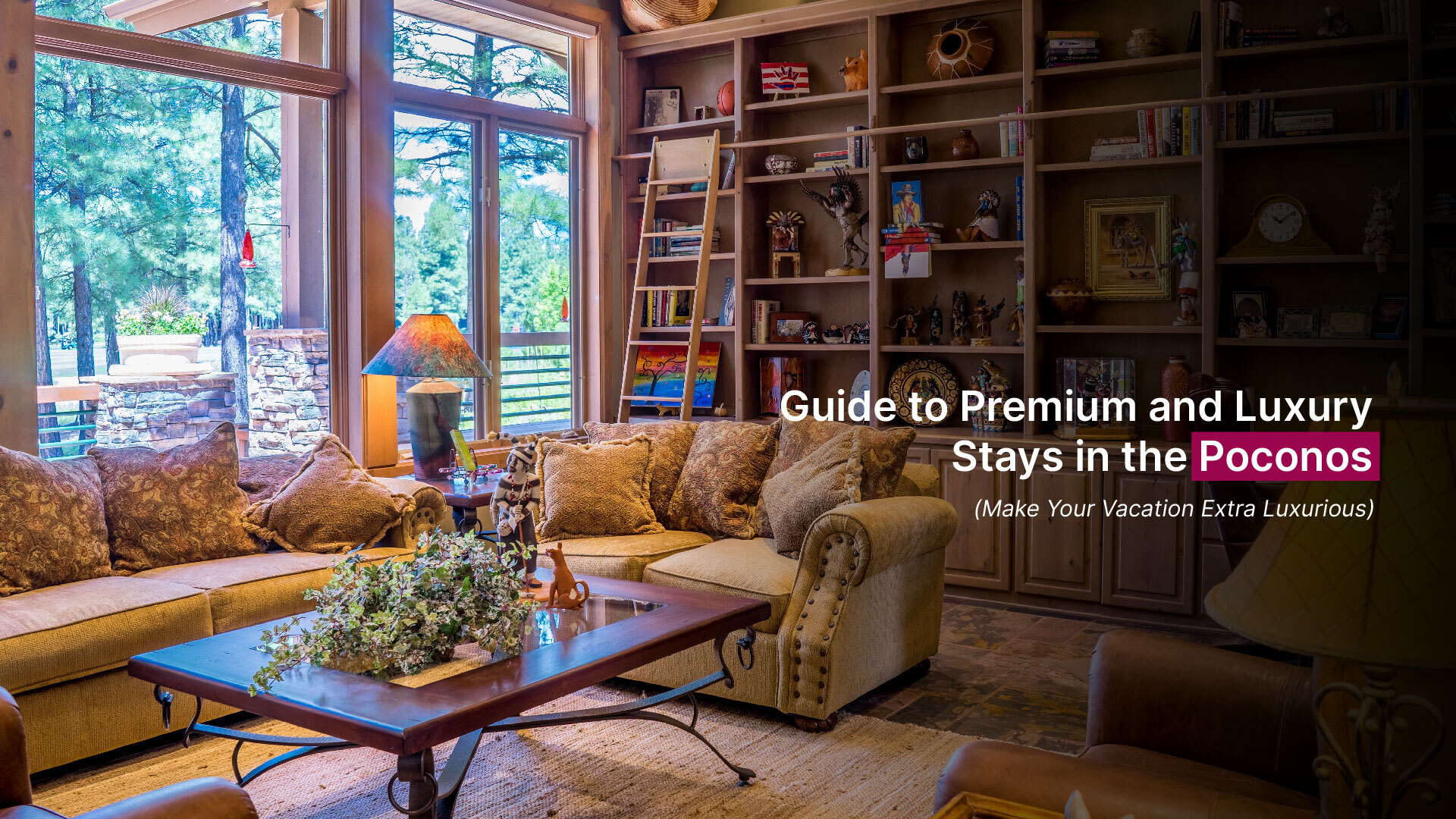 Luxury stays in Poconos is a way to treat yourself and explore ultimate relaxation amid the scenic beauty of the mountains and enjoy some of the luxury resort properties in Poconos. 
Are you looking for a rustic yet elegant vacation home for the weekend in Poconos or an all-inclusive experience near lakes? From exciting recreational activities to sports and games, we have a list of some of the best luxury properties that you can find in Poconos. 
Our luxury properties listed in Holiday Keepers have a deluxe rating and lodgings that are well-equipped with furniture and kitchen, spa treatments around and lavish amenities that you cannot find anywhere else. 
You may enjoy the apex of lodgings, premier service, and top-notch food during your luxurious vacation by exploring the soft peaks of our rugged landscape, then returning to your resort to experience the pinnacle of amenities, premier customer experience, and best restaurant.
Poconos Blakeslee Luxury Home 
This private luxury residence is located in one of the most beautiful areas of Pocono, with breathtaking views. The setting is all you could want – a great combination of luxury and nature with a laid-back vibe. The native forest greenery around the estate provides an ideal environment to breathe and feel at ease.
This venue provides a spot for all, whether they are searching for a secluded area or a room for a group hangout! Organic features and vintage furnishings give the space a natural flair and excitement.
Luxury Green Valley Farm House with Barn
We're here to infuse luxury into historic farmhouses! At Luxury Green Valley Farm House, you may have a beautiful and soothing atmosphere while still enjoying the comforts of class. It is a charming barn closer to nature and vegetation – ideal for a refreshing respite from a regular schedule.
This In-Vogue Country Style Sophisticated and Lavish Farm House are brimming with conveniences, including a campfire amid vast countryside. The home emphasises antique interiors, providing an authentic feeling of a farmhouse. The interior reflects the natural grandeur of the property, which includes a majestic stone entryway flanked by lovely red maples and pools.
Poconos Lovely Lakefront Contemporary House
This lakeside property on Lake Carobeth in Tobyhanna, PA, offers a beautiful outlook. The holiday property is surrounded by woods and numerous birds and animals, giving it a pure appearance. The holiday area is ideal for anyone seeking rest in a tranquil setting. The home can easily support 12 guests while immersing them in the peaceful natural surroundings.
The vacation home's location adds to its allure. It is centrally located among major Poconos activities such as Mount Airy Casino, Kalahari/Great Wolf Water Park and Ski Area, Jack Frost Skiing, Crossing Premium Shopping Outlet, Cheese Factory, Pocono Raceway, and more! 
Poconos Mesmerising Castellated Luxe 
This beautiful and luxury house is one of the best luxury vacation homes listed with Holiday Keepers. The villa is relatively modern yet traditional, with a touch of artistic craft from the past. This haven is quite luxurious and intimate, with a sweeping driveway around. The villa has a very spacious set-up with enough room for equipment. You also get to experience extraordinary amenities, including a hot tub and pool table. 
Super Luxury Mansion and Green Retreat in Plains, PA 
Yet another luxurious property at Poconos, this gorgeous villa is located in a beautiful area filled with greenery and scenic beauty. The outside of the estate is relatively isolated and well-fenced. The place offers some breathtaking views of the vegetation and embraces the feeling of personal awakening. The spacious and uncompromising accommodation of the villa makes it perfect for a luxurious stay. 
Whether you choose to stay in Poconos, luxury comes your way if you choose a rental property with Holiday keepers. Most of the properties that are listed in Holiday Keepers are luxurious and have amenities that you cannot find anywhere else. 
Our support team and management is top-notch – you don't have to worry about your stay; we will take care of it. Our properties are pieces of heaven in the Poconos. What are you waiting for? Book your room today with us and experience a blissful weekend in Poconos with Holiday Keepers.