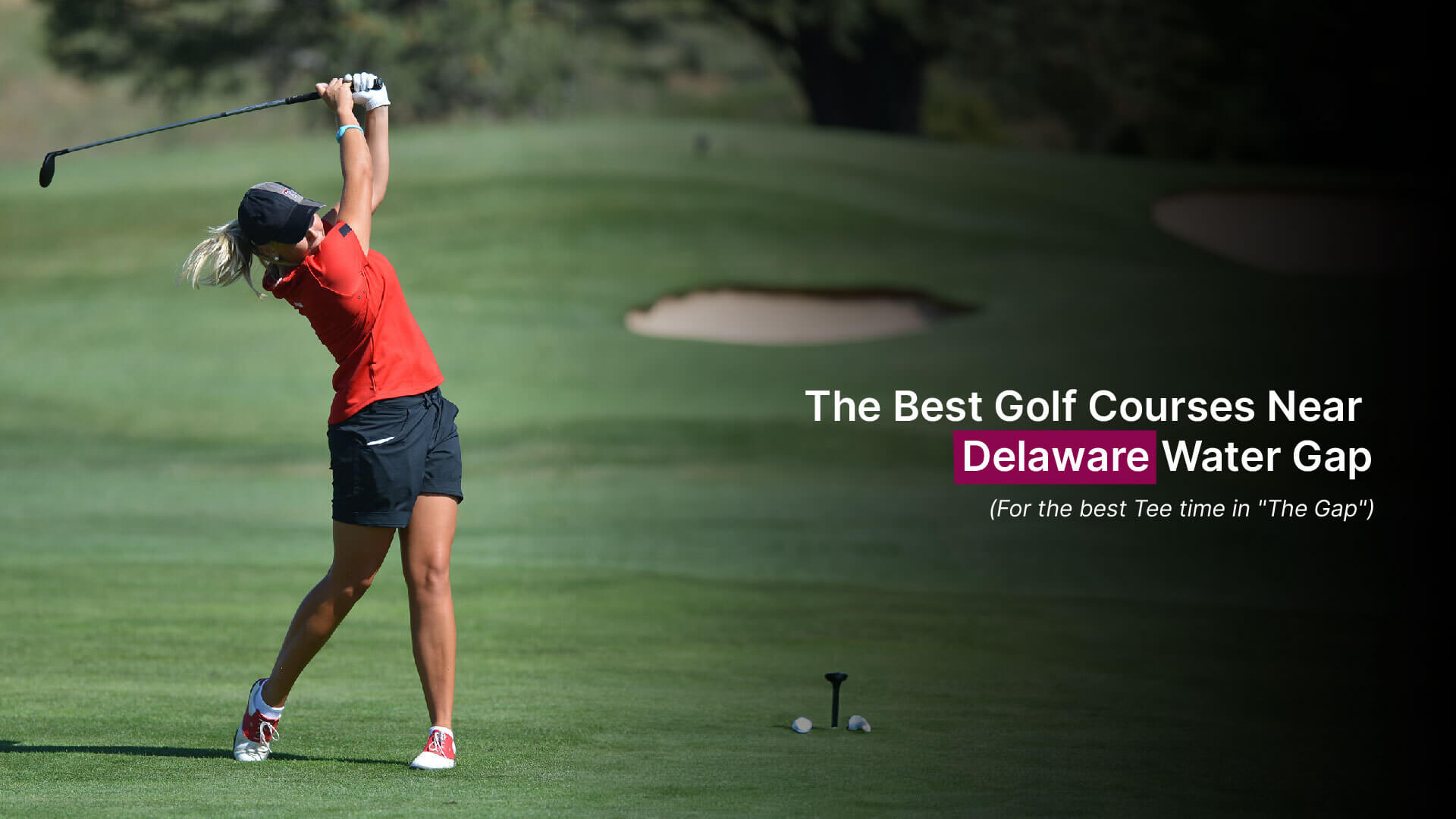 Are you looking for a new golf course for the weekend game with the gang? Then it's time to plan a trip to Delaware Water Gap and experience its world class golf courses. The golf clubs in Delaware Water Gap are surrounded by thousands of acres of forests, and mountains promising a golfing experience unlike any other. 
The best things about the golf courses near Delaware are there are many different clubs and courses to choose from which vary in features, amenities and styles. If you are wondering what golf courses you  should play at? Here is our list of the best golf courses in Delaware for golfing near "The Gap".
Country Club of the Poconos (CCP) Municipal Golf Course
The CCP golf course is owned and operated by Middle Smithfield Township Creek, Pennsylvania. It is one of the best places to enjoy golfing amidst a natural backdrop set against the Allegheny Plateau and the Pocono Mountain Foothills. The CCP municipal golf course is open to the public and it is suitable for golfers of all levels. There are 18 golf holes in this "Championship Mountain‑Style" course, which is designed by renowned architect Jim Fazio.
The golf course measures 5,808 yards making it a testing ground even for the longest hitters. You may organize your own tournament, corporate functions, golf outing, and civic/charity events. The facility also has the beautiful Whispering Pines Banquet hall, which is ideal for a private party or a private golf outing.
| | |
| --- | --- |
| Location: | 1445 Big Ridge Drive, East Stroudsburg, PA 18302 |
Shawnee Golf Course
Pocono Golf Resort championship course is the crown jewel of Shawnee Inn. Located on the grounds of Shawnee Inn and Golf Resort, it is one of the best public golf clubs in Delaware Water Gap. This distinctly flat golf course offers a panoramic view of the Delaware River Landscape. It was built in the year 1910, and was the first-ever design of A.W. Tillinghast (America's most prolific architect in the history of golf).
The golf course has 27 holes, out of which 03 are located on an island in the middle of the Delaware River. The Pocono Golf Resort is also apt for group golf outings and golf leagues. For kids, the golf resort has special youth golfers' development programs and Junior Instructions programs. They provide individual golf lessons.
| | |
| --- | --- |
| Location: | 100 Shawnee Inn Drive, Shawnee on Delaware, PA 18356 |
Pocono Hills Golf Course
Pocono Hills Golf Course is among the best golf clubs in Delaware Water Gap which is most suited for those planning a short golf trip. It features a short, tight mountain course in the heart of Pocono Mountains consisting of 18-hole par-71. It is designed by architect Nicolas Psiahas, and recognized for its challenging and rolling fairways. The golf course is suitable for all levels of golfers.
The Pocono Hill Golf Course offers daily golf play packages, practice holes, and convenient tee times. It also has a golf shop, and the "Warehouse Tavern & Grill" where you can stop for a bite and enjoy the view of the golf course.
| | |
| --- | --- |
| Location: | 124 Golf Drive, Pocono Hills Golf Course, East Stroudsburg, PA 18302 |
Great Bear Golf Course 
This semi-private golf club is designed by the "Golden Bear"‑Jack Nicklaus. It is one of the most picturesque golf clubs in Pennsylvania, which is known for their quality of service. Great Bear Golf Club features an 18-hole championship course along with three lakes, wetlands, small bridges, and a rolling terrain with several streams.
Great Bear golf course is designed to accommodate players of all levels. For experienced players, the course offers pro tees and interesting challenges. For beginners, it functions as a training ground to becoming professional players. It is designed to let all kinds of golfers have an enjoyable experience.
| | |
| --- | --- |
| Location: | 1 Great Bear Ct., East Stroudsburg, PA 18302 |
Cliff Park Golf
Cliff Park Golf is another public golf club in Delaware Water Gap, with 09-holes, located in the heart of Pocono Mountains. This golf pack has a historical significance dating back to the Colonial times. The wide-fairway golf course with nine-holes was originally built in 1912 and it is the first course designed by a woman- Annie R. Buchanan.
The golf course also has some historic significance from American Movies. For example, if you take the trail from the Pond at Cliff Park to the Cliffs, you will be walking on the same spot where the stand-ins of the Wild West and Silent Cowboys movies were filmed. The Informer, a 1912 film was also shot around this very golf course.
| | |
| --- | --- |
| Location: | 155 Cliff Park Road, Milford, PA 18337 |
Glenbrook Golf Club
Glenbrook Golf Club is owned and operated by Stroudsburg Township. It was established in the year 1924, and it is known to provide a fun and welcoming family experience. The golf course poses a competition for golfers of all abilities.
Although this is a private country club, it is affordable as they charge a public price for a tee time. It also provides golfing lessons. You may play golf by golf riding in a cart or by golf walking. There are a total of 18 holes and you can organize private, group golfing tours in the golf club.
| | |
| --- | --- |
| Location: | 1044 Hickory Valley Road, Stroudsburg, PA 18360 |
Terra Greens Municipal Golf Course
Terra Greens Municipal Golf Course is a 3,130 yards golf course with scenic, rolling tree‑lined fairways. The club has 9-holes, sloped and rated by the USGA. However, if you are looking for an 18-hole golf course you may play the course twice. The course is designed to let you use all the golf clubs present in a standard golf bag, making this one of the shortest and versatile golf courses near the Delaware Water Gap National Recreation Area.
You can also host your own golfing tours in the Terra Greens Municipal Golf Course. You can even select your own food option on the golf tour.
| | |
| --- | --- |
| Location: | 123 Terra Green Drive, East Stroudsburg PA, 18301 |
 Conclusion 
After you are done with a long and tiring day of golfing and are looking for a quiet and secluded place to get some rest. Then you should book a stay at a relaxing vacation home with HolidayKeepers.
At HolidayKeepers, we host private vacation homes ranging from mansions, villas, cottages to cabins  and private farm houses which are perfect for big groups too. All our properties are integrated with contactless check-in and come with world class amenities like luxury bedrooms, private swimming pools, Jacuzzis and modern kitchens.
FAQ's
Q: What are some Public golf courses in the Delaware Water Gap ?
A: Some of the best public golf courses in Delaware Water Gap are Water Gap Golf, Country Club of the Poconos Municipal Golf Course, Shawnee Golf Course, Great Bear Golf Club, and Terra Greens Golf Club
Q:When is the best time for golfing in the Delaware Water Gap?
A:The spring and the summers which last from June and lasts until August.
Q: Is there a driving range at  Country Club of the Poconos (CCP) Municipal Golf Course
A:No, the Municipal Golf Course does not have a driving range. However a small putting green is available.
Q: How long does it take to play at the Pocono Hills Golf Course?
A: It will approximately 3-4 hrs to complete a game, but will mostly depend on your play, no of players and other factors.