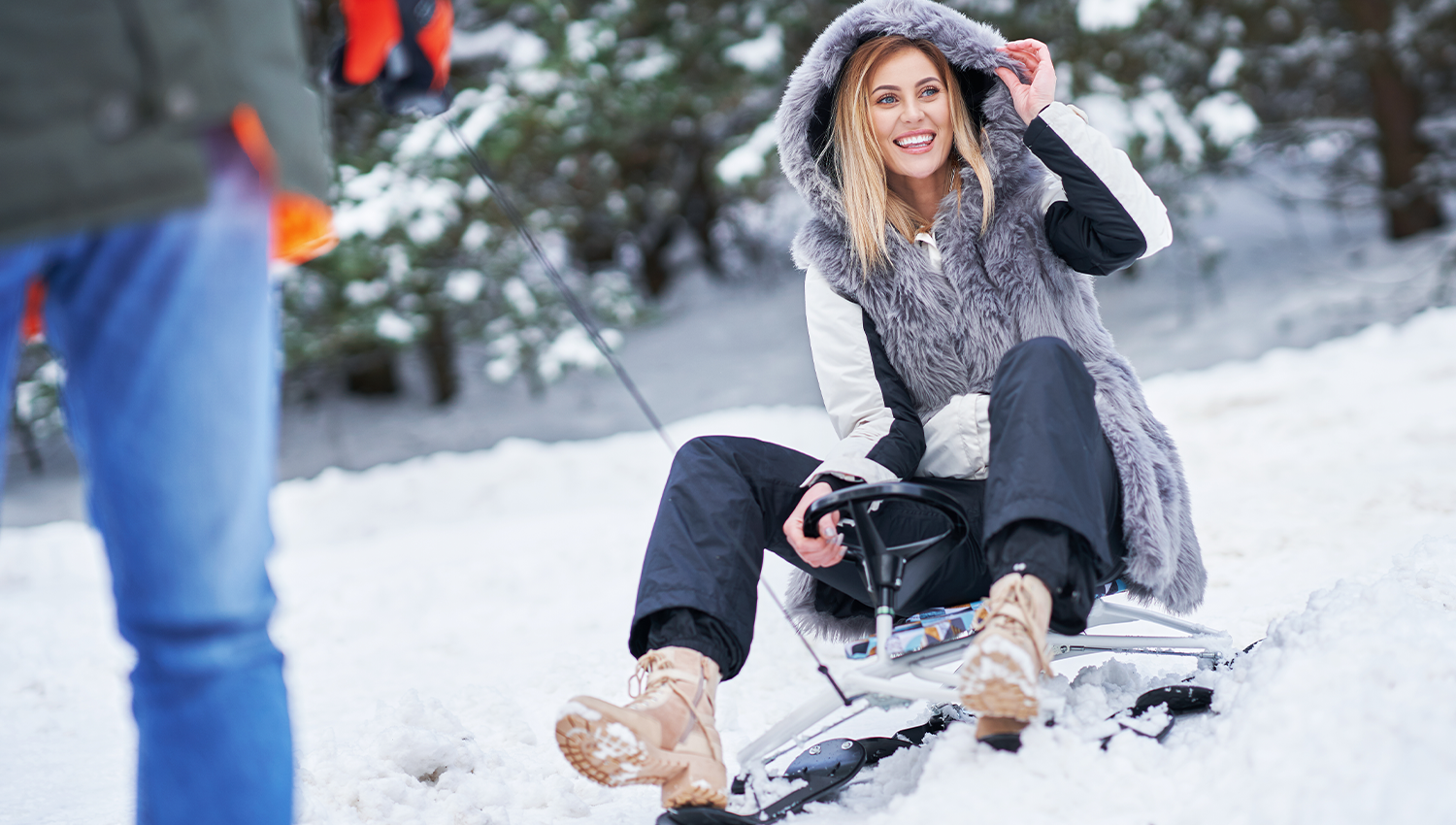 Located in northeastern Pennsylvania, the Poconos offers a picturesque winter wonderland each year. During winter the Poconos comes alive with tons of winter activities. From skiing to sledding to giant indoor water parks, you will find all sorts of winter activities that are suitable for every age group.
So, today, we are introducing you to the most unique, fun, and at the same time relaxing activity to enjoy the breathtaking winter sceneries of beautiful Poconos. We are talking about the popular and nostalgic sleigh rides of the Poconos. 
Let's get started!
What exactly sleigh ride is?
You most probably know the answer but if not then, a sleigh ride is a winter activity that involves riding on a horse-drawn sled through a snow-covered landscape. A modern version of the sleigh ride is also gaining in popularity in some places. The only change here is, instead of horses a snowmobile is being used. It offers the same experience and fun, but with the added convenience motorized vehicle.
Sleigh Riding in the Poconos
Happy Trails Stable:
If you are someone looking for an authentic horse-drawn sleigh ride experience in the Poconos, then Happy Trail Stable is the place. It is a family-owned stable, located in Waymart, and has been in the horseback riding business for more than 30 years. So, take your family and book your reservation to explore the beauty of the Poconos on a horse-drawn sleigh ride.
Rides on Offer
Carriage Rides

Trail Rides

Boarding

Pony Rides

Hay Rides

Sleigh Rides

Private Lessons
Time: Daily (9 am- 5 pm)
Address: 613 Honesdale Rd, Waymart, PA 18472
Note: Sleigh riding is subject to favorable weather conditions
Top Tips to Make Your Sleigh Riding Enjoyable
Wear warm clothes. waterproof boots, gloves, and a hat or scarf to keep you stay comfortable and dry during the ride.

Don't forget to make a reservation in advance as a horse sleigh ride in Poconos is often high in demand activity.

Always follow instructions to keep yourself safe and to avoid injuries to horses.

Keep your camera ready to capture the beautiful memories and the enchanting winter landscape.

Finally, relax and enjoy the peaceful and scenic sleigh ride of the Poconos.
Other Winter Activities in Poconos
Here are some of the other great winter activities to consider on your visit to the Poconos.
Ski and Snowmobile:
Skiing and snowmobiling are one of the most popular winter sports and the Poconos is home to some of the best resorts offering both Skiing and snowmobiling. Here are a few best resorts to enjoy skiing and snowmobiling.
Camelback Ski Resort
Jack Frost Ski Resort
Big Boulder Mountain
Shawnee Mountain Ski Area 
Snowtubing:
Fun way of enjoying the snow that provides a thrilling experience for everyone. Unlike skiing, snow tubing doesn't require prior experience or training. Here are some of the places you can enjoy snow tubing in the Poconos.
White Lightning Snowtubing
Blue Mountain Resort
Adventure Center at Skytop Lodge
Montage Mountain Resort
Ice Fishing:
Fishing on a frozen lake is total fun and it offers a unique way of enjoying your wintertime outdoors. Some of the best lakes for ice fishing in the Poconos are:-
Lake Wallenpaupack
Promised Land Lake
Sleigh riding is a delightful way of enjoying winter and creating lasting memories with your loved ones. Whether you are looking for a romantic getaway or a family fun day, a sleigh ride in the Poconos is a perfect option to make your winter extra special.
FAQs
Q: Where are the best places for sleigh riding in the Poconos?
A: Some popular sleigh riding spots in the Poconos include the Camelback Mountain Resort, Jack Frost Big Boulder,  and Shawnee Mountain Ski Area. 
Q: When is the best time to go sleigh riding in the Poconos?
A: The best time to go sleigh riding in the Poconos is typically from late December through early March when there is enough snow on the ground for the sleds to glide smoothly.
Q: Do I need to bring my own sled for sleigh riding in the Poconos?
A: No, most sleigh riding spots in the Poconos provide the sleds for you. However, you can also bring your own if you prefer.
Q: Is sleigh riding in the Poconos safe?
A: Sleigh riding in the Poconos can be a safe and fun activity if you follow the rules and regulations set by the location. It's important to wear appropriate clothing, use the sleds provided, and follow any instructions given by the staff.