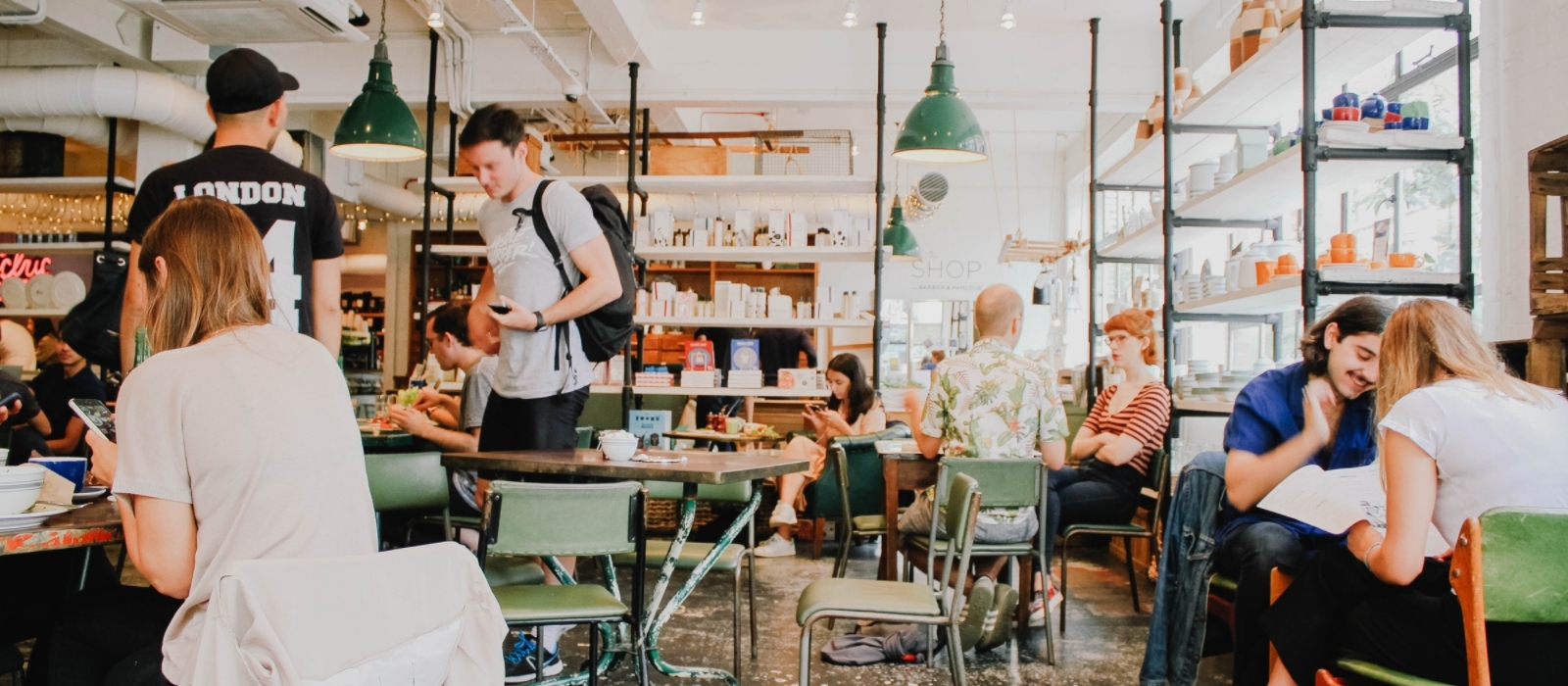 Calling out to all the pet lovers out there! We know the pain of leaving our furry babies at home every time we make a plan. With their earnest faces, puppy eyes and wagging tails, we all know how that ends. Plans get canceled and you end up staying with your pet watching Netflix and having takeaways for dinner.
Well, what if we told you that you don't have to do that anymore? Yep, you heard us right. Presenting to you some of the best pet-friendly restaurants and cafes in New York City.
Your pupper certainly loves you, yes, but he/she will love you even more when you take them here. A real treat to both you and your furry love, this restaurant in Chelsea is ideal for all! 
Along with a solid menu of New American favorites and seafood, there's a special menu just for your dog. It's difficult to choose between grilled steak, chicken, or a burger, all served with baby vegetables. Finish with a pupsicle or a berry mix. Furry friends who are watching their weight can stick to a simple homemade biscuit in one of the finest dog friendly restaurants in NYC.
Looking for a dog friendly brunch in NYC? This East Village establishment is close to Tompkins Square Park, making it an ideal stop before or after a visit to the dog park. Boris and Horton welcome your dog not only when you stop in for a coffee or a bite to eat, but also when they host dog-friendly events throughout the year, ranging from trivia to adoption events.
Maybe you're out and about for restaurants that allow dogs in NYC. The star of this East Village Italian gem is its house-made pasta. Your canine companion is welcome to join you in one of the most premium dog friendly bars in NYC, which wraps around the corner of East 2nd. As you dig into your divine pasta, enjoy people-watching with your best friend along the tree-lined streets.
One of the most pet friendly restaurants in NYC, this dependable Upper West Side waterfront spot is housed in a posh, elevated stone structure with dramatic arches. Because of its prime location overlooking the Hudson River, the main draw here is the drinks and the views. It's not only a dog-friendly option right on the water, but it's also a great choice for a casual party. The menu includes standard bar fares such as fried appetizers and sandwiches, as well as a variety of salads.
Coddle your pupper with the finest restaurants for dogs in NYC at Barking Dog. Canines are not only permitted, but also enthusiastically welcomed at this family-friendly UES restaurant. It has a dog-friendly name and plenty of sidewalk seating with bright awnings, as well as doggy water fountains. Brunch is popular, with simple, egg-centric dishes, while lunch and dinner offer a variety of entree salads and comfort foods such as mac and cheese, buttermilk fried chicken, and braised short rib.
Long before the glitzy high rises, stroller sets, or hipster-friendly dining options appeared in Long Island City, there was this unpretentious neighborhood bar. The brick-walled, tin-ceilinged establishment, which has a large outdoor patio, accepts dogs both inside and out. There is frequent live music in addition to other events like readings and trivia.
This rather new Chelsea restaurant is the place to go if you're all about finding dog friendly places in NYC. A fancy 16-ounce grilled ribeye steak for $42, pan-roasted salmon for $28, and grilled chicken breast for $16 are among the recent additions to The Wilson's special dog menu. It is accessible on the front terrace and side patio of the restaurant, where patrons can relax in the sunshine and order their own steak from the standard menu.
However, we would suggest you prep your pet/pets before you take them out with you. Here are a few tips you could follow:
Take your pupper out on a long stroll
If you have a dog, you are familiar with what it's like to spend the entire day indoors because of the weather. They now have zoomies indoors because they were unable to go for their customary long stroll or playtime in the park. Additionally, they are agitated and frequently complain or bring you their noisy toys.
Consider the energy in a busy restaurant now. Right, no thanks. Take your dog for a long walk before you go out to eat, advises Hunter Bowen, DVM, a veterinarian at Firehouse Animal Health Center. It lessens the likelihood of an accident while also reducing enthusiasm. Giving them a good opportunity to use the restroom before you leave will help avoid having to get the poop bags out in the middle of lunch, he continues. Additionally, the exercise releases endorphins, which will make them much happier and more at ease while you are out.
Don't let them out of your sight. Keep them on a leash, close to you. It will be a convenience to them, you and the rest of the restaurant as well. 
Make sure your pup is well hydrated
 This may seem obvious, but it's simple to forget when you're rushing to get out the door and behind schedule. If you ask, many restaurants will offer a bowl for your dog to drink from, but if they don't, you should bring your own bowl and water for your dog anyway. Any summer outing will cause your dog to become thirsty, as Bowen asserts, day or night. If there won't be access to water where you're going, take plenty for them, he advises. Even if there will be access to water, it is a good idea to bring a water bowl that your dog is accustomed to and at ease using.
Bring them treats and toys to keep them occupied
New York has a lot of pet friendly restaurants that are sure to have your canines wagging their day away. Make sure your dog has their own space and won't beg for food from you or other customers, advises Katy Nelson, DVM, a senior veterinarian at Chewy, out of consideration for other restaurant patrons. You might think about bringing some of their favorite activities as well as a water bowl so you won't have to constantly take care of them. According to Nelson, this could involve giving them treats, chew toys, chew sticks, or even a small towel or blanket to lay on.
Well, you don't have to worry anymore! NYC offers many options that are paw-some for getting a bite to eat or meeting friends for drinks.
FAQs
Are there many pet-friendly restaurants in New York City?
Yes, there are many pet-friendly restaurants in New York City, especially in neighborhoods like the West Village, Chelsea, and the Upper West Side.
Are there any specific pet-friendly restaurants you would recommend?
Yes, there are many great pet-friendly restaurants in New York City. Some of the most popular ones include Shake Shack, Barking Dog Luncheonette, and The Wilson.
What kinds of pets are typically allowed in pet-friendly restaurants in New York City?
Typically, restaurants in New York City that allow pets will allow dogs, but other types of pets may be allowed on a case-by-case basis.
What are the rules for bringing a pet to a restaurant in New York City?
The rules for bringing a pet to a restaurant in New York City may vary depending on the restaurant. Generally, pets must be well-behaved, kept on a leash, and under control of their owners. Some restaurants may require proof of vaccinations or have restrictions on the size of pets allowed.
Can I bring my pet inside the restaurant or just sit outside with them?
Whether you can bring your pet inside the restaurant or just sit outside with them will depend on the specific restaurant's policies. Some restaurants may allow pets inside, while others may only allow them in outdoor seating areas.
Do I need to make a reservation at a pet-friendly restaurant in advance?
It is always a good idea to make a reservation at a pet-friendly restaurant in advance to ensure that there is availability for you and your pet
Are there any additional fees for bringing a pet to a restaurant in New York City?
There may be additional fees for bringing a pet to a restaurant in New York City, such as a pet fee or cleaning fee. It is best to check with the restaurant in advance to understand their specific policies and any associated fees.
Are there any special pet-friendly menu items at restaurants in New York City?
Some pet-friendly restaurants in New York City may offer special menu items for pets, such as dog-friendly ice cream or biscuits. However, this will vary by restaurant.