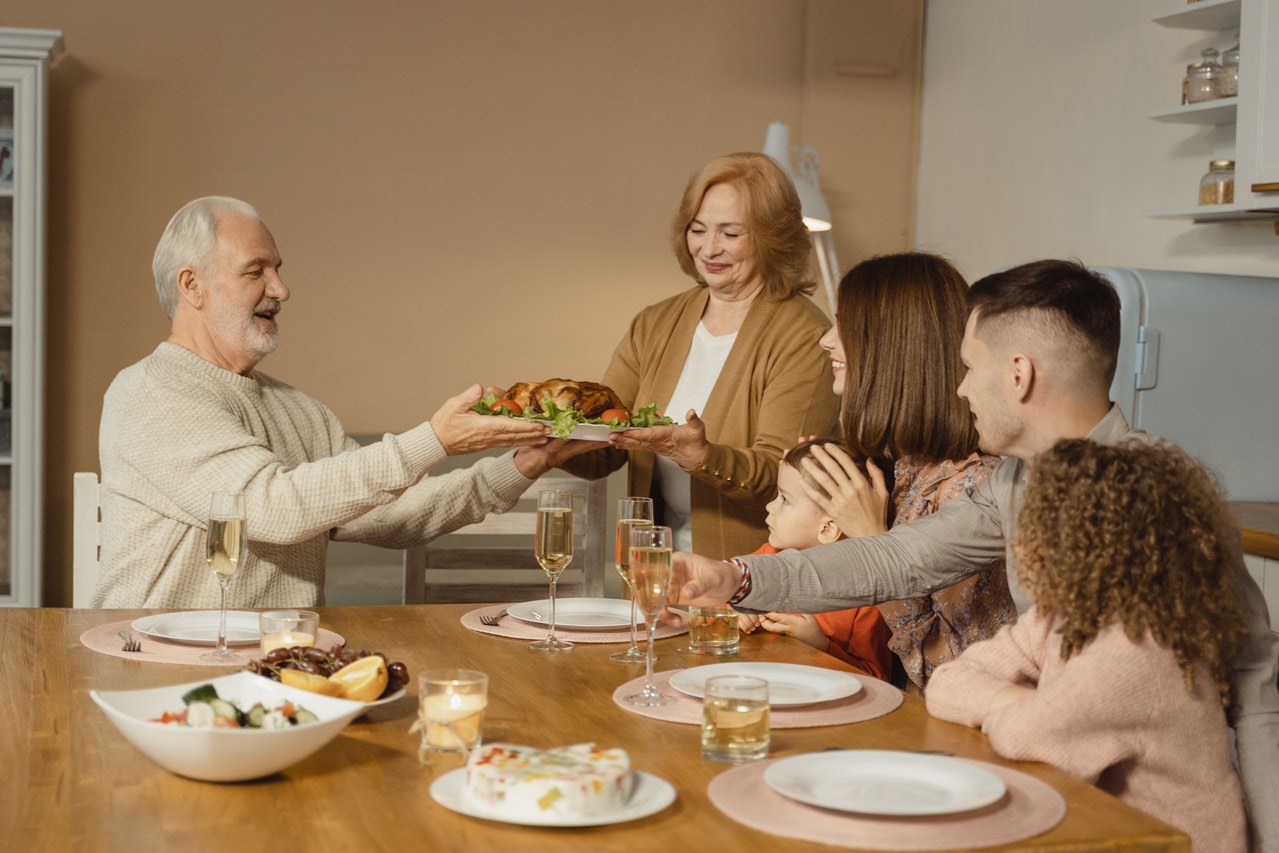 Thanksgiving is a day of showing gratitude and being thankful for everything we have. It is also a day to observe one of the oldest and classic American traditions- Thanksgiving Dinner. This blog is a quick roundup of top 10 traditional foods that make a perfect Thanksgiving Meal.
So, let's start! With our list of perfect meals for Thanksgiving
1. Turkey
 First on our list is turkey. Thanksgiving wouldn't be complete without turkey, as it is the centerpiece of the Thanksgiving dinner. Usually, turkey is prepared whole with lots of stuffing, filled with fruits and vegetables, and seasoned with the goodness of herbs to give the meat more flavor and smell. (Over the course of time, stuffing itself becomes a sort of side dish served next to the main course). After a while, the turkey is roasted in a conventional gas or electric oven or in a more traditional way over an open fire. Roast the turkey until the juice runs, and your delicious and juicy turkey is ready to be placed at the center.
2. Mashed Potatoes:
 This is the most iconic and classic side dish on the Thanksgiving feast. It is very easy to prepare the dish, just boil and peel the potatoes, and you are already at the halfway mark, then mash the potatoes into a soft, thick, and creamy dish. Now add the subtle shyness of garlic, butter, milk, cream cheese, and season it with a pinch of fine sea salt. Mix all the ingredients well, and Voila! You have the perfect mashed potatoes. Feel free to add some toppings.
3. Gravy:
 Finding the perfect unctuous gravy recipe for the Thanksgiving feast is no joke. While you cook the turkey, it oozes out the juice, and this juice is then turned into aromatic, flavorful gravy. Added with starch to create a creamy texture. Pour this thick, creamy, and flavorsome sauce into any recipe on your table to make it more delicious.
4. Cranberry Sauce:
 It is a must on every Thanksgiving day as it's a delightful yet easy-to-prepare recipe. Cranberries are very tart; hence sugar is used to balance the tartness. You can use a cinnamon stick, orange juice, orange peel to add depth to the flavor, and a pinch of salt. Just boil the water with orange juice and add all the ingredients, simmer it for 10-15 minutes, that's it. Your Cranberry sauce is ready. Cranberry sauce is perfect for turkey and a great combination for leftover turkey sandwiches.
5. Pumpkin Pie:
 Autumn is the time when the whole of America is immersed in Pumpkin spice. From coffee to cookies, everything has a pumpkin spice version. Bursting with rich and delicious flavors, pumpkin pie is the single most sought-after dessert on Thanksgiving day. It is an undeclared rule that Thanksgiving is incomplete without pumpkin pie as dessert.
6. Pecan Pie:
 Complete your meal with a slice of classic pecan pie with simple fillings and full of flavors. A great combination of sweet and salty and, of course, very easy to make. The pie comprises pecan nuts, butter, eggs, vanilla sugar, maple, or corn syrup. The crunchy pecan, with sweet filling, is irresistible to say not to. 
7. Candied Yams:
 There are 3 occasions when candied yams top in popularity. One of the occasions is Thanksgiving. It is an easy recipe to prepare and just needs 4 ingredients, canned sweet potatoes, butter, brown sugar, and marshmallows. Bake the ingredients for 25 minutes, and you are ready with a  yummy casserole side dish for your Thanksgiving.
8. Green Bean Casserole:
 Although it was not an original Thanksgiving traditional food, Green Bean Casserole rose to fame during the 60s when the dish was featured in the Associated Press Thanksgiving edition in 1955. Since green bean casserole became a quintessential part of Thanksgiving dinners. Baked slowly in the oven with a creamy mushroom, fried onions, and green beans, this simple-looking dish is deceptively yummy!
9. Stuffing:
 This is a crowd-pleasing recipe, and there are many ways to prepare it. Thanksgiving stuffing is a food that goes inside the turkey, and with time it has become a full-time side-dish item. Stuffing is made primarily of bread, herbs, and other ingredients, giving it a crisp, rich, and savory flavor.
Thanksgiving dinner is so large and requires days of preparation. These are our top 9 traditional Thanksgiving meals that can't be missed from that exquisite Thanksgiving dinner table.