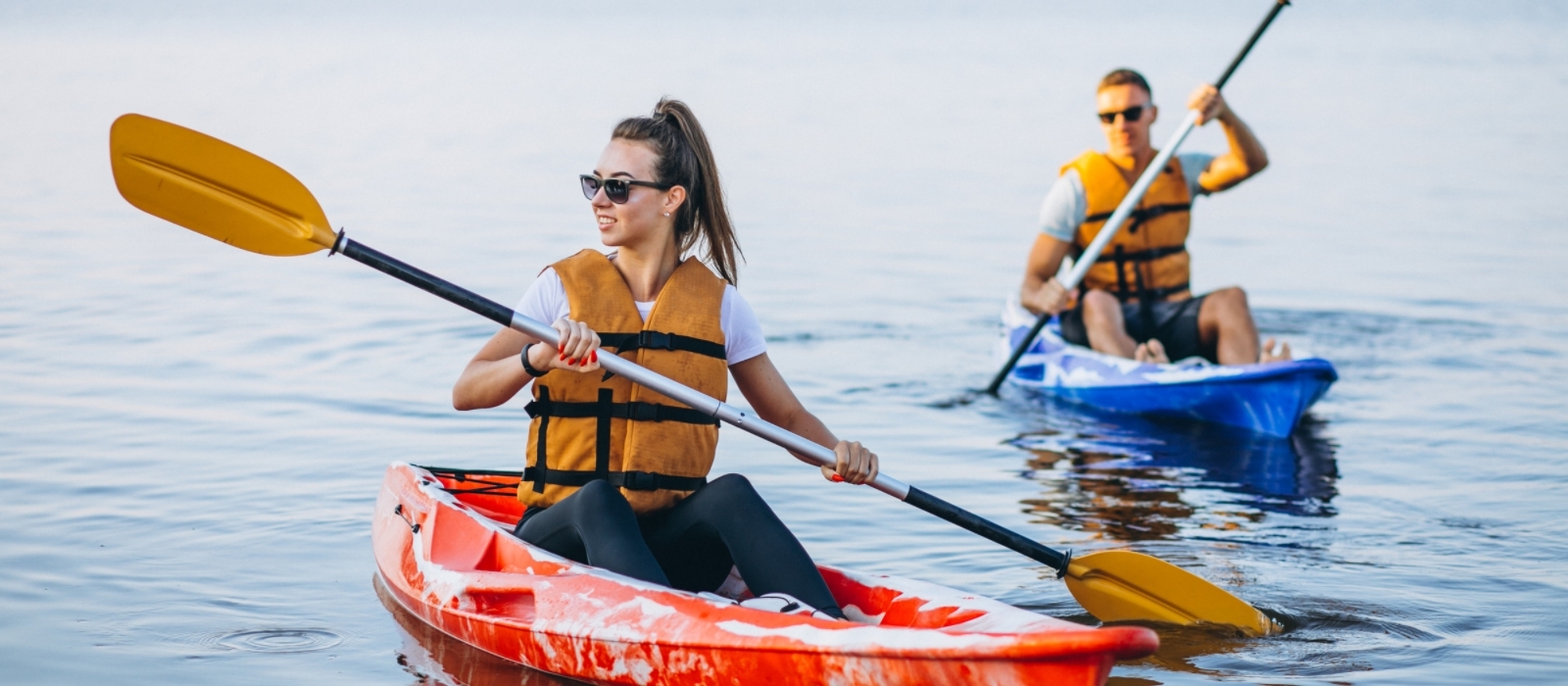 Lake Harmony is blessed with natural glacial water and is privately owned by Lake Harmony Estates, making it a well-maintained and clean lake. Unlike the Big Boulder Lake, powerboats are allowed in Lake Harmony, and activities include water skiing, boating, jet skiing, kayaking, canoeing, and swimming! 
What you need to know before going to Lake Harmony for Watersports ?
One of the most crucial things to keep in mind before trying water activities in Lake Harmony is that it can be physically challenging. It demands a lot of strength, especially for water sports like surfing, skiing, or even paddle boating. Not only physical strength, but it also requires mental strength and focuses. Since the aim of water activities is to have fun, it's essential to understand that you should not test and do beyond your physical limits. Make sure that before you select a watersport, you wear a life jacket. Also, never forgo a floatation device. 
Who should try watersports near Lake Harmony? 
Watersports in Lake Harmony is perfect for anyone who wants to beat the summer heat, get some exercise and still have fun! With the importance of health and adventure increasing day by day, there is no denying that the popularity of fun watersports activities is expanding exponentially. It is also a fun way to spend a family/friends getaway. It is encouraged that whether you are a professional or a beginner, trying fun water sports activities (with necessary support and safety) is a great way to wind up and have a fun time during your vacation. 
Best time for water activities in Lake Harmony
Summer is recorded as the best time for vacation, especially if you want to try water-based activities like whitewater rafting, kayaking, and swimming across the Lake Harmony. The other season that's best for water activities is the fall – when you can also enjoy the autumn foliage around the Lake Harmony. 
1. Yeti WaterSports 
Best for: Fishing and scenic cruise 

Address: 1 Lake Dr, LAKE harmony, PA 18624 

What to do: Tubing, Kayaking, Stand Up Paddle Boards, Canoes, Row Boats, Pedal Boat Rentals, and Leisure Cruise. 

Rules: No pets allowed, No alcohol allowed 

Weather policy: 100% refund  

Cost: Starts from $15/hour 

License required: No but experience is needed for some activities. 

Guide: Yes – staff or guide support 

Timings: 9-10 AM – 6 PM 

Cancellation: 100% refund who cancel at least 14 days prior; 50% refund if canceled between 7-14 days before check-in    

Parking: Available 
Whether you are looking for a fun or relaxing day on the water, Yeti WaterSports is one of the premier locations in Lake Harmony and Poconos for water sports activities. The staff is super friendly, and it has reasonable pricing. One of their main attraction is the 50-minute scenic cruise around Lake Harmony. 
Important things to do at Yeti Watersports
Pontoon boat ride: The boat ride around Lake Harmony is one of the best activities to do in Poconos. The boat can accommodate up to 10 people. To avoid delay, make sure to call and make the reservation. The passengers are accompanied by a captain, who gives information about the lake and place, making the ride informative and relaxing. 

Kayaking and Standup paddle board: You can rent canoes and kayaks hourly. The staff guides through the process and is also perfect for beginners. 
2. Lake Harmony Watersports 
Best for Wakeboard and Water skiing 

Address: 37 N Lake Dr, Lake Harmony, PA 18624, United States 

What to do: Water skiing, wakeboarding, tube riding. Rentals include kayaks, canoes, rowboats, and stand-up paddle boats.

Rules: No pets allowed, No alcohol allowed 

Weather Policy: 100% refund 

Cost: Starts from $20/hour 

License required: No 

Guide: Yes – staff or guide support 

Timings: 11-12 AM – 4-5 PM 

Cancellation: 100% refund who cancel at least 14 days prior; 50% refund if canceled between 7-14 days before check-in    

Parking: Available 
Lake Harmony Watersports is well known for its premier school in the Pocono Mountains with top-notch waterboarding and water skiing classes. They offer detailed lessons and learning for the demonstrations in all kinds of water sports activities listed above. They have single-person, and multi-person tub rides for all ages and abilities. The school also operates a Malibu Boat for water sports. All equipment shall be provided. All ages and abilities are welcomed at Lake Harmony WaterSports. 
Important things to do at Lake Harmony Watersports 
Wakeboarding: Wakeboarding is one of the best activities at Lake Harmony Watersports. They have a dedicated program for wakeboard lessons. Lake Harmony Watersports offers wakeboard lessons in their program package. The packages range from one to five days of training, including three wakeboard sets a day, lodging, food, and access to other water sports activities and amenities. 

Motorized boat: The motorized boat can accommodate almost seven people, with an hourly rate of $350-$400. The rate may vary from season and holiday. A boat driver/instructor shall accompany the group. If you choose to stay at their inn, the hourly rentals are nearly halved, which is an excellent deal for watersports enthusiasts. The fee for the motorized boat includes the rent of the boat, gas, instruction, equipment, and insurance. 

Non Motorized boats (Kayaks, Canoes, Rowboats, and Stand up paddle boards): You can get the rentals for $20-$30/per person for an hour. 

Others: They have multi-person tub rides, kneeboarding, and wake surfing on the Lake Harmony. 
3. Lake Harmony Cruises 
Best for Cruising 

Address: 20 S. Lake Drive, Lake Harmony, PA 18624 

What to do: Leisure lake cruise, guided boat tours 

Rules: No pet allowed, No alcohol allowed 

Weather Policy: 100% refund 

Cost: $15-$25/person 

License required: No 

Guide: Yes 

Timings: 11 AM – 5 PM 

Cancellation: N/A   

Parking: Available 
The Lake Harmony Cruises (Pontoon Boat Tours) offers a fun and relaxing weekend getaway in the Poconos. You can opt for a leisure lake cruise to get a more picturesque view of Lake Harmony. It is perfect for couples for a romantic getaway in the Poconos, where you can spend some time together cruising across the lake and indulging in the luxury of each others' company. All ages and abilities are welcomed here. A guided coach/instructor would accompany the other package boat tours.
Important things to do at Lake Harmony Cruises 
Cruise trip: The 45 minutes cruise trip is a must on your to-do list for Lake Harmony. The captain will make the cruise ride memorable by providing interesting information about the area and making the trip worthwhile. 
4. Boating near Lake Harmony
Poconos mountain has a total of 150 lakes And the first activity that strikes us when we talk about lakes is boating. Boating has always been a favorite activity among family, romantic couples, and friends. Pocono mountain because of its sparkling lakes and picturesque mountains has been a major source of attraction among tourists. Visitors especially from Newyork and Philadelphia visit Lake Harmony of Poconos, for the scenic view and water boating. However we often forget to visit the lakes located near the lake Harmony  If you are planning to visit  Lake Harmony, Poconos anytime soon, do not forget to indulge in boating in the nearby areas as well. We are giving a small description of the 2 best lakes located near Lake Harmony so that you can remember them while visiting Poconos. 
Maunch Chunk lake:
Does recreational boating and fishing sound like a good idea? Well, no place can satisfy your soul like Maunch Chunk Lake of Poconos. Let the crystal clear and moderately cold water be the reason for pure joy this season. Try boating and fishing to make your trip more interesting.  All the boats of Maunch Chunk lake are registered under the commission department.  It is open all 12 months of the year. We suggest you book the boating tickets in advance to avoid any kind of hassle on the spot. Remember, you can neither be drunk nor with a pet while entering the parking area.
Facility- Canoes, kayaks, rowboats, and paddleboats(electric motors and unpowered boats)
Distance from Lake Harmony- 22.5 miles (32 minutes)
Lake Naomi
A center of recreational activities, beaches, and marinas. Lake Naomi is one entity with multiple attractions. This 277-acre lake is nothing less than a boon for luxury seekers and boaters. No matter if you love fishing, boating, or just basking under the sun, Lake Naomi is a suitable place for everyone. Along with natural beauty, the Lake Naomi community provides the facility of two magnanimous pools for its members, eating spots, and a well-equipped golf course. Not to forget, it is the only lake with a  community that provides fitness centers, a game room, and something for every family member of yours
Distance from Lake Harmony- 11.6 miles(17 minutes)
Facilities- Sailboating, kayaking, canoeing, paddleboards, and rowboats
Boating is one of the best fun ways to spend your time with the family. Poconos, being a hub of the lakes and numerous watersports has earned a significant name when it comes to activities like boating.  There are an infinite number of boating spots in Poconos however the names given above are quite famous. We suggest you keep them at the top of your traveling list to have the best experiences of your life.
What to bring for watersports activities in Lake Harmony? 
Before going for a water activity in Lake Harmony, ensure that you have the necessary swimwear and other equipment for a comfortable and safe water sport. Carry towels and dry bags to help you keep your clothes dry and clean. Lastly, carry enough food and water as water sports can be tiring, especially during summer, depending on the intensity of the sport.