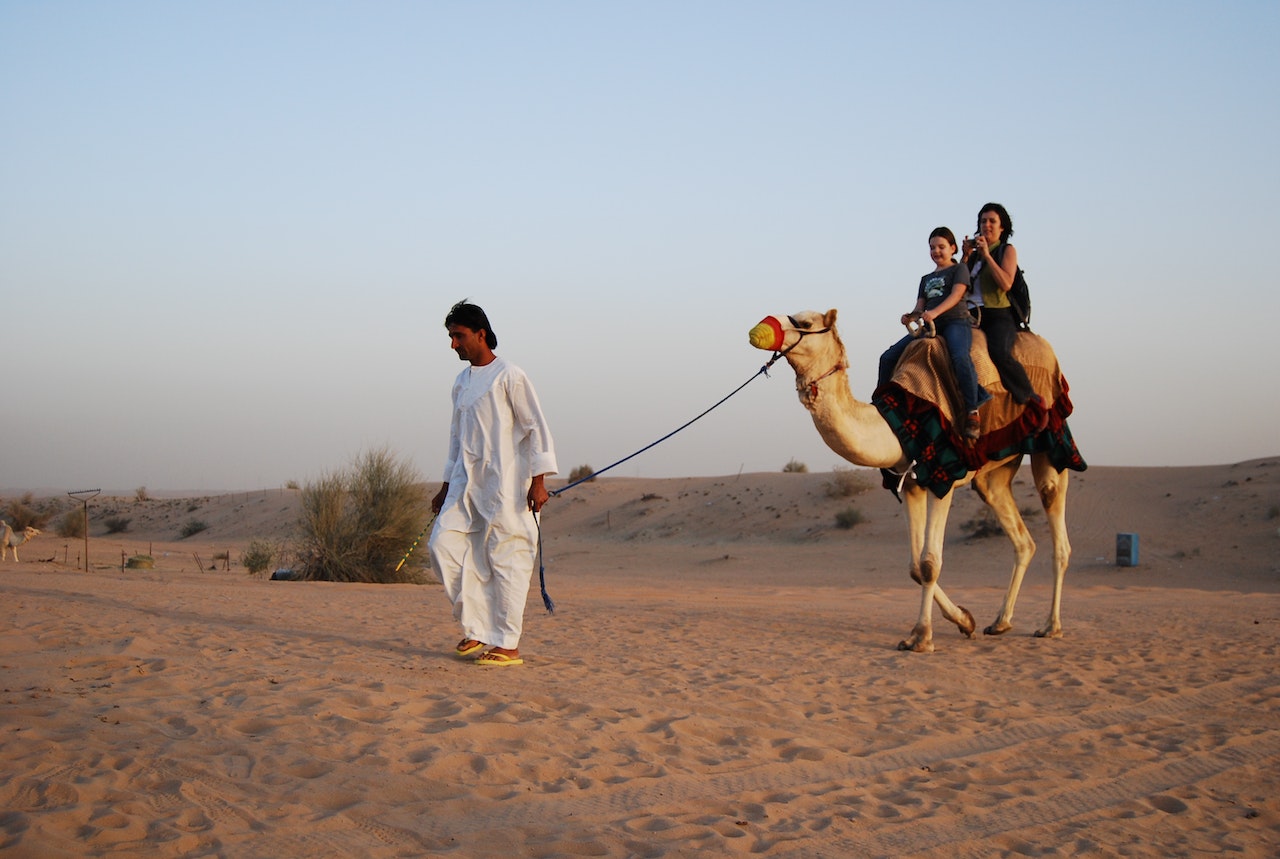 Dubai has a fascinating skyline lined with multiple futuristic skyscrapers (including the tallest building in the world, Burj Khalifa), making the destination incredibly popular among tourists. The city's luxurious and lavish lifestyle attracts millions of people from around the world every year. However, often forgotten within the ultramodern growth is Dubai's rich culture and heritage. There is a lot of depth to the culture of this Emirate and some beautiful cultural attractions and heritage sites for tourists to visit. Here is a complete walkthrough of Dubai's traditions and cultural attractions. 
1. History of Dubai
The earliest known human inhabitation in the UAE region would have been around 5500 BCE, during the Late Stone Age period. Around 2500 BCE, Date Palm trees began to be grown and about half a millennium later, camels started to be domesticated which aided with transport. The coming of the Umayyads in the 7th century AD formally introduced Islam to the then lands of the UAE. Their arrival marked the opening of eastern trade routes backed up by fishing and pearl diving to regions of modern day India, Pakistan, and China. 
In the early 19th century, the Bani Yas tribe led by Maktoum Bin Butti took over Dubai from the Abu Falasa clan. Maktoum Bin Butti then went on to establish the Al Maktoum dynasty which rules over Dubai to this day. 
The discovery of oil in Dubai in 1966 was the major factor for its rapid growth and expansion. This allowed Dubai's rapid economic growth, which was primarily supported by the merchant class. 
Upon the exit of the British from the Persian Gulf in 1971, Dubai and Abu Dhabi joined the five other Emirates to form the United Arab Emirates (UAE), where they came to constitute the most powerful two emirates and hold veto power regarding national affairs. The accelerated development of Dubai as a modern city can be owed to Sheikh Mohammed bin Rashid Al Maktoum, the current ruler of Dubai who took over in the early 21st century.
2. Traditional Arabian Culture – The Bedouins
The semi-nomadic tribal group which came to be known as the Bedouins are believed to have started settling on Arabian desert sands centuries ago. Many current Emiratis are descendants of the Bedouin tribes. The Bedouins can also be credited with many aspects of today's Emirati culture, including food, clothing, domestication, recreational activities, etc.
1. Clothing
An abaya is a loose-fitting black cloak worn by women in the Middle East, covering the entire body except for the face and hands.

A kandura, similar to the abaya, is a traditional ankle-length white robe that is worn by men.

A kaffiyeh is a traditional Middle Eastern headdress made of a square cloth, usually checkered, worn by men as a head covering or a scarf.
2. Food 
Gahwa is a traditional Arabian coffee served from a 'dallah' pot.

Harees is seasoned and boiled, cracked, or ground wheat mixed with meat.

Dates are a sweet fruit that is a native delicacy to the Arabian lands. 
3. Activities 
The Bedouins mastered falconry after recognizing the capabilities of these birds in hunting. They started taming these birds for this ability and this formed the sport falconry. 

Camels served as a vital resource for Bedouins, providing food, milk, and serving as racing animals and participants in show contests. During that era, numerous camel races were organized, with the tradition of camel racing in Dubai today being rooted in the authentic Bedouin culture.

Dhow racing is an exclusively Emirati event which is an ode to their ancestors who were pearl divers, merchants and dhow captains of early Dubai. This long-distance race covers 23 nautical miles and receives royal patronage as well.  
3. Islamic Heritage 
With Islam being the official religion of the UAE, practiced by 62% of the population and 90% of the Emirati population, there are over 2500 mosques in Dubai. Some of the most notable ones include the Jumeirah Mosque and the Al Farooq Omar Bin Al Khattab Mosque. Since the earliest Islam originated in the Arabian peninsula, the religion is closely linked to national identity.
The Jumeirah Mosque is one of the largest mosques in Dubai and is made completely out of white stone. This was in relation to the medieval Fatimid style of architecture, which included two twin minaret towers enclosing the main dome. This mosque can hold over 1500 worshippers. They also offer open tourist visits six days a week where guests are educated about Dubai's Islamic religion and culture. Refreshments including Arabian coffee and snacks are also provided. Photography is permitted.
Al Farooq Omar Bin Al Khattab Mosque
Marvel at the Al Farooq Omar Bin Al Khattab Mosque architecture inspired by the Blue Mosque in Istanbul. The mosque has stunning features of Turkish and Moroccan art, along with Arabic calligraphy of Quranic verses. The mosque has a capacity of 1800 people who may perform the congregational Salah simultaneously. 
–  Ramadan is the holiest month of the year for Muslims, which constitutes the 9th month of the lunar calendar. During this time, they observe a fast from daybreak to sunset. This is a period of fasting, prayer, faith, and reflection for Muslims.  
–  Eid-Al-Fitr marks the end of the Ramadan fasting period and is the time when people of the community gather together to feast and give each other gifts and celebrate together. There are 8 mosques in Dubai especially for Eid.
4. Dubai Heritage Sites and Museums
–  Dubai Old Town
Dubai Old Town is a heritage quarter on the Dubai Creek Banks. The merchants and fishermen crossing the waters reminisce the fact that this was one of the most successful pearl diving ports in the entire Gulf area. This is a beloved heritage site and also holds numerous vacation homes that gives a glimpse into the small, port city of Dubai decades ago. 
– Al Fahidi Historical District 
The Al Fahidi Historical District built in the mid-19th century along the Dubai Creek is one of the most historically rich districts in Dubai. It gives a glimpse of the lifestyle of Dubai much before it was today's modern city. The winding turns and the towers of sandstone and palm wood encase around 50 'houses' where you can learn about the art and culture of old Dubai. The Al Fahidi Fort built in 1787 is also a historical wonder. 
The Sheikh Mohammed bin Rashid Al Maktoum Centre for Cultural Understanding (SMCCU) provides an entire cultural walkthrough of old Dubai through this district. The multiple museums and centers in this district actively preserve the vibrant ancient cultural heritage of old Dubai.  
– Dubai Souks 
Souks refer to Arabian marketplaces which sell various authentic Arabian goods including perfumes, textiles, gold, spices and the like. They are important in the preservation and recognition of traditional Arabian culture. 
Entice your eyes with the magnificent gold jewelry sold at the Dubai Gold Souks. These gorgeous jewelry items are available in various Karat counts and are available at prices other than market price. The stunner pieces at this souk are sure to make you want to bargain your way through at least one purchase.  
Experience the aromatic Arabian homegrown spices at the spices souk. With various organic spices, nuts, dry fruit, and oils, every meal you cook with these high-quality ingredients is sure to have a burst of flavor!
Location:
Deira 
Timings:
10 am to 2 pm; 4 pm to 10 pm [Fridays only 4 pm to 10 pm] 
5. Art and Literature
Not only Dubai, but the entire UAE proves its exceptional talent when it comes to literature and art forms. With multiple art galleries, festivals, and exhibitions, the emirates have shown immense support to artists of a diverse range of art forms. 
Nabati poetry, which has been prevalent in Arabian culture since the Bedouins, involves a form of poetry that is known for its simple and honest expressions. It is still practiced by poets today. 
To honor the work of poets, writers, scholars, and others who contribute to the literary scene of UAE,  The Sheikh Zayed Book Award is presented. 
Dubai International Film Festival 
The Dubai International Film Festival, which launched in 2004, celebrates the best global and Arab films, to become the largest Film Festival in the Middle East. Last year, it featured around 140 films from various countries and hosted about 50,000 guests, among which were celebrities like Cate Blanchett. This event provides resources and exposure to Arab film talent so as to promote their growth. 
This impressive multi-purpose performing arts space acts as a concert hall, theater, as well as a fashion show/red carpet stage. This magnificent structure at the heart of Dubai pays homage to its marine ancestry through its dhow boat resembling exterior and three-story chandelier, which is supposed to represent bubbles in the water. With ample space and a luxurious setting, the Dubai Opera promotes the globalization of art and exposes Arab art to the world and vice versa. 
Emirati culture is known for its flavor-packed and delicious food, many of which originate from Bedouin culture. Even among the multicultural cuisine of Dubai due to globalization, you shouldn't miss out on some of these Arabic dishes:  
Kabsa

, which refers to saffron-infused basmati rice with meat and other spices like nutmeg.

Luqaimat

, is a kind of sweet, sticky dough dumpling drizzled in date syrup or honey.
6. National Day Celebrations
The UAE National Day is celebrated on 2nd December every year. This is because, on 2nd December 1971, six of the seven emirates' rulers came together to form a unified alliance, which got the name United Arab Emirates. Later, in February 1972, the seventh emirate, Ras Al Khaimah joined the union. This auspicious festival is celebrated all across the country with great enthusiasm. 
Dubai ensures National Day celebrations are an extravagant show. Head over to the Global Village to find a large gathering performing the national anthem, or stop by the Dubai Mall for an immaculate showcase of the Ayala dancers. The Burj Khalifa is lit up with shimmering lights that are an ode to the national flag, and the Dubai Fountain show is choreographed to fit the anthem. For a breathtaking sight, head over to watch the grand fireworks show at Burj Al Arab's backdrop. 
Conclusion
Dubai puts in immense efforts to ensure the preservation of its affluent culture, while allowing modernization and global development to happen simultaneously. The deep heritage of the Arabian lands are beautifully presented in the cultural events and places of this emirate. Explore the bountiful traditional culture of this city on your visit there, it's worth it!
FAQs
What is the language of Dubai?
The official language of the UAE is Arabic. However, due to the diverse population of Dubai and the booming tourism, English is spoken in most tourist-heavy destinations. 
Should tourists also wear traditional clothing in Dubai?
No, it is not necessary for tourists to wear the traditional Emirati attire in Dubai. However, visitors must keep in mind that although they are permitted to wear their own clothes, it is respectful to cover up at least your shoulders and knees in most public places. There are some tourist spots which allow visitors to try on traditional clothing.  
Can I visit a mosque in Dubai?
Regardless of your nationality and religion, there are some mosques in Dubai that are open to foreign travelers. They offer guided tours around the mosque for growing cultural understanding. Women are advised to carry a headscarf to cover their hair in the mosques and everyone must wear well covered, respectful clothing. There are some local mosques, however, which do not permit non Muslims and tourists must adhere to that. Photographs may be taken only if the mosque permits. 
Do I bargain in the markets? 
In traditional Arabian souks, buyers are advised to bargain the prices as they are not fixed. Typically, it's best to start your bargain at half or quarter of the price offered and work upwards from there. It is preferable to not show too much excitement towards a certain item, as the shopkeeper might value it higher seeing your interest. Take any opportunity you can to get a better deal.