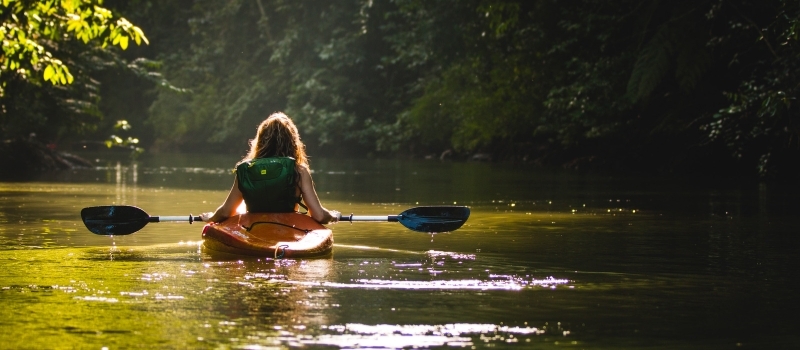 Delaware Water Gap is located on the border of the US states of New Jersey and Pennsylvania where the Delaware River cuts through. Surrounded by 200 beautiful lakes and the Delaware River, the location of the town makes it an apt spot for watersports activities. Let's discuss the exciting spots in the Delaware water gap and the water sports activities associated with it.
Delaware Water Gap recreational area
Delaware Water Gap covers a total of 67000 acres. Not only is the place huge but also includes the best water sports one can imagine. Motorboating, kayaking, fishing, tubing, rafting and canoeing are the major water sports activities of the Delaware Water Gap recreation area. There are many lakes around Delaware Water Gap however there are some which are quite famous when it comes to watersports and recreational activities.
Best spots for Water Sports near Delaware Water Gap Recreation Area
1. Blue Mountain lakes
Blue Mountain is the best lake for fishing and boating near Delaware Water Gap. Lake trout, Brook trout, Smallmouth bass, Landlocked Salmon, Rainbow smelt, pumpkin seed and Yellow Perch are some of the famous species one can find in Blue Mountain Lakes. We would suggest you look for deep pockets while fishing in extremely cold water. Catching Lake Trout is quite difficult as the depth of the lake keeps on changing. On the other hand, the Southwest corner of the lake has rocky habitat which is suitable for Smallmouth bass. You can also catch Lake Whitefish and redbreast sunfish which are quite easy to catch in comparison to others.
2. Hemlock Lake
Hemlock Lake offers Jet skis, boat tours, wave runners, charters, flyboarding and water toys. The spot is absolutely fun for people of every age group. People often opt for watercraft rental services for family get together, team activities, company parties, film production companies and a water trip to New York.
3. Smithfield beach
Just 7 miles away from Delaware Water Gap's recreational area is Smithfield beach. The spot is absolutely free for those who just wanted to take a stroll on the beach area or the ones visiting the place to drop off or pick up someone. Three lifeguarded beaches are located inside the area where one can safely enjoy swimming. Additionally, restrooms and picnic areas add more value to the place. Talking of boating, Blue Mountain Lake provides a boat loading ramp for the disabled and handicapped.
4. Lakes Lenape
Lake Lenape is located in Hamilton township and covers nearly 2000 acres of land. The lake is not traditionally regarded as a water park however one can find every water activity here. Gear up for activities like swimming, kayaking, scuba diving and boating if you are planning to visit Lake Lenape anytime soon. Lake Lenape is well equipped with all facilities including changing rooms, washrooms and a spacious deck to launch from.
5. Bruce Lake
Whether it is kayaking, paddle boating or ice fishing, you will find every activity in this 245 acres of lake. The spot has lovely clear water which makes up for the suitable surviving condition for the fishes. Bruce Lake. Bluegill, Channel catfish, Largemouth Bass, White Crappie, and Pumpkinseed are some top varieties of fish in Bruce Lake.
6. Shawnee lake
Lake Shawnee is visited by lakhs of people every year, especially during festivals. Fishing, boating and camping are the three main recreational activities of Shawnee Lake. However, people like to visit the lake even for golfing, ball tournaments and hiking.
Some more adventure sports in Delaware Water Gap
1. Chamberlain canoes
Chamberlain canoes are famous for guided and self-guided tours on the Delaware River for the past 30 years. The spot offers canoeing, kayaking, rafting and water tubing. Choose your own trip by considering the time and length of the river. A trip from Kittatinny point to Delaware Water Gap and from Port Jervis to the Gap has opted most among water sports enthusiasts. 
Free parking

Pets are allowed but with a leash of no longer than 6 feet in length

Free life jackets
2. Edge of the woods outfitters
Edge of the woods outfitters is another spot for sports adventure. Get ready for paddle tours, bike rentals, river trips camping or just float in the river to spot Pocono's unique creatures- Bald eagles. Not to forget, Canoeing, kayaking and rafting are the main activities on the spot
What do you need to know before planning for Delaware Water Gap water sports?
Visit the place in spring, summer or fall- the weather of Delaware Water Gap will not disappoint you. Although water sports activities in Delaware Water Gap gain momentum between April and October. For other seasons, one needs to call and inform beforehand.

It is better to opt for a reservation on holidays or weekends. Visitors mostly opt for independence, memorial or labour day.

Upper Delaware offers the best spots for whitewater rafting. You will come across some incredibly scenic views and spots like Skinner Falls, Colang, Mongaup, Butlers Rift, Eddy Farm and Mill Rift.
What do you need to bring for a day trip?
Bring trash bags of your own

Backpack, camp chairs and rope card

Camera and binoculars

 Cell Phone in a waterproof cover 

Fishing bait. Don't forget to bring a licence

Matches, lighters and torch
Delaware Water Gap offers trips of 1 day to 4 days. To enjoy to the fullest and take advantage of every watersport, one needs to stay at Delaware Water Gap for at least 4 days. Holiday Keepers is offering top class vacation homes in the form of villas, cabins and castles around the Delaware Water Gap area. You can visit their site and choose a vacation rental of your choice and make your trip memorable.