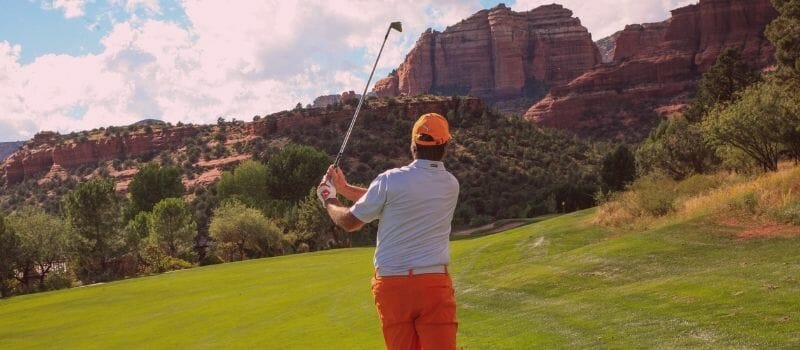 Are you looking for a suitable golf course in the United States? Whether you are a newbie or an experienced one, Poconos golf courses are apt places to learn and practice. People consider Poconos as a place for skiing adventures only; however, it is a hub of golf courses as well. You just need to have a good idea of the important areas where one can find a golf course of its choice. To make your task easy, we are listing out some of the best golf courses in the Poconos mountains and the deciding factors which make them unique.
Poconos is a destination with unlimited adventures for hikers, bikers, nature lovers, and watersports enthusiasts. It is also a great place to play golf. The picturesque area of the Poconos boasts some of the best golf courses that provide a one-of-a-kind golfing experience. We have listed some of the best places in the Poconos for you to enjoy a little tee time.
1. Paupack hills golf and country club
Location –
 Country club, Greentown
Routing, layout –
n/a
Fee/Charge –
Approximately $130
Scheduling (Timing) –
5 am to 9 pm
Who is it for?
Adults
Area –
6556 yards
Places to stay nearby – 
n/a
Booking –
4 members maximum for one booking Designed by Tom Fazio, the Paupack hills golf and country club is a perfect example of excellent technique and a sports-friendly atmosphere. Surrounded by picturesque lakes like Wallenpaupack and Tanglewood, it makes an ideal place for sportsmen who want to play around nature. One can also visit multiple restaurants for breakfast and shops for high-quality golf equipment.
2. Sky top lodge golf course
Location –
Sky top mountain road, road Matilda
Routing, layout –
18 holes
Fee/Charge –
$242 to $292
Scheduling (Timing) –
Flexible
Who is it for?
Adults and children
Area –
6556 yards
Classes –
30 minutes Tee time through early bookings
Membership –
Maximum 4 allowed on a single booking
Places to stay nearby – 
n/a Sky top lodge is a land of opportunities for golf players. The place welcomes everyone from a novice to an experienced holder. You need to book a 30 minute tee time in advance and take care of some of the rules before the entrance. A collared shirt and a pair of soft spikes are mandatory for playing on Sky top golf court. Sky top lodge is quite strict when it comes to bringing their own set of clubs and covid 19 precautionary measures. You can find all the details of the rules on their website.
3. Jack Frost national golf club
Location –
Jack Frost Mountain Road, Blakeslee
Routing, layout –
18 holes
Fee/Charge –
Contact the club for more details
Scheduling (Timing) –
Contact the club for more details
Who is it for?
Adults and children
Area –
7200+ yard
Just 15 minutes drive away from Lake Harmony and located in the heart of the Pocono Mountains is Jack Frost National Golf Club. It is unique and features a Mountain golf course. It offers wide fairways and no blind spots. It is truly a hidden gem and a great place for the weekend. 
Jack forest golf course is a brainchild of Terry LaGree. The golf course is famous for its learning classes and has been named under the top 5 golf courses for learning. The striking beauty of the oak forest and special amenities makes this golf course a viable option for golf lovers. Be it family outings or a classy meeting with your boss, the place is fit for every occasion. Jack Frost is a player-friendly golf course where you will find no blind spots. Along with no blind spots, you will find easily targeted areas and broad fairways.
4. Shawnee golf club
Location –
Delaware, PA United States
Routing, layout –
27 holes
Fee/Charge –
$22 – $27 (for adults) | $18-$27 (for seniors) | $7 (for juniors below 17)
Scheduling (Timing) –
8:00am – 5:20pm
Who is it for?
Adults and children
Area –
3280 yards
A majestic golf course with great panoramic views of the Delaware River landscape. The course is tough but with interesting holes and fair pin placements. It is located on the grounds of the Shawnee Inn and Golf Resort and interestingly 24 out of 27 holes are located on the island in the middle of the Delaware River. This Golf Course club also offers junior golf facilities.
Shawnee golf course wins the case when it comes to the oldest golf course in the United States. It was built around the year 1911. Standing in the middle of Delaware gate and islands, it is rich in natural beauty. You will not find any residential area anywhere near the Shawnee golf course. Far away from the hustle and bustle of the city, the Shawnee golf course is quite suitable for peace seekers. It has a total of 27 holes out of which 24 are located in the island area. You will get all the suitable help through staff when you enter the Shawnee golf course. The golf expert Brian Bergstol will be mentoring the golf players according to their level.
5. Mount airy casino resort golf club
Location –
Woodland Road, Poconos
Routing, layout –
18
Fee/Charge –
$60-$75 (before 2 pm) | $40-$75 (after 2 pm) | $40-$75 (senior) Scheduling (Timing) –
Who is it for?
Adults
Area –
6500 yards It is usually said that the ones who practice on Mount airy casino resorts are already winners. This golf course is known for challenging your capabilities to the fullest through its unusual elevations and makes you an expert golf player. The course offered at Mount airy casino resorts is seldom called "The champions" by the Poconos inhabitants. It is located in a rural area however one can find interesting places near it. One can visit Stroud mansion and Quiet valley if by chance you are anywhere near Mount airy casino resort.
6. Red/ white at Buck hills falls
Location –
270 gulf Drive, Buck hill falls, Pennsylvania
Routing, layout –
27 holes
Fee/Charge –
$50-$70
Scheduling (Timing) – 
n/a
Who is it for?
Men, women, and children
Area –
6802 yards The Red/ white golf course is the most archaic golf course in Poconos. It opened its first nine holes in 1907 and 18 more were added when it finally rose to fame. Robert White and Donald Ross were the two legends who designed this masterpiece. This classic golf course will grab your attention with its wooden designs and beautiful mountain terrains all over the place. This golf course can be an ideal destination for New Yorkers and Philadelphians who love short drives and family outings. The difficulty level of the game is according to the three courses they have designed. The white course is the longest and the flattest course and comparatively an easier one. The red course occupies the second position because of its shortest yet hilliest course while the Blue course tops the chart when it comes to toughness level as it has a hilly course of red and a length of white.
7. Country club at Woodloch springs
Location –
Welcome lake road, Hawley
Routing, layout –
18 holes
Fee/Charge –
$45 to $97 per round
Scheduling (Timing) – 
n/a
Who is it for?
Children and adults
Area –
6,579 yards Named as one of the finest golf courses in America by Golf Magazine, the course has already earned a fair name for itself. It has achieved a rating of 4.5/ 5 when it comes to a list of best places to play. The course is designed in such a way that players of every level can enrich themselves and up their game. The lush and beautiful surrounding with world-class amenities makes this golf course an undisputed champion. All golf courses mentioned above are one of a kind and have specialties of their own. Some are located near beautiful lakes while others are mountain terrains. You can choose any one of them according to your location and make a choice thereafter.
8. Split Rock Golf Club:
Many golf enthusiasts throng this location in search of a great game of golf. Nestled in the Pocono Mountains along the banks of Lake Harmony, this course offers an exalted view, great elevation, and strategically placed bunkers. Enjoy a relaxing break and a fun time with family and friends outdoors at the Split Rock Golf Club.
Hole: 18
Par: 72
Length: 7150 yards
Slope: 122
Rating: 70.2
Timing: 8 AM- 6PM (Mon- Thu)
7:30 AM – 6PM (Fri- Sun)
Type: Resort
Address: Run Road, 140 Wolf Hollow Rd, Lake Harmony, PA 18624, United States
9. Terra Green Golf Course:
This is a beautiful course with lots of trees and points with great views of the Pocono Mountains. The course offers challenging play for golfers of different skill levels. It is an economical and convenient golf course for family and friends.
Holes
: 9
Par
: 36
Length
: 3130 yards
Slope
: 118
Rating
: 35.0
Timing
: 8 AM- 8 PM
Type
: Public
Address
: 123 Terragreen Drive, East Stroudsburg, PA 18301, United States
10. Pocono Farm Country Club:
It is an 18-Hole PGA- level golf course that is enjoyable and at the same time challenging. The club offers practice facilities to elevate your game and also offers a variety of suitable club memberships to individuals or families, making it an ideal place for a family getaway.
Hole: 18
Par: 72
Length: 6566 yards
Slope: 129
Rating: 71.9
Timing: 8:30 AM- 4:30 PM
Type: Private
Address: 182 Lake Rd, Tobyhanna, PA 18466, United States