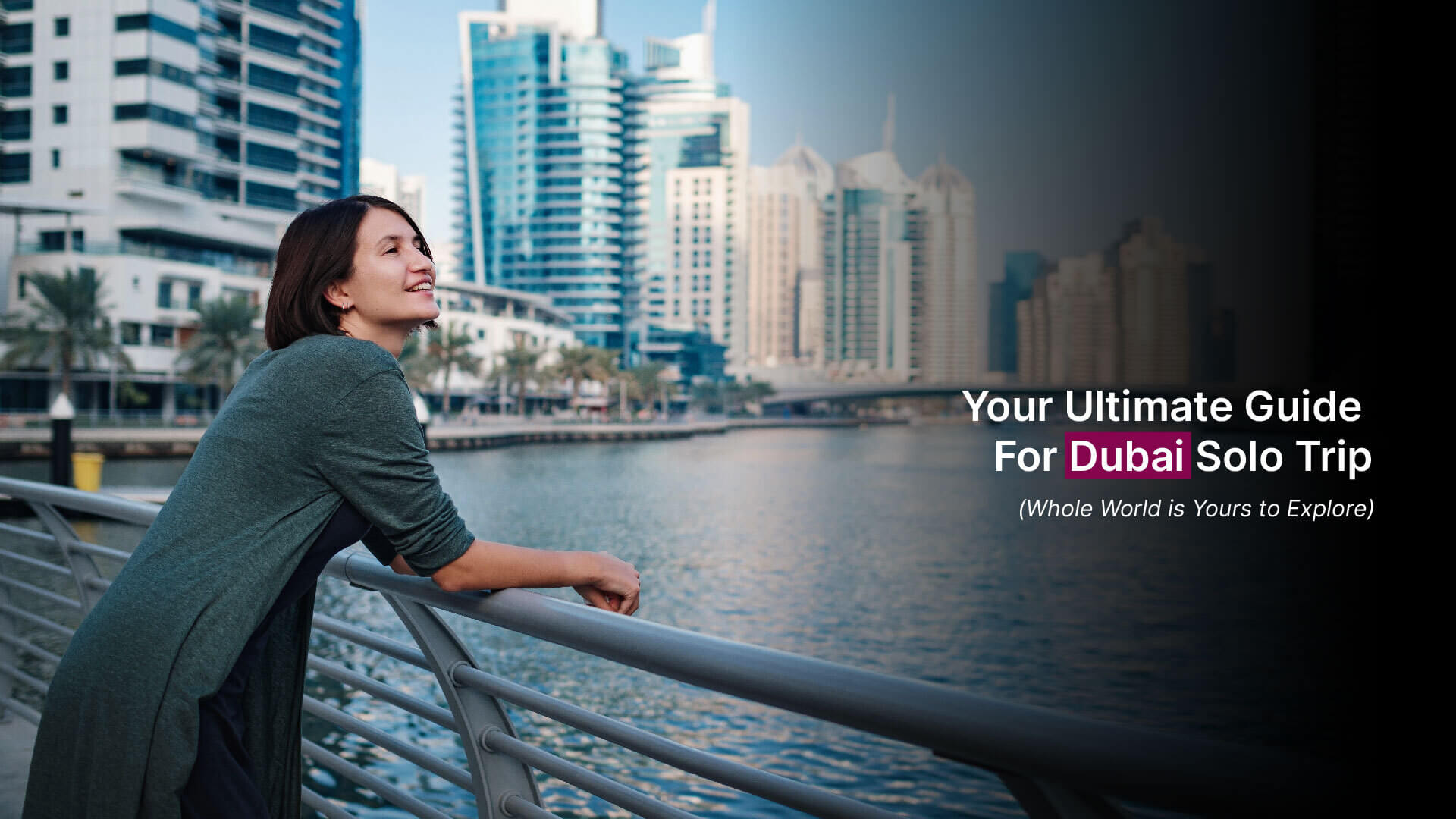 Are you planning your Dubai Solo Trip? If the answer is yes, then you are in the right place.
With its stunning beaches, glimmering urban skylines, tantalising dunes, lively nightlife, diverse culture, and culinary scenes, Dubai is a place that you don't want to miss on your itinerary.  Apart from being one of the top places to visit, Dubai is also among the safest places to explore, making it a perfect destination for solo travellers.
So, here in this guide, we will help you make your solo trip to Dubai a grand success. Let's begin!
About Dubai
Dubai is an ultra-metropolitan city often dubbed "The Future City", that attracts tourists from all parts of the world. Though, the city is known for its luxury, record-breaking engineering marvels, vibrant nightlife, shopping malls etc. However, it also has a rich history that connects this future city to its past. 
You can still find the wooden boats (Abra) floating past the modern boats on Dubai Creek and there are many museums and places that still showcase the city's golden past. 
Rules & Regulations
While this spectacular city entertains every visitor and looks more like the Western world, however, there are a few rules and regulations that one must follow to make their time in Dubai a great experience. Here are a few rules and regulations you should know before you head on your Dubai Trip.
Although you are not expected to wear traditional outfits, however, the general rule is that you need to cover your shoulders and knees all the time when in public.
No drinking and eating is allowed in public transport and public spaces as it is strictly prohibited and doing so can attract fines.
The use of profanity or swearing in public is illegal and seen as disrespectful and can attract hefty fines, imprisonment, and deportation.
Privacy is a big deal in Dubai, so respect others and do not take pictures of others without their consent. Any picture taken without permission will result in a fine, confiscation of the camera, and even be jailed.
Throwing trash or littering is a punishable offence. So respect the environment and local laws.
Use social media responsibly and refrain from posting others' pictures without their permission, offensive content and rumours. Online channels such as Skype and other VoIP are blocked here so avoid using such blocked platforms.
 Avoid displays of affection such as holding hands, hugging, and kissing in public places.
Things to Do Alone in Dubai
As stated above Dubai is a great destination that offers plenty of things to do and places to explore for solo travellers.  Here are a few activities and places you can explore on your solo travel to Dubai.
Explore Iconic Landmarks
Dubai is known for its iconic and record-breaking landmarks. You can start your journey by visiting some of the most iconic structures in Dubai. Below listed are some of the most visited landmarks in Dubai. 
Burj Khalifa

Museum of Future

Dubai Miracle Garden

Dubai Mall

Ain Dubai

The Dubai Fountain

Dubai Aquarium & 

Underwater Zoo

Dubai Frame

The Palm Island
You can also visit our page "Top places to visit in Dubai", to learn more about these man-made marvels.
Sneekpeek Into History
Are you curious to know how this future city looked in the past? If so, then there are many places in Dubai where you can see a glimpse of its glorious past and soak in its rich history and heritage. Here are the best historical places for solo travellers.
| | |
| --- | --- |
| Dubai Old Town | Al Fahidi Historical Neighbourhood |
| Dubai Creek | Al Seef |
| Souk Market | Dubai Museum |
| Burj Nahar | Souq Ad Hadid Archaeology Museum |
| Philately House | Jumeirah Archaeological Site |
Shopping Hotspot
When you are visiting a place that houses the world's largest shopping mall then how in the world you can miss shopping in Dubai. Dubai is home to some of the largest and most stunning shopping centres. So here is our list of top shopping places for solo travellers in Dubai.
| | | |
| --- | --- | --- |
| Dubai Mall | Mall of Emirates | Dubai Souks |
| Dubai City Walk | Dubai Design District | Ibn Battuta Mall |
Indulge in Thrilling Activities
Recreational activities are the soul of a vacation destination which makes the place worth remembering and Dubai is no exception. From desert Safari to scuba diving to flyboarding, Dubai has everything in stock to raise the bar of excitement and adventure. So, here's a list of top recreational activities that you can enjoy to the fullest on your visit.
| | | |
| --- | --- | --- |
| Scuba Diving | Desert Safari | Hot Air Baloon Tour |
| Skydiving | Ski in Ski Dubai | Boat Tour |
| Paddle Boarding | Museums | Soak in the Sun on the Beach |
A Table For Solo Meal
Food is the most powerful link that connects tourists with the local culture. It is also an unavoidable part of any travel and any travel without tasting the local cuisine is incomplete. So, scroll down to find the top restaurants, eateries, and street foods in Dubai.
| | | |
| --- | --- | --- |
| 3 Fils | Maiden Shanghai | Maxzi The Good Food Shop |
| Eataly | Wok Boyz | 24th St. World Street Food Dubai |
| Vietnamese Foodies Downtown | Zaatar w Zeit | The Daily DXB Urban Street Food |
Worthy Accommodation
Finding a perfect accommodation is an important part of solo travel. The accommodation should cater to all your requirements, such as comfort, budget, convenience, and hygiene. Luckily, Dubai is home to many great hotels, resorts and vacation rentals. 
Hotels and resorts in Dubai can be expensive and if that is not your cup of tea, then you can choose a perfect vacation rental which offers plenty of options ranging from one-bedroom apartments to elegant studios to villas.
Conclusion
Dubai is a gem of a place to explore and experience its vibrant lifestyle, multinational cuisines, history and culture. Solo travel to Dubai offers you a unique opportunity for self-discovery and allows you to explore the destination at your own pace.
And for your accommodation needs don't forget to check HolidayKeepers, where we offer a wide range of vacation rentals designed to cater to all your stay necessities.
FAQ's
Q: Is Dubai safe for solo female travellers?
A:Yes, Dubai is among the safest destinations in the world, which makes it a perfect destination for female solo travellers.
Q: What is the cheapest way to roam around Dubai?
A: Dubai Trams and Dubai Metro are the most affordable way to explore the beautiful Dubai.
Q: Are there any waterparks in Dubai?
A:Yes, there are many great waterparks in Dubai. Some of the top-rated ones are Wild Wadi Waterparks Jumeirah, Aquaventure Waterpark, Aquaventure Waterpark, and Jungle Bay.
Q: Is fishing allowed in Dubai Beach?
A:Yes, fishing is allowed in Dubai Beach, however, it is permitted in certain areas and should have a licence before fishing here.