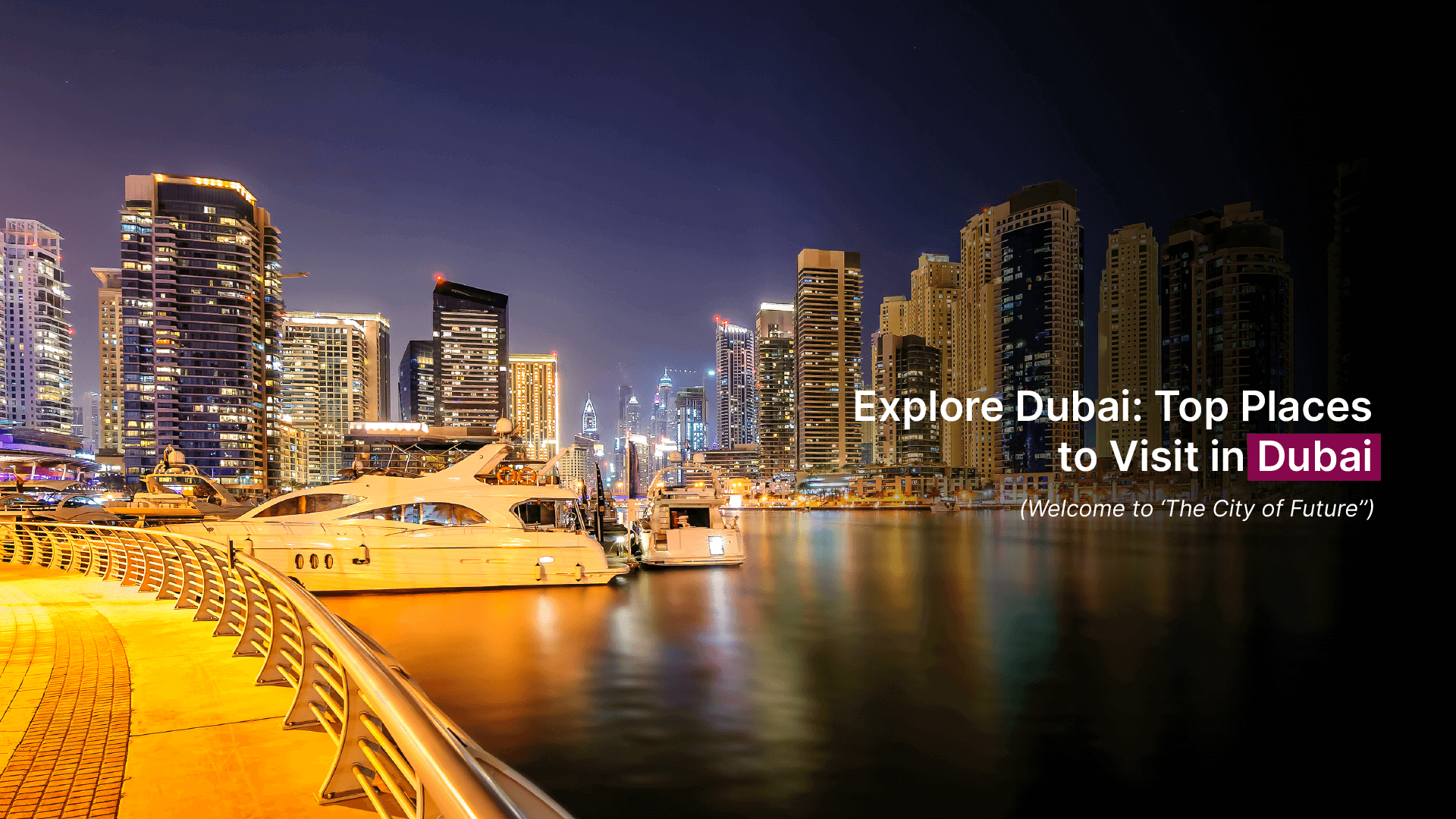 Glamour, opulence, nightlife, and vacation, are the things that come to our mind when we think about Dubai. Located on the Arabian Peninsula, this ultra-modern city is ever-ready to take your breath away with its gleaming towers, exotic experience, and cultural diversity. 
This 'City of Future' offers you an opportunity to immerse yourself in plenty of sight scenes, fantastic dining options, and tantalizing places to visit. 
So, let's explore Dubai in style and visit its most iconic sites.
10. Dubai Aquarium & Underwater Zoo
Experience the unique viewpoint of the underwater world like never before at Dubai Aquarium & Underwater Zoo, one of the most iconic tourist attractions in Dubai. This mesmerizing 10 million litre aquarium is home to more than 140 species of marine animals, including Sharks, Rays, and Sand Tiger Sharks.  
The centrepiece of the attractions of the aquarium is a massive "King Croc", weighing over 750 kg and measuring over 5 meters long. This 40-year-old croc is native to Australia and is joined by an 80-year-old female croc, dubbed the "Queen Croc."  It is an ideal destination for families, couples and anyone interested in marine life. So, don't forget to visit this mind-boggling display of marine life.
9. Ski Dubai
What if we say that you can experience the snow in the middle of the desert, Don't believe us?  Well, visit Ski Dubai and witness the wonder yourself. 
Ski Dubai is one of the most popular and largest indoor ski resorts in the world, located within the Mall of the Emirates. This 22,000-square-meter winter wonderland features thrilling rides, chair lifts, kid sections, slopes, and snow parks where you can build a snowman or roll down in a big snowy zorb ball. 
While you are here you can also enjoy some playful time with Ski Dubai Penguins. Whether you are an expert or skiing for the first time, this is the place you don't want to miss out on. So, get ready for an unforgettable experience in Ski Dubai.
8. The Dubai Fountain
During your visit to the ever-happening Downtown Dubai, witness one of the world's tallest fountains dancing in harmony with music at The Dubai Fountain. The captivating fountain can spray water up to 500 feet into the air and is illuminated by more than 6,000 lights and 25 colour projectors. 
Located in front of the world's tallest wonder "Burj Khalifa", the fountain has multiple daily performances and comes to life every 30 minutes from 6 PM. 
And guess what? It's absolutely free, meaning it's open to the public at no cost making it one of the most affordable sights to watch in Dubai. In addition, there are also boat rides that will take you closer to the fountain, giving you the best views of the dancing fountains.
7. Dubai Miracle Garden
Escape to the magical world of color and beauty at the Dubai Miracle Garden. This 72,000 sq meter paradise has more than 150 million full-bloomed flowers arranged in a stunning display that one should add to their list of places to explore in Dubai.
Once in the Miracle Garden, stroll through the wonderful passage of colourful flowers of Hill Top, enjoy the elaborated floral sculptures, walk along with the gracefully flying butterflies in the world's largest indoor butterfly park, and embark on a family-friendly Smurf Village Express as it meanders through the awe-inspiring fairy tale village. 
So, on your next visit to Dubai, make a funtastic day out with family and friends at Dubai Miracle Garden.
6. Dubai Mall
Whether you are alone, with friends or family, shopping is something that you can't miss on your vacation, especially when you are at the home of the world's largest mall 'Dubai Mall'.
Stimulate your sense of happiness at this 12 million sq ft shopper's wonderland that features over 1200 shops including over 70 popular brands, 200 restaurants and cafes, an Olympic-sized ice rink, an exquisite indoor aquarium, and much more, which makes Dubai Mall a one-stop shop for all your shopping needs. To know more about shopping in Dubai, you can also check out our blog on Dubai Shopping.
This ultimate family entertainment destination also features a kids' amusement centre, Kidzania. It is an edutainment complex with a realistic setup such as paved ways, buildings, etc. where you can watch your kid play a grown-up and take jobs ranging from firefighters to doctors to chefs. So make sure to stop by and create a unique and exciting experience at Dubai Mall.
5. Ain Dubai
Ain Dubai is the world's highest and tallest observation wheel located on Bluewaters Island, near Dubai Marina. This giant Ferris wheel stands at an astounding height of 250 meters.
Opened in October 2021, Ain Dubai is the latest landmark to join Dubai's long list of record-breaking attractions. Before you set out on your journey on this mesmerizing Ferris wheel, treat yourself to a stunning and spectacular panorama of the Arabian Gulf.
This engineering marvel offers a bewitching 38-minute journey that manifests Dubai's impressive coastlines and its glimmering skyscrapers including the Burj Khalifa, making it one of the must-visit places in Dubai. However, the place is temporarily closed for maintenance, so make sure to check their website for further updates. 
4. Dubai Desert Safari
Though the city is known for its nightlife and classy experiences, there are very few experiences that can match the excitement of desert adventures. Whether you are looking for a luxury overnight desert stay or adrenaline-pumping adventures, Dubai's Desert Safari never fails to excite.
Start your memorable day in the Arabian Desert by watching the sunrise shining on the horizon from the dunes. As the day passes indulge yourself in a fun-filled dune-bashing adventure drive in a luxurious 4×4 Land cruiser, or take the adventure thrill to the next level in quad biking or ride down the sand dunes on a board.  
If you are interested in knowing more about cool desert activities, don't forget to check our blog on top desert activities of Dubai
3. Museum of Future
Museums are our windows to the past where we get a glimpse of the bygone era, isn't it? Not this one, the Museum of Future is a place where we meet the future face-to-face. This iconic torus-shaped landmark is beautifully engraved in Arabic Calligraphy and welcomes you to the year 2071. 
Your journey to this uniquely designed museum starts with an entry to a space shuttle elevator that will make you feel as if you are preparing for space travel. This space journey ends with you landing back on Earth.
Chapter 2 of the museum takes you on a virtual tour of Amazon and then disconnects you from technology and reconnects your body and mind in a series of therapies such as movement therapy and feeling therapy.
2. Dubai Frame
Welcome to the world's largest and biggest picture frame, Dubai Frame measuring over 150 meters tall and 93 meters wide. The iconic landmark is located within the frame and takes you on a journey to the city's rich past, present and future.
Make your way into this beautiful structure and witness Dubai's transformation from a fishing village to a future city. At the top, the towers are connected by a 100-square-meter glass bridge and this famous glass bridge offers a scary yet thrilling experience to the visitors by allowing them to walk on a transparent platform and soak in the breathtaking panoramas of the city. 
On the other side of the Frame, you can explore the Old Dubai Gallery where you can find the rich history of the city. So, are you ready for an unforgettable experience at Dubai Frame?
1. Burj Khalifa
Without visiting this most stunning modern marvel of the 21st century your visit to Dubai is incomplete. Standing at a height of 830 meters, the Burj Khalifa towers over everything. 
Though it took 5 years to build this 830-meter-tall man-made wonder, it will just take under a minute on Travelator for you to get to the 125 floor.  As the world's tallest building, the Burj Khalifa offers the most stunning 360° views of the entire city and areas, including deserts and the Arabian Gulf. 
On the 125th floor, explore the Falcon's Eye View which provides you a bird's eye view of the city.
Conclusion
These are the top places you can explore in Dubai and all these iconic landmarks offer a unique and memorable experience. Yes, it is true that you cannot explore all these wonderlands in a single day and to help you fulfil your dream vacation we at HolidayKeepers.com offer a wide range of luxury vacation rental homes.
FAQ's
Q: What are the top 5 places to visit in Dubai?
A: There are many places to explore in Dubai, however, the 5 most visited places are Burj Khalifa, Dubai Frame, the Museum of Future, The Dubai Fountain, and The Garden of Miracles.
Q: What is the best time of year to visit Dubai? 
A: The best time to visit Dubai is during the winter months (November to March) when the weather is mild and sunny.
Q: What are the best places to shop in Dubai?
A: Some of the best places to shop in Dubai include Dubai Mall, The Dubai Outlet Mall, Souk Madinat Jumeirah, The Gold Souk, and The Spice Souk.
Q: What is the cheapest mode of travel in Dubai? 
A: The best way to get around Dubai is by taxi or the Dubai Metro. But the cheapest mode of travel is public transport and Dubai Metro.