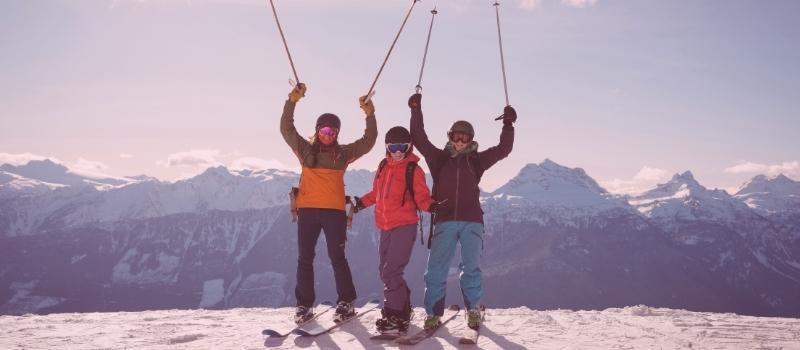 Everybody, especially on the East Coast, is aware that Poconos is one of the best places to escape and offers plenty of activities and things to do all year round. Winter is when the vegetables and mountains of Poconos are covered in snow, attracting many people to come for skiing and other activities. 
There are more than 180 slopes in Poconos with many trails to explore. Beginner slopes also help build up confidence, advanced level slopes for an exciting run. Besides skiing, the region also has a lot more to enjoy. Winter attractions make a living in Poconos, a winter wonderland. 
The Poconos Mountains are best known for their abundant outdoor activities and adventures. Right from hiking to camping, there is so much that you can do during winters. Other activities include ice skating atop frozen lakes and riding on dog drawn sledges. 
Things that you can do in the Pocono Mountains in December 
1. Ice skating 
During winter, the lakes in Poconos freeze as the temperature there falls and snows. This makes the area perfect for ice-skating. There are many places in the Poconos for ice-skating. From indoor ice rinks to frozen lakes, you can create your adventure in Poconos. For experienced ice skaters, we recommend you skate over the frozen Sand Spring Lake located in Hickory Run State Park. 
2. Snow Tubing 
Snow Tubing in Poconos is yet another fun activity to explore and a great family-friendly activity that is thrilling and fun for all age groups. We highly recommend visiting Jack Frost and Big Boulder Ski Resort, where you can find customised tubing adventures for every kind of rider. 
3. Dog sledging 
Many aren't aware of dog sledging. This activity is quite popular in Alaska, but many dog sled tours can bring a fantastic experience in the Poconos Mountain region, thanks to similar weather conditions. You can enjoy dog sledding in Poconos during winters and request a weekend visit from mid-December to late February. 
4. Skiing
Winter getaways are incomplete without any good skiing in Poconos. Many skiing programmes and opportunities range from beginners skiing to advanced trails. Some of the most popular skiing spots include Big Boulder Park, Shawnee Mountain Ski Area and Camelback Mountain. 
5. Snowboarding 
Gliding through the smooth snow and perfectly groomed and well-maintained slopes makes the area perfect for snowboarding. No matter the level of expertise and skill, you can have fun snowboarding in the place. The trails in the slope are also the first to open and the last to close in the area, giving you ample time to enjoy the sport. Some places even have snowboard schools to hone your skills before hitting the slopes. 
6. Take a break from the snow
If you want to do something exciting and exciting indoors, you can take a small break by playing at a casino if you are interested. The casino is also one of the best indoor activities for adults in Poconos. You can test your luck with live entertainment, dining and much more. 
7. Snowshoeing
The mountain is layered with a smooth sheet of fresh snow, making it best for snowshoeing. Snowshoeing helps to walk through the drifts easily. Enjoy a relaxed walk across the snow and enjoy the stillness of the snow-covered mountain forests. 
8. Off-road adventures 
Keep your heart pumping with the adrenaline rush in the cold by trying out some outdoor adventure activities. You can get on a four-wheeler and race through the snow. The rentals can be found easily in the winter season in the Poconos and is a great way to add some thrill to your holidays. Ride your way through the wooded trails and open fields with a guided tour for a fantastic experience. 
9. Local shopping 
Holidays call for the shopping season, where you can explore some craft and speciality stores and seal a bargain. You can go out and splurge; after all, it is your vacation! 
You can find many shops in and around Jim Thorpe and some unique stores near Hawley. 
10. Warm-up with some winter spa
Does your body feel rigid and tired after a day of entertainment and adventure in Poconos during winter? Then you might appreciate a good spa session to warm up! Relax and tune into the well-deserved rest you need in the Pocono Mountains. Many spas and relaxation centres offer therapy with soothing sounds and aromatic scents.