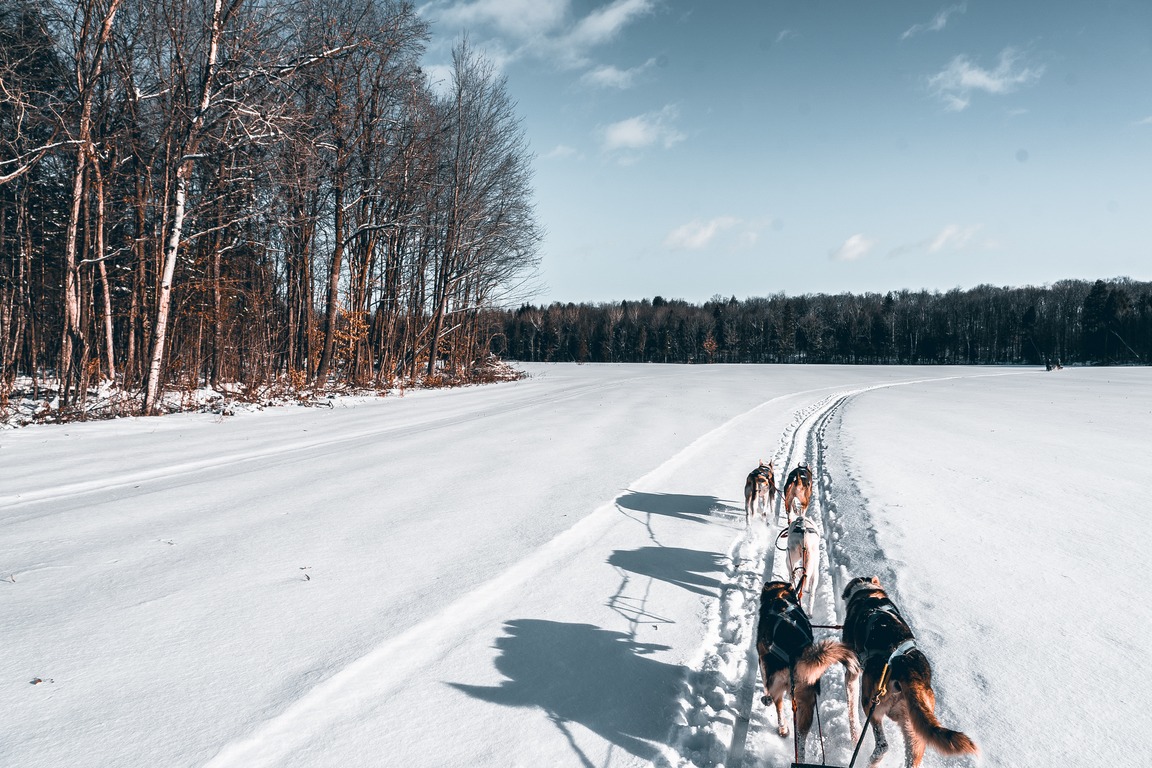 Dog sledding is a wonderful winter activity and everyone would love to try dog sledding at least once in their lifetime. After all, it is a fun way of navigating through the snow-covered landscape. In earlier times, dog sledding or mushing was a common way of transport during wintertime, but by the early 1900s, dog sledding grew into a form of sport and recreational activity. Unfortunately, only a few winter vacation destinations are known to offer Dog Sledding experiences, one among them is the Poconos.
In this blog, we will talk about everything you need to know for a perfect Dog sledding experience in the Poconos. 
History of Dog Sledding
Dog sledding is a thrilling winter activity that originated thousands of years back in the Arctic region. According to some archeological evidence, the first trace of dog sledding was found in Siberia some 3000 years back. However, much of our knowledge of dog sledding comes from the native Inuit People of Northern Canada. In the year 1908, the first formal dog sled race was held in Alaska. 
Today, dog sledding is enjoyed as one of the top winter activities in many parts of the world. And even competitive racing has been held in many countries such as Norway, Sweden, and Finland. 
Who can drive dog sledding?
Dog sledding is a thrilling winter activity that provides an opportunity to enjoy the beauty of nature while working in harmony with highly trained dogs. Usually driven by professional mushers, however, some dog sledding experiences allow participants to drive dog sledding under supervision. With the guidance of these professionals even a first-timer can gain a lot of knowledge about dog sledding.
Clothing for Dog Sledding Experience
When it comes to dog sledding, clothing is an important aspect as it ensures that you stay dry, warm, and comfortable. It is also important to dress in layers. Start with a base layer or thermal wear that will help keep you dry by wicking moisture. A warm-mid layer made of wool will keep you insulated while the outer layer of a waterproof jacket will protect you from snow and wind. Proper footwear, gloves, goggles, and hats are also crucial for keeping you warm and protected.
The Type of Dogs Used for Sledding
Sled dogs are some of the most amazing animals. They are bred and trained for their strength, endurance, and ability to work well in a team and withstand cold temperatures. Alaskan and Siberian huskies are the most well-known breed used for dog sledding, however, there are many more dog breeds used for the same purpose, such as Chinook, Labrador Husky, Canadian Eskimo Dog, Alaskan Malamute, Samoyed, Kugsha, The Seppala Siberian Sled Dog, Scandinavian Hound, Sakhalin Husky, and Greenland Dogs.
What is the Best Time to go Dog Sledding?
The best time to experience Dog Sledding largely depends on the location and the climate. As it is a winter sport, generally the season starts in late November and ends in early March. Plus, the amount and the quality of snowfall can affect the timing of the season. Some locations may have a shorter or a longer winter season, so it is advisable to check with the local operators. 
Safety Precautions
Like with any other activities involving animals, dog sledding rules ensure the safety of dogs as well as mushers and participants. Here are some important tips to remember while planning a dog sledding tour.
Always treat the dogs with kindness and respect.

Check the weather forecast before going out and dress accordingly.

Learn the basics of dog sledding and handling techniques.

Pay attention to dogs' behavior as this will help you identify any sign of stress or fatigue.

Keep the sled on the trail and maintain a distance from other teams to avoid any accidents.

Listen to the instructor carefully and follow the lead.

Don't forget to bring first aid kits and emergency supplies, such as a flashlight, map, whistle, etc. for any unforeseen circumstances.
Dog Sledding in the Poconos
As stated at the start of this blog, the Poconos is one of the best places to experience winter activities and it receives an average snowfall of 50 inches annually. This makes the Poconos an ideal destination for dog sledding experiences. The Arctic Paws Dog Sled Tours is the top dog sledding operator in the Poconos which operates independently at Shawnee Inn & Golf Resort.  
Their 2023 season will open for reservation in November 2023 and tours will operate on Saturday and Sunday of December 2023 through February 2024.
Dog sledding is an exhilarating winter sport and the Poconos provides the perfect backdrop for a thrilling dog sledding adventure. So, if you are looking for a perfect place for your next winter vacation, then don't forget to consider the beautiful Poconos and experience the best dog sledding adventure ever.
FAQs
Is dog sledding safe?
Yes, dog sledding is generally a safe winter activity. However, it is important to follow the safety guidelines, techniques, and instructions for a pleasant experience.
What kind of dogs are used for dog sledding?
The most common breeds of dogs used for dog sledding are Siberian Huskies, Alaskan Huskies, Alaskan Malamutes, and Samoyeds. However, there are other breeds such as Chinook, Labrador Husky, Canadian Eskimo Dog, Alaskan Malamute, Samoyed, Kugsha, The Seppala Siberian Sled Dog, Scandinavian Hound, Sakhalin Husky, Greenland Dogs, etc. being used for dog sledding.
Is there enough snow in the Poconos for dog sledding?
Yes, the Poconos receive plenty of snowfall each year, which makes it a great place for dog sledding.
Do you need prior experience to go dog sledding?
No, you do not need prior experience in dog sledding, however, it is important to learn the basics of dog handling and techniques.