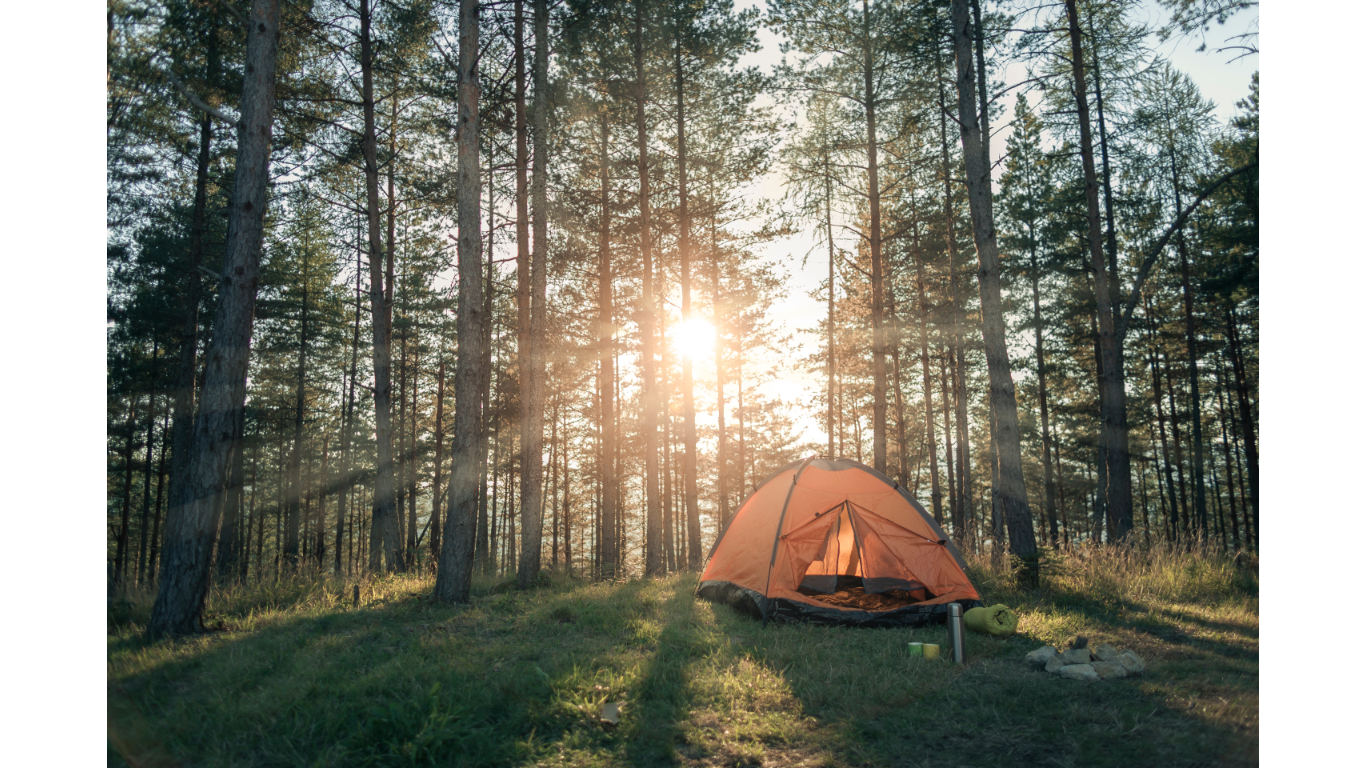 Got a lot on your mind? Feel like you need a break? Pack your bags and head out to the peace of the woods. Stroudsburg is a prime spot for camping in the Pocono region; it's safe, peaceful, and secluded. Without any further adieu, let's take a look at some of the best campgrounds near Stroudsburg, PA.
Campground Options
There are several outstanding campgrounds near Stroudsburg, suitable for every type of camper. There are beginner-friendly private campgrounds, RV parks, and state parks for seasoned campers.
A. State Parks
Camping enthusiasts! Get ready to be greeted by rolling and rocky terrain on your climb to Jenny Jump Mountain. Jenny Jump State Forest is in Warren County on the Jenny Jump Mountain Range. Campers here can witness Panoramic vistas of the surrounding hills, the Kittatinny mountains and valley to the west, and lush meadows to the east.
This park has 22 tent and trailer sites, fire pits, and picnic tables. The showers and toilets are nearby. They also offer two group sites that can accommodate 25 and 40 campers that also come with fire rings and picnic tables.
Tobyhannah state park is in the scenic Monroe and Wayne counties. This vast 5,440-acre park is home to the 170-acre Tobyhanna lake and 136 campgrounds.
This campground features all types of campsites like tents, RVs and group tents, cabins, and tent cabins. Tobyhanna State park features amenities like ADA access, trash cans, picnic tables, showers, drinking water, electric hookups, and toilets, and is pet-friendly. You can also hike on the nearby trails, swim, or enjoy the beautiful lake.
B. Private Campgrounds
 Pocono Mountain KOA Holiday
Pocono Mountain KOA is one of the most fun campgrounds in the Poconos. They have level tent sites with beautiful surroundings. If you want something more deluxe, try their cabins, or you can even pull up in your RV.
They feature a long list of amenities like a 50-max amp, firewood, propane, and a snack bar. We call this place the most fun in the Poconos because of its wide selection of unique recreation activities like banana bike rentals, gaga pit, volleyball and basketball courts, heated pools, gem mining, and pet areas. 
The Spectacular Bushkill Falls, also called the "Niagara of Pennsylvania," is located nearby, and is a favorite local attraction for many campers.  
Mountain Vista Campground
This campground is well maintained and offers a ton of activities like disc golf, basketball, volleyball, horseshoes, fire truck rides, a stockpile for catch and release, a swimming pool, and two pickleball courts.
Their amenities include a laundromat, clean bathhouses, a rec room, a dog park, picnic tables, a multigym, and a campground store.
This campsite is 15 minutes away from Bushkill Falls Appalachian Trail, Delaware Water Gap, Mount Airy Casino, Outlet Shopping, and Pocono TreeVentures.
They also host events for special days like Mother's day and Memorial day.
C. RV Parks
TIMOTHY LAKE SOUTH RV RESORT
Timothy Lake South brings modern updates to the traditional campground. This RV resort is designed to fit RV units of any size. They try to emulate the feeling of an authentic campground.
All sites are full hookup with 50 amp service and large enough to give you plenty of room to relax. You can also pitch a tent or rent one of their cozy cabins. This place is a favorite for those who want to enjoy the peace and quiet of nature.
If you want to try some relaxing games, head to the shuffleboard and horseshoe or dive into their pool, while your kids have a blast at the playground. They are also pet friendly and are open all year round. 
 This campground is rated the highest in the Poconos Mountains by Woodall's, a camping magazine. Otter Lake Camp Resort is secluded and surrounded by 300 acres of serene wilderness. It is home to a 60-acre lake perfect for boating, swimming, and fishing. They offer an endless list of activities and recreation; they often conduct contests for softball, volleyball, kickball, soccer, and fishing. They also host ceramics on Saturdays, fire truck rides, movies, and Bingo. You can rent row boats, canoes, kayaks, and pedal boats or bring your boat free of charge. They have multiple pools including an outdoor pool, a heated indoor pool with a sauna and two whirlpools, a kiddie pool, and a splash park. On the lake, there is a sandy beach with a swimming area. There are three pickleball courts, two tennis courts, two racquetball courts, and a basketball court – most sports courts have lights for night use. Two shuffleboard courts and horseshoe pits are also available. 
D. Glamping
Keen Lake Camping & Cottage Resort
Soak in the sun and luxury at these feature-loaded lakefront stays.
The luxurious tents pitched on the shores of Keen Lake, a privately owned, spring-fed lake. Relax and reconnect with your family amidst nature. Here you can wake up in comfort and to nature's beauty.
There are lots of activities to keep you busy and entertained during your stay like kayaking, paddle boarding, boating, and fishing. You can lounge near the pool or join a game of basketball, volleyball, or shuffleboard and horseshoe pit. The kids can hang out at the ceramic classes, playgrounds, kids' gardens, or game rooms. Catch a movie at their outdoor theater.
Their amenities include boat rentals, fishing supplies, spacious bathhouses, a laundromat, a communal fire ring, and a snack bar.
At camptel you get to experience the outdoors like never before. Here you can stay in containers converted into mini luxury hotels. Each 'glamptainer' offers luxury camping with outdoor grills, propane fire pits, and seating. 
The interiors are very homelike with beds, linens, luxe bathrooms with a shower, and a kitchen featuring a refrigerator, microwave, coffeemaker, and a TV in the living areas.
Their amenities include a full restaurant and bar called Gotham Fireside Grille, a gym, community fire pits, and hot tubs for relaxation. Some interesting games they offer are giant chess, bouncy slide, cornhole, bocce ball, and paintball.
Planning & Preparation   
Campground reservations
Backpackers can obtain a camping permit for these parks at the Pennsylvania state parks reservation website or by calling the specific park office during business hours. You can reserve these sites up to 11 months in advance, and a minimum of the night before.
All campgrounds have their own rules and policies about reservations, so it is better to contact the particular campground and directly gather info from them.
Packing and camping gear
The essentials for camping include a tent, a sleeping bag, food, water, a first-aid kit, and a backpack. You will need sunscreen, insect repellent, flashlights, and a lantern. If you want to go camping for a longer duration, you will need to bring additional items such as a stove, cooking utensils, a knife, a map, and a compass. Make sure to pack plenty of food, water, extra clothes and blankets. Finally, don't forget to pack some fun items such as games and books.
Weather and climate considerations
Stroudsburg is in a mountain region where the weather can be hard to predict. It is advisable to check the weather forecast at least two to three days ahead of your trip.
It always helps to have items like emergency blankets, and ensure that you have water shoes, a rain jacket, and a solar charger in case of extreme weather and emergency. Usually, the warm months are more suitable for camping.
Safety and emergency information
Camping out in the wild may not always be a walk in the park, there may be several hurdles along the way, even serious situations. When such situations occur you should be prepared to face them. Some info that may help you in such situations are:
Know the location of the nearest hospital or medical center.

Keep a first-aid kit on hand, including bandages, gauze, pain relievers, and any prescription medications you may need.

Make sure you have a means of communication, such as a cell phone or a two-way radio, in case you need to call for help.

Learn basic first-aid techniques, such as CPR and the Heimlich maneuver.

Keep a fire extinguisher or a bucket of water nearby in case of a fire.
Some necessary numbers to keep in mind in case of an emergency while in the Poconos are:
911: This is the emergency number for all medical, fire, and police emergencies.

Poison Control Center: 1-800-222-1222

National Park Service: 570-426-2452 (for emergencies in the Delaware Water Gap National Recreation Area)

Pennsylvania State Police: 570-839-7701 (for non-emergency assistance)

Pocono Mountains Visitors Bureau: 570-421-5791
Rules and regulations to be followed:
When camping in Stroudsburg, it's imperative to follow the rules and regulations set by the campground. This may include quiet hours, campfire restrictions, and pet policies. Make sure you familiarize yourself with these rules before arriving to ensure a safe and enjoyable camping experience.
A permit and fee are mandatory for motorized vehicles, and roadside camping is only allowed at designated sites. Please plan appropriately.
To camp in state forests or parks, you must:
Obtain a camping permit if you are staying in a state forest for more than one night.

 Make a reservation for a trail shelter in a state park.
Backpackers may camp overnight anywhere except:
In designated Natural Areas

Within 200 feet of a forest road

Within 25 feet of a trail

Within 100 feet of a stream or any open water.
Whether you're looking to rough it out in the outdoors or want to experience luxurious tent stays, Stroudsburg has the perfect options for all kinds of campers. When planning your next outdoor getaway, make sure the Stroudsburg campgrounds are on top of your list. Also, remember to plan, pack the essentials and follow all the safety guidelines.
FAQ
What are the most popular campground options near Stroudsburg, PA?
Some popular campground options near Stroudsburg, PA are:
Pocono Ridge Campground
Cherry Valley Campground
Paradise Stream Family Camping Resort
Mountain Vista Campground
Are there any campgrounds that allow pets?
Most campgrounds in the area allow pets, but it's best to check with the individual campground to confirm their pet policy.
Is it possible to reserve campsites in advance?
Yes, it is possible to reserve campsites in advance at most campgrounds near Stroudsburg, PA. It is advisable to check the campground's website or to call in advance to confirm availability and to make a reservation.
Are there any additional fees for camping near Stroudsburg?
Yes, there may be additional fees for camping near Stroudsburg, such as fees for extra guests and vehicles or camping equipment. Some campgrounds also charge a fee for using some on-site amenities such as showers or laundry facilities. It is best to check with the specific campground for a complete list of fees.