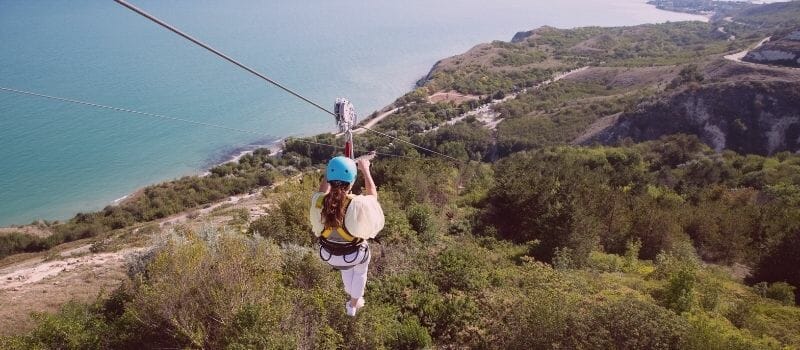 It is time to put your hands in the air and scream! Step on the platform and feel the adrenaline rush adventure that you will never forget. Enjoy the ride of your lifetime on the Pocono Mountains Zipline in different adventure parks. We give you one of the best zip-lining poconos experiences. The blog guides you through the ziplines in the Poconos.
Catch stunning mountain views and much more things to do at ziplines in treetop villas. You can either go solo or glide along with your friend for a more intense and fun zipping action. Ready to leap? The Pocono Mountains have a tonne of interesting ziplining activities to offer! Here are some of the top 5 zip lines in the Poconos.
Best Season for Ziplining in Poconos 
While Poconos is beautiful in all seasons, the fall season is the best time to zip line through the Poconos as the Pocono Mountains begin to peak in color. As you prepare for your zip line adventure, feel the surge of adrenaline. Pennsylvania zip lining is celebrated as one of the best destinations to enjoy a getaway on every vacation you look forward to. 
All you need to Know about Zip Lines in the Poconos 
Before you choose a zipline, it is important to look into specific features and inquire. You can also take up professional zip line training courses for participants. The training sessions include guides that educate participants on how to maintain a proper form, take off, land, and control the speed. 
Even though the managers and coordinators will help you, ensure that you are provided with protective helmet gloves and ensure that the course has a safety record. It is also essential to adhere to safety instructions and avoid health issues or safety concerns. 
Tips for Ziplining in Poconos 
Zipline can be a fun-filled activity but check with the operator regarding the professionals' experience, safety and maintenance. 
Medical Concerns 
Anyone above the age of 10 and has an acceptable weight can travel along a zip line, provided the person also has reasonable fitness and health. Pregnant women are recommended not to take up zip lines. If you also fear heights, it is best to stay away from ziplines in the Poconos. 
How Should You Be Dressed for Zip Lining? 
Usually, people prefer ziplining during summer or fall. However, it is recommended to dress warmly to avoid catching a cold as it would be windy. Avoid wearing flip-flops, sandals and tops that are loose and uncomfortable. 
Trousers 

Jacket 

Trousers 

Hiking footwear
Another piece of advice that we would like to add is that if you are undecided to try ziplining because of the height fear, look at the size above the ground before booking.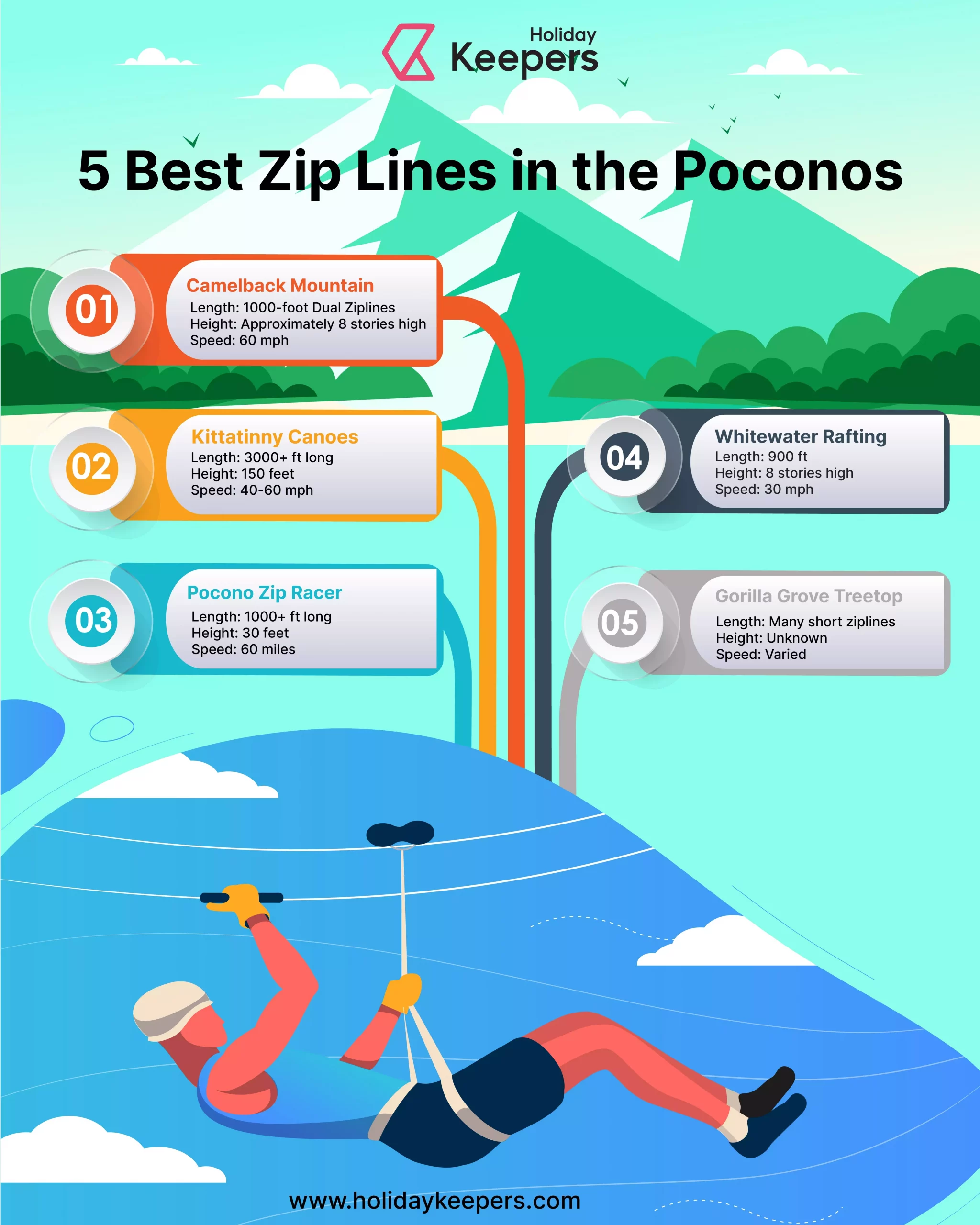 The Popular Zip lines in the Poconos
There are many popular locations where you can find the best zipline network like no other in Poconos ziplining. 
1. Camelback Mountain Adventures 
Length: 1000-foot Dual Ziplines; 4,000-foot Soaring Camel Twin Zip-Flyers 

Height: Approximately 8 stories high 

Speed: 60 mph 
Race down the Camelback Mountain with their record-breaking zip lines. Whether you choose the zip line or the zip flyer, you can safely slide the zip through the trees. Race with a friend or family member through the zip line and create memories for a lifetime. It has one of the longest ziplines in Poconos. The zipline can be a little difficult, especially for the newbies and beginners, as it aims to teach, protect and learn more about the environment. Camelback ziplining is the best experience you can have. You can enjoy a panoramic view of the Poconos and wave at your loved ones from above! 
2. Kittatinny Canoes 
Length:

3000+ ft long 

Height:

150 feet 

Speed:

40-60 mph 

Prices:

Friday: $35/personSat, Sun, Holidays: $45/person$20/person/additional ride. 

Walk-in rates are $5 more per person
The dual racing zipline is one of the largest big zips in the US and the only one over the Delaware River. It is almost 36 stories from the top of Kittatinny's private mountain. The Zip is above the tall trees in the area, where you can enjoy a bird's eye view of the Delaware River. You can choose to enjoy the zip line ride with your partner. Reservations are recommended to be made in the offseason. 
3. Pocono Zip Racer 
Length: 1000+ ft long 

Height: 30 feet 

Speed: 60 miles 

Prices: $20.00 for one run 

$7.00 for additional runs
Poconos Zip Racer is the new addition to the zip lines in the Poconos, located in the Bushkill. You can also find a registration area that helps the guests to fly in the air and ensure a safe landing. It is a fun activity even for those without experience. You are trained in the base, equipped with essential protection, walk to the top and race down. Compete with your friends and enjoy riding through the trees like a bird flying over the stream. 
4. Whitewater Rafting Adventures Zip Line 
Length: 900 ft 

Height: 8 stories high 

Speed: 30 mph 

Prices: $20.00 per person, per ride

$35.00 Two-ride Special
Do you love a high-speed ride across the water? Fly over and watch the red rock cliff beneath you as you disappear in the sky. It is sure to take your breath away. No minimum experience is required and is relatively simple and easy. 
5. Gorilla Grove Treetop Adventures 
Length: Many short ziplines 

Height: Unknown 

Speed: Varied
This aerial forest park has around 87 adventure and "obstacles" elements, perfect for age four and up. You can experience the beauty of the setting and challenge yourself with a range of activities that you feel comfortable doing. Also, the Quad Racing Zip Lines is the only zip attraction unique in Poconos. Four people can slide down the zip lines at a time. You can also try the zip/ rope course or individually take up the zip line. 
The zipline is a good activity for everyone who has good health. Even though it is not a difficult sport, you must be prepared for it with strong emotions. Not all zip lines are the same as it varies in height, speed and minimum weight requirement.
6. Poconos Valley Resort
Length:

180′ long 

Height:

35′ tall 

Speed:

Varied

Prices:

$37 on the weekdays 
$39 on the weekends. 
$77 on the weekdays &

$79 on the weekends for additional rides
Ziplining in Poconos Valley Resort is a thrilling and exhilarating experience that you won't soon forget. Traversing through this 350-acre private campus, you'll take in stunning views of the lush forests and rolling hills of the Poconos region. The course for ziplines in the Poconos Valley Resort is designed to challenge and excite thrill-seekers of all levels, with options ranging from easy, low-hanging lines to more daring and adrenaline-pumping rides. 
You'll be securely harnessed and guided by experienced instructors, who will ensure that you have a safe and enjoyable adventure. Whether you're an experienced zipliner or a first-time rider, ziplining in Poconos Valley Resort is an unforgettable experience that will leave you with memories to last a lifetime.
FAQs
Q: What is ziplining?
A: Ziplining is a thrilling outdoor activity that involves sliding down a suspended cable while being securely harnessed to the cable. It is often done as part of a guided tour, allowing participants to experience the sensation of flying through the air.
Q: Is ziplining safe?
A: Ziplining can be safe when proper safety protocols are followed. It is important to choose a reputable company with experienced guides who follow strict safety guidelines. Before participating, participants should be briefed on the equipment and safety procedures.
Q: What should I wear for ziplining?
A: Wear comfortable clothing that is appropriate for the weather. Closed-toe shoes with good traction are required. Avoid wearing loose clothing or jewellery that may get caught in the equipment.
Q: How long does a typical ziplining tour last?
A: The length of a ziplining tour can vary depending on the number of ziplines and the length of each one. A typical tour may last anywhere from 1-3 hours.
Q: Is there a weight limit for ziplining?
A: Yes, there is typically a weight limit for ziplining to ensure the safety of the participant and the equipment. The weight limit may vary depending on the company and the specific equipment being used.
Q: What is the minimum age for ziplining?
A: The minimum age for ziplining can vary depending on the company and the specific tour. Some companies may allow children as young as 5 years old to participate, while others may have a minimum age requirement of 10 or 12 years old.
Q: Do I need any prior experience to go ziplining?
A: No prior experience is necessary to go ziplining. Most tours will provide a brief training session on how to use the equipment and the proper technique for ziplining.
Q: Can I bring a camera or phone with me while ziplining?
A: It is best to check with the tour company beforehand, as some may have restrictions on what can be brought on the zipline. If allowed, make sure the camera or phone is securely attached to your body and won't interfere with the harness or equipment.
Q: What happens in case of bad weather during a ziplining tour?
A: Many ziplining tours may be cancelled or rescheduled due to bad weather. Participants should check with the tour company regarding their cancellation and rescheduling policies. In some cases, the tour may continue in light rain or snow, but strong winds, lightning, or other extreme weather conditions may warrant cancellation.