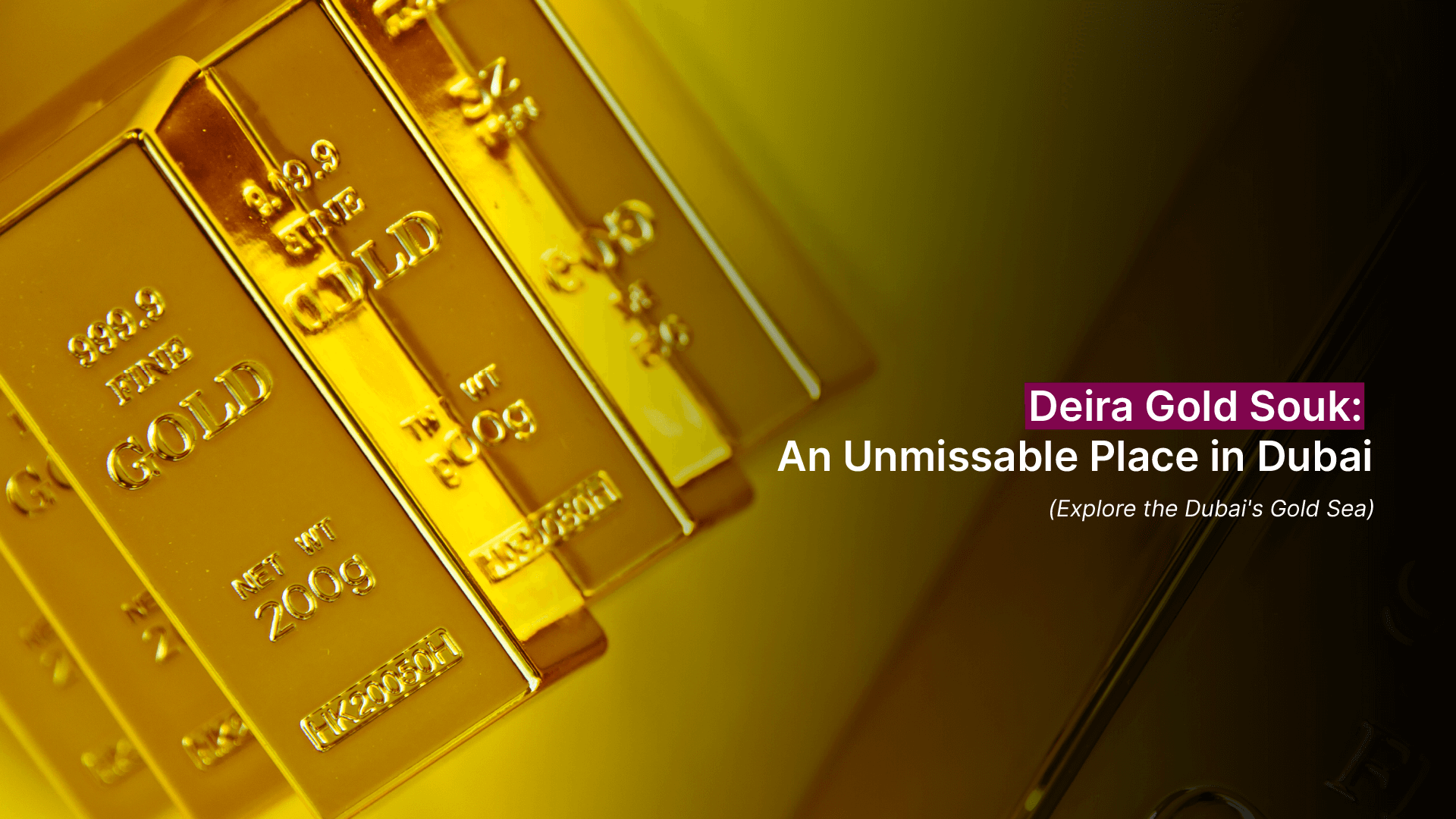 Heading to Dubai this vacation and planning to experience the traditional markets? Well, the traditional gold market is one of the most sorted items on the itinerary lists of the visitors. 
Located in the centre of the commercial street of Dubai, the glittery souk is the best place for shopping and other leisure activities. It perfectly showcases the heritage of Dubai. Its gold history dates back to the 19th century.
Places to Visit Near Dubai Gold Souq
Deira or the charismatic city full of glitters and flavours is located to the north east side of the Dubai creek. The streets of the city not only reminds its visitors of the historic times but also the assimilation of multiple cultures in a very unique way. Although, numerous activities can be done in Dubai gold souk, but few activities shouldn't be missed.
Khor Dubai or Dubai Creek, is a natural seawater inlet of Arabian Gulf dividing the city into two major parts i.e., Bur Dubai and Deira. It is 100-500 metres wide and 14 kms long. It. It was developed as a trading port for the trading of gold, spices, pearls and fishing from the Arabian sea.
Today it is considered as the leisure spot by the tourists to enjoy the warm water of the gulf. It can be crossed via renting a Abras (traditional wooden boats) or cruise through the Dubai Marina.
Location: Al Khairan First or Dubai Creek Beach
This fully air conditioned indoor dolphinarium showcases the most amazing live interactive shows with dolphins and seals dancing, singing, juggling and playing with the keeper. It is a house to Black sea Bottlenose Dolphins and Northern and Southern American fur seals along with some exotic birds. It is open from 10.00 to 19.30 from Wednesday to Monday. It remains closed on Tuesday.
Location: Creek Park Gate 1, Umm Hurair Rd. Dubai, UAE
With over 500 vendors and approx 350 seasonal varieties of fish and other seafood, fruits, vegetables and other meat, this market caters to the needs of customers 24 hours a day. However, this lively market takes a pause every day for a few hours for cleaning purposes. From Saturday to Thursday, It remains closed from 14.00 to 16.00, while on Friday it remains inaccessible from 12.30 to 13.30.
Location: Al Khaleej Road in Deira , near Mina Al Hamriya
It is the best place for Arabic perfume lovers as this souk can mesmerise the customer with the most beautiful aromatic scents. Depending on ingredients preferences, one can also ask the vendor to customise the perfume for themselves.
Location: Sikkat al Khali, Deira, Dubai
This area sees the largest number of footfalls in a day and is the main reason why Dubai is called the City of Gold. This market holds more than 300 jewellery shops and on any given day, around 10 tonnes of gold is kept in the market. 
Location: Al Ras Deira.
One can recognise this souk even from far away from the beautiful blend of spice aroma in the air. Being located adjacent to Gold souq, the vibrant colours and aroma lures everyone to step into the narrow valleys of the market. With availability of almost all spices, the best days to visit it are Wednesday and Thursday and have the same opening timings as gold souk.
Location: 41 34th St, Deira, Al Ras, Dubai
Why to Buy Gold from Gold Souk?
According to the data released by the World Gold Council for 2022, the gold demand in UAE increased by 38% as compared to 2021. A total of 46.9 tonnes of gold was sold by the jewellers to the customers all over the UAE. It is one of the oldest gold markets in the world.
Gold bought from here is pure and cheaper comparatively because of the lower tax rates.

Regular inspection of the gold seller and the products is conducted by the DCL.

Huge variety of options are available to choose from while buying.

A good bargain can be done while buying gold from here.
To know more about the reasons for buying the gold, you can read our latest blog on it.
Tips for the Visit to Gold Souq Deira Dubai
Before stepping into the sea of gold, one should know a few things about it.
Gold rate is dynamic in Dubai and it follows the international gold market rates.

Prices prevailing on a particular day will be displayed on the electronic board put up at the entrance of souk.

Decide which gold karat category you want to buy and explore multiple outlets before settling on one.

The best months to look for the discount on jewellery in gold souk are December to January (Dubai shopping festival) and June to August (Dubai summer surprises). If you are visiting on non festival days, it is better to shop on weekends.

 

Ornaments are certified with a hallmark as a symbol of quality and compliance of rules.
How to get to the Gold Souk ?
The traditional gold market is located in the Al Dhagaya locality of Deira district in Dubai, UAE.
To make travel more convenient, various Bus transit lines pass through the Deira bus stations.

One can always opt to commute by car via D 85 or Baniyas Road, Dubai.

The nearest metro station to

old souk in Dubai

is Al Ras station on the green line

. 
What to Buy in Deira Old Souk?
As the name suggests, gold is found in abundance in the market. Apart from this, one can also buy silver, platinum, pearls, precious and semi precious stones like diamonds, sapphires, emeralds, rubies from here. Apart from Arabic designed jewellery, watches, religious effigies, sculptures, belts, sunglasses frames and many more items can be purchased from this market.
How to identify hallmarks on jewellery?
Gold jewellery sold by the authentic stores will bear a hallmark unique identification mark which is a six letter alphanumeric code containing hallmark, purity of gold, assaying/certification centre mark, hallmarking year, jeweller's code and weight of the gold.
Gold karat is represented as specific numbers in the hallmark. 
| | |
| --- | --- |
| Gold Karat | Represented as |
| 23K | 958 |
| 22K | 916 |
| 21K | 875 |
| 18K | 750 |
| 14K | 585 |
| 09K | 375 |
Conclusion
The Emirates' oldest traditional market has much more to offer to the visitors beside just the gold and is definitely worth a stroll. With so much to tick off your itinerary , a day will never be enough and after such an awesome but tiring day, a much needed comfort is all one looks for!
Holiday keepers provide you with the most comfortable and luxurious vacation rentals across Dubai, so that the thrill of experiencing new things stays on till the very last day of your vacation. To know more about Dubai, visit HolidayKeepers UAE or contact us now for more information.
FAQ's
Q: What are the Gold souk Dubai timings?
A: From Saturday to Thursday, Souk is open from 10am to 10pm and 4pm to 10pm on Friday.
Q: Are the opening timing for spice souk and perfume souk same as gold souq?
A: Yes, they are the same.
Q: How much tax does the Government charge on the jewellery?
A: A 5% VAT is charged on the jewellery bought and sold in Dubai. However, tourists can reclaim 85% of the VAT at the Dubai international airport under the Tax Refund for Tourists scheme.
Q: Are any discounts given on jewellery?
A: If asked, discounts are given on the making charges. Use cash instead of credit cards for payments to bargain more on discount.
Q: Is there any entrance fee for the gold souk?
A: No, it's free for everyone.