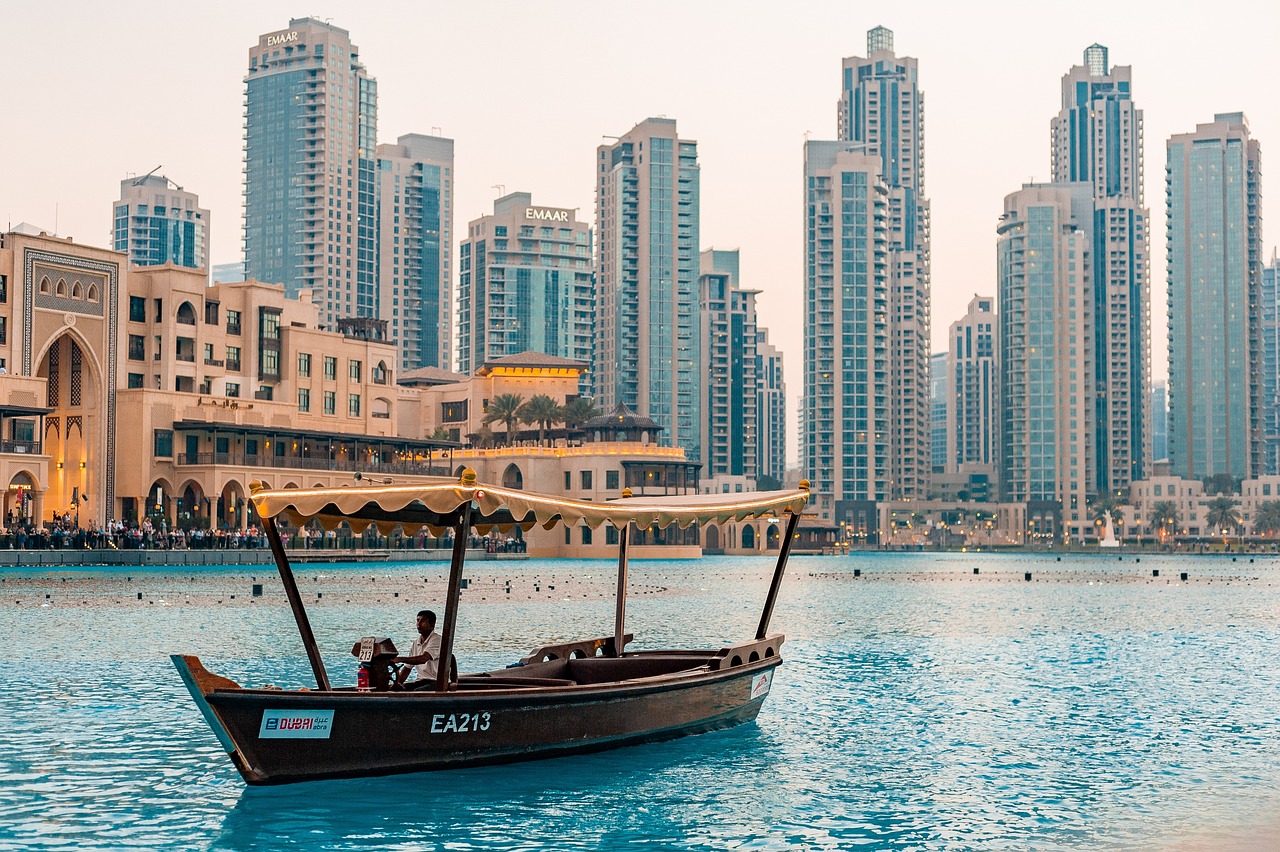 Dubai is populated by millions of tourists every year. It is an extremely famous tourist destination, but why should you visit Dubai? Dubai houses multiple attractive, futuristic tourist attractions while offering the charm of the traditional Emirati culture. Going to Dubai is a unique experience that is a must-do for any avid traveller. Here are some reasons as to why Dubai should definitely be the next destination in your holiday bucket list; 
Dubai's Tourist Attractions
One of the biggest reasons why you should travel to Dubai and what makes it one of the best places to visit, is its multiple captivating tourist attractions. Some of these include; 
1. Burj Khalifa
The Burj Khalifa is undoubtedly the highlight of Dubai architecture, being the tallest man made building in the world. This 829 metre tower was opened to the public in 2010, and was led by architect Adrian Skidmore. The Burj is an unmissable destination in Dubai. The stunning aerial view from the decks 124 floors above the ground is unmatched. For a truly surreal experience, visit the Burj during sunset, where it feels like you are just at eye-level with the setting sun. 
Directions
: 
To get to the Burj, you will need to walk through the Dubai Mall to get to the entrance. The Burj Khalifa metro station on the red line will drop you next to a 15 minute walkway that connects the Burj and the mall.
Tickets
: 
required for entrance 
Price
: 
AED 149 to 224 / Adult (depending on visiting hours) 
2. Dubai Mall
By land area, this mall in Downtown Dubai is the largest mall in the world. It opened to the public in 2008, with around 1000 retailers. Adjacent to the Burj Khalifa, it hosts over 54 million visitors in a year. 
The mall has some truly memorable attractions inside it, including the massive Dubai Aquarium which sold about 61,000 tickets within the first five days of its opening. The Dubai Dino, VR Park and KidZania are also some extremely popular entertainment and activity zones within this mega-mall that you should check out. 
Directions
: 
The Burj Khalifa/Dubai Mall metro station on the red line will drop you to the entrance of the mall.
Tickets
: 
No tickets required for mall entry (aquarium and other such zones have separate tickets that need to be purchased) 
Price
: 
no price for mall entry (pricing varies for various outlets and attractions within the mall) 
3. Dubai Fountain 
Within the 30-acre Burj Lake, lies the magnificent Dubai Fountains. This impeccable water show boasts the name of the world's tallest performing fountain. These mesmerizing performances involve fountain jets spurting water 140 m in the air choreographed to the beat of various popular songs.
Directions
: 
From the Dubai Mall, walk through to the waterfront promenade. 
Timings
:
 everyday 6 pm onwards; every 30 minutes 
Tickets
:
 none (except for boat ride view)
Price
: 
no price for regular viewing (boat ride viewing is charged)
4. Dubai Miracle Garden 
The Dubai Miracle Garden is a beautiful flower garden spread over a vast garden area of 72,000 sq m. Located in the district of Dubailand, it is the largest natural flower garden in the world. It opened on February 14th, 2013 (Valentine's day), which is an apt opening day for this romantic attraction. 
Directions
: 
From the Mall of Emirates (MOE) Metro station, alight RTA Bus no. 105 which is a 15-20 min ride directly to the Garden.
Timings
:     
9 am to 9 pm (Open till 10 pm on Saturday and Sunday)
Open only from October to May every year when flowers are in bloom  
Price
: 
AED 75 / Adult ; AED 60 / Child 
5. Dubai Aquarium and Underwater Zoo
Housing over 140 species of aquatic life and in an aquarium of 10 million liters, Dubai aquarium offers visitors a marine experience like no other! Located within the Dubai Mall, this aquarium has a range of activities to interact with the 33,000 aquatic animals it holds. These include the 48 meter walk-through tunnel, where you can get an unreal view of the marine life surrounding you. They even offer glass boat rides, animal interactions, snorkeling and many other exciting activities. 
Directions
: 
Third floor of the Dubai Mall 
Timings
: 
Weekdays: 10 am to 11 pm ; Weekends: 10 am to midnight
Tickets
: 
required 
Price
: 
Lowest Price Package (excluding glass boat and fish feeding): 
AED 199 / Adult 
Ultimate Package (including glass boat and fish feeding):
AED 299 / Adult 
Every additional activity will have separate prices 
Dubai's Culture 
Dubai's rich culture adds to its quaint charm. Its vibrant heritage sites and traditional attractions make it perfect for those who wish to experience and learn about the Emirati culture. These include:
1. Traditional Souks
Arabian markets are famous for its flavourful spices, shimmering gold, fragrant perfumes, vivid fabrics and the freedom to bargain! The souks in Dubai will take you back to the times of merchant trade and allow you to get some of the best traditional Emirati trade produce right on the old streets. 
The various souks include:
Gold Souk

: Be dazzled by the stunning gold jewelry at the gold souk, crafted by traditional jewelry artisans, with bargainable prices!

Spices Souk

: Immerse yourself in the irresistible aroma of the numerous spices, dry fruits and nuts found in this souk. You're sure to want to drizzle your next meal with these flavors. 

Perfume Souk

: Douse yourself with the unique fragrances of oils, perfumes, incense and oud in this lavish souk. The perfumers here can even help you customize your favorite fragrances.  

Textile Souk

: Feel the fineness of the beautiful silks, cottons and weaves at this souk. The fabrics found here are sure to catch your eye. This souk is also known for its range of sari fabrics. 
There are other souks in various locations such as The Souk in Dubai Mall for jewelry. Be sure to negotiate the prices when you visit, as the prices at the souks aren't fixed and a little bit of bargaining is encouraged. Always start your bargain at half or quarter of the price offered. Be stern in your stance and you're sure to walk away with the best deals.  
2. Jumeirah Mosque 
The Jumeirah Mosque, opened in 1979, is one of the largest mosques in Dubai. The mosque was a gift from the Late Sheikh Rashid bin Saeed Al Maktoum. The architectural style originates from Syria and Egypt. This mosque hosts activities from the Sheikh Mohammed bin Rashid Al Maktoum Centre for Cultural Understanding (SMCCU) to educate visitors on the Islamic culture to encourage awareness. The majestic structure is truly a cultural wonder of Dubai. 
3. Dubai's Luxury 
There is no doubt that Dubai is home to unmatched luxury and some of the most expensive temporary and permanent residences in the world. Here are some of the most lavish places in Dubai. 
1. The Palm Jumeirah 
The Palm Jumeirah, one of the most iconic man-made islands in the world, stretches 5 km into the Persian Gulf. It is home to some of Dubai's most luxurious hotels and resorts, apartments and shopping centers. This includes the famous Atlantis, The Palm which is known for holding luxury holiday homes in Dubai. Experience everything at this Palm Tree shaped island including snorkeling, speedboating and even skydiving over the island for the most memorable view of your life. 
Transport: The Palm Monorail connects the island to the mainland.
2. Dubai Marina 
The Dubai Marina is an artificial canal district that stretches about 3 km along the Persian Gulf shoreline. The Marina has an extensive range of luxury, high rise apartments which make for a fine living experience with serene views of the water. Other amenities such as well known schools also present in the area make the Marina a blend of affluence and convenience. The canals also host a range of 5-star cruise dinners where you can enjoy a breathtaking view while relishing a delightful meal. These include: 
5 Star Luxury Dinner Cruise 
Price: AED 213
Duration: 1.5 hours
Al Wasl Dhow Dinner Cruise
Price: AED 149
Duration: 2 hours
Feature: Family and kid friendly 
3. Dubai's Luxury Hotels
Dubai's abundant 5-star luxury hotels offer a majestic experience. Pamper yourself to the holistic services they offer and feel the true nature of opulent leisure with some of these deluxe hotels:
The Burj Al Arab, managed by the Jumeirah hotels, is one of the tallest hotels in the world. It is a luxury hotel built on a man made island just off Jumeirah Beach, whose structure is made to resemble the sail of a boat. This five star hotel has 199 exclusive suites which have round-the-clock butlers to make for a stay fit for royalty. 
Price
: 
Royal Suite: over AED 70,000 / night
            Guest Rooms: over AED 3600 / night 
The famous Atlantis, The Palm hotel resort, located at the end of the Palm Jumeirah islands is known for its unique, beautiful structure as well as its grand rooms and services. They offer underwater suites as well as over-ground rooms with the most incredible views of the island. The Aquaventure Water Park, one of the largest waterparks, offers a thrilling adventure opportunity right next to your stay. 
Price
: 
Grand Atlantis Suite: over AED 91,000 
Prices vary based on selected room
 A true representation of the lavish Versace lifestyle, the Palazzo Versace hotel offers nothing but the best. With lavish interiors, Michelin star meals and beautiful decor, you are sure to feel like royalty. 
Price: Imperial Suite: AED 77,000
Most Affordable Room: over 1000 AED 
4. Dubai's Food and Nightlife 
Dubai's array of cuisines will leave you more than enough room to explore dishes of multiple cultures over the course of your stay. The city's nightlife is also incredibly vibrant. Dubai's food scene and nightlife will surely keep you coming back for more: 
1. Dubai's Cuisine Options
The traditional Emirati cuisine is one to die for! The blend of mouthwatering Arabian flavors make for dishes that will leave your appetite satisfied. But if you wish to go beyond and try out various cuisines, Dubai's diverse restaurants cater to that as well. 
2. Dubai's Nightlife
Feel energetic enough at the end of the day to spend a night out? Dubai's nightlife has got you covered. Here are some of the best nighttime activities to check out for your visit: 
Bars and Nightclubs
For a wild night out, visit the various Dubai nightclubs and bars including:
Stereo Arcade: This up and coming nightclub at DoubleTree JBR makes for a hip-hop clubbing experience with its neon lights, paintings and decor lining the interiors of the club. 
Price for 2: AED 400
Timings: 6 pm to 3 am
Bar 44: Want a wide range of fine liquor while having a gorgeous view of the city? Bar 44 is a level up in its exceptionally refined ambience and great service.
Price for 2: AED 450 
Timings: 5:30 pm to 2:30 am
Overnight Desert Safari 
The desert safari is a highlight of everyone's Dubai visit. What's even better than to prolong this experience through the night? A night full of dance and entertainment, shisha smoking and camel riding before a retreat into the tent. Wake up the next day refreshed with a delicious Emirati breakfast for the true Bedouin camp experience. 
Average Price: AED 250 / person 
Nighttime Horse Riding 
What's better than a stroll in the moonlight? A horse ride on Dubai sands in the moonlight. Roam the sands of the wildlife parks in a 90 minute guided horse ride in the night. The serene views of the night are even better on horseback.
Price: AED 299 / person
Timings: 8 pm to 9:30 pm
4. Setting up Companies in Dubai
Dubai not only makes itself attractive in tourism, but also in business. The free zones or free trade zones in Dubai are big incentives for those looking towards setting up businesses in Dubai. The benefit of establishing a company in these zones is that you are allowed 100% ownership and also get exempted from many taxes such as Value Added Tax, Income Tax and the like. These irresistible advantages were introduced with the intention of increasing foreign investment and economic growth in these areas. It is also possible to operate a business in Dubai without living there. 
Dubai proves itself to be a visitor friendly destination with multiple amenities to ensure a fun, comfortable, great stay for you. Whether you are a thrillophile, a shopaholic or a staycation buff, Dubai has something for you. So the next time you're ready to pack your bags and go on vacation, definitely make a stop by this magnificent city.