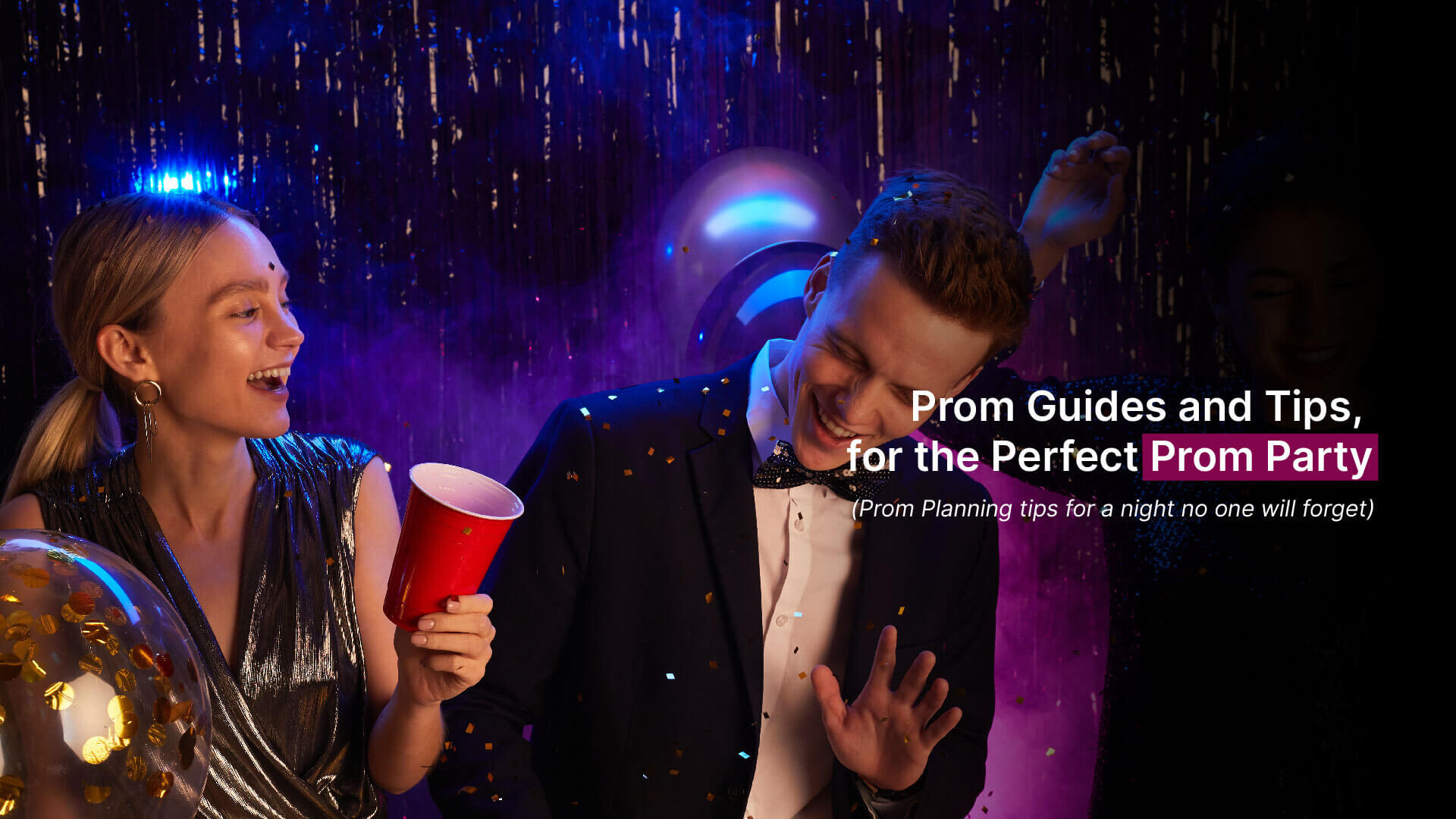 Prom is one of the most magical moments of high school, with everyone dressed to their best, the music, dancing it just amazing. And if you're in charge of planning the prom party, congratulations. That's a big responsibility and you've got quite the task ahead of you. 
When planning prom you need to bring your a-game because prom is an important event everyone at high school looks forward to. And, if it's your first time organising events you'll need all the help you can get. So, without wasting any time, let's dive into our prom guide and discuss everything from how to plan a prom, and things needed for prom  
1. Teamwork is a key
Teamwork is a key to dream results. So, if you want a successful prom party, organise one committee dedicated just to organising prom, and assign prom committee roles to each member. Call  in a meeting and ask them about their ideas and opinions. Accept the differences in ideas, listen to each of them carefully, write their innovative ideas on a piece of paper and refer to them before finalising things.
Try to get everyone on the same page. Identify talent in each of your committee members and allocate them the task accordingly. For example, someone from the group having good connections can be assigned the marketing task. Similarly, if one of them has relevant knowledge about food, ask him to arrange the menu and chef.
2. Decide on a date, & Venue 
This is one of the most essential things to keep in mind when planning prom yet is taken for granted by most people. Decide the appropriate date, location and theme of the prom. This topic too cannot be a one-man show. Here, you need to ask everyone about their plans for the upcoming days. Set an appropriate date keeping in mind the preference of the people. Similarly, the venue should be at a convenient distance so that everyone can reach there on time.
3. Theme
The theme is one of the most important aspects on your prom planning journey, and it is when the most arguments and disagreements occur. Everyone has different tastes and visions for the prom theme. The prom theme is one of the most important aspects, as you will have to build your entire event around this theme. 
However, you can make this task fun too. Select the 4 best themes and ask them to vote for them. And finally, choose by selecting the theme with a higher number of votes. Checkout our blog for some adult prom ideas and prom themes.
4. Budget planning
"Money Matters". Oh,Yes, it does! All your mates will be down in the dumps if your expectations and planning surpass your budget limits. Sit with your teammates and estimate how much money is required for decoration, food menu, music and maintenance. And then keep the budget in mind while selecting your venue, caterer, photographer and other vendors. 
5. Marketing, Fundraising and Sponsorships
Spread the word about the upcoming event. Make a sub-committee for marketing and ask them to spread the news of a prom party like wildfire. They can either use digital or offline mediums for marketing. Using hashtags, banners, flyers and online advertisements are some of the known ways of marketing among the new generation.
To raise funds for the prom expenses you can try different things like selling cookie dough, candy, or candles. Figure out which method works best in your area, or what fundraising methods worked the best in the past. You can even talk to the businesses, and stores about sponsoring the event. 
6.  Arrangements for photographer, booth, DJ and menu
Everyone clicks pictures from their mobile. However, it is not going to be enough for a prom day. Do not forget to arrange for a professional photographer for prom. Or if you are tight on a budget, look for a friend who is a well-trained photographer. This might help you save  some money. 
Find a DJ that can make the prom night as exciting as you imagined. Ask him to play a mix of old and new, fast and slow songs. On the other hand, the dance floor should be spacious enough to accommodate all your high schoolmates. Select some appropriate locations for taking pictures and decorate them beforehand.  
7. Decide prom rules
Every school and university has its own set of prom rules and guidelines. Make sure you clearly state your prom rules on your invitations. Mention clearly about no alcohol and drug use, decent dressing, venue, time, and bringing Id cards and tickets for the prom night.
8. Book a vacation rental for after prom party
After prom is the best time to remind yourself of the beautiful time we spend with our schoolmates. However, the place and ambience of the after-prom party should be according to our needs. Some might prefer luxurious vacation rentals while others opt for rustic forest cabins. 
Hence depending on your group size and preference, do not forget to book a vacation rental at least a month prior to the prom party. If you are planning to spend your after prom night in and around Poconos, book HolidayKeepers. Not only do they have a smooth and seamless booking process but also great luxury amenities.
Conclusion
While planning prom, keep yourself calm and try not to get overwhelmed. At the end of the day prom is all about having a good time, so don't get stuck on the little details. Go out there and have a good time.
If you need help getting ready for your special evening, checkout our blog on how to prepare for prom.
FAQ's
Q: What is prom night?
A: It is a formal dance for high school students, which takes place at the end of the year.
Q: What are some of the best things to do for Prom?
A: You can hire entertainment to your prom to make things more fun, some of the most popular options are hiring DJs, magicians, performers, bands, or set up games related to your themes. You can also set up photo booths or karaoke. 
Q: Where can we get ideas for prom?
A: For prom theme ideas you can find plenty of blogs on google. You can also get ideas from places like pinterest, instagram and other social media platforms.  
Q: How to get ready for prom?
A: Plan on what you are going to wear early on. Make sure your dress fits and get all the necessary alterations done. Finalise your accessories and confirm all your appointments like nail, makeup and hair.