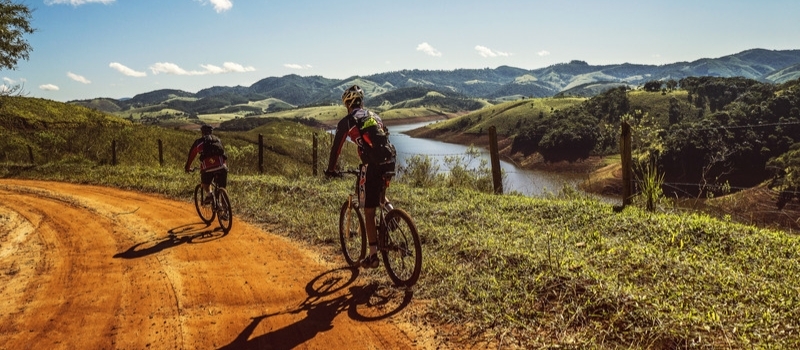 Recreation Area on Pennsylvania and New Jersey Sides Delaware Water Gap- known simply as "The Gap" is a bikepacking haven with winding serpentine rural roads, mountains, wildlife, and rivers. A long biking trip on the mesmerizing trails of Delaware Water Gap is what you need to revitalize your spirit. As the park encompasses borderlands of both Pennsylvania and New Jersey, we have shortlisted two of the best biking trails in the Delaware Water Gap National Recreation Area for you to explore.
McDade Recreational Trail- Pennsylvania
Joseph M. McDade Recreational Trail or simply McDade Recreational Trail is a 30 mile(48.2   km) bike trail that runs parallel to the Delaware River on the Pennsylvania   side of the Delaware Water Gap National Recreation Area. It extends across most of the length of the park, covering open farm fields, historic landscapes, forests and enchanting streams. 
You may also encounter some wildlife while treading on the trail. Keep your eyes open for bald eagles, coyotes, bears, deer and different bird species.
McDade Recreational offers Multiple Experiences for Biking, some of which are listed below:
Family Bike Ride: 
Hialeah   Picnic   Area to Turn Farm Spur is an ideal trail for a family/group bikepacking experience. If you are northbound to Smithfield it is mostly flat with a view of sunny fields, on the other hand if you are southbound to Smithfield it has a shaded trail, which is slightly steeped at Hialeah.The round trip distance is 10.4 miles (16.7 Km).
Historic Bike Packing:
Biking from Turn Farm Spur to Bushkill Village is like going on a history tour on wheels.The trail has several old roads,barns and houses,which can be  of interest to history buffs.The path is shady and there are steep switchbacks up to the boardwalk over the swamp, which later continues into a rolling trail. If you wish to, you may also take a side trip to the Springhouse on the Freeman Tract Road 0.1 mile northeast of the Owens Trailhead. Round trip on this trail is 6.4 miles (10.3 Km) long.
Short Bike Rides:
If you are planning on a bite-sized biking trip, take the trail from Bushkill Village to Egypt Mills This trail is flat and shady. The trail includes wetlands, cliffs, river views and flat  farm lands. The distance of a round trip on this trail is 8 miles (12.9 Km).Another popular short bike ride  trail is Egypt Mills to Jerry Lees Access; via Eshback Access. It is a shady trail flaunting wildflowers and spruce plantations on the south of Jerry Lees. This trail offers a spectacular view west to the Pocono ridge. The distance of a round trip on this trail is 7.2 miles (11.6 Km).
Long Scenic Bike Riding:
Have a long bike-packing tour in mind? Take a long round trip north of Bushkill Village to Schneider Farm Spur. Round trip distance around this trail is 25 miles(40.2   Km).The ride is mostly flat and sunny with occasional dips at stream crossings and hills around mile 17. The trail offers a fine view of south over fields and wetlands.You can continue north from Schneider Farm Spur to White Pines on a 9 miles (14.5 Km) round trip. The route covers Dingmans Creek, Delaware River, shady switchbacks, park stores and Dingmans Campground.
The McDade Recreational Trail is mostly wide and traffic-free, packed with gravel paths that pose varied difficulty levels, from easy to moderately difficult. Along with biking, the trail is also open for hiking and cross-country skiing. If you are planning on a one-way trip on the McDade Recreational Trail, you can use the River Runner Shuttle.
The northern and southern terminus of the McDade Trail are Milford Beach and Hialeah respectively. There are 17 trailheads in between both the terminus, and assuming you start with the northern terminus, the first access point/trailhead will be Milford Beach to Pittman Orchard. 
Trailheads for Biking in McDade Recreational Trail, Delaware Water Gap National Recreation Area
Milford Beach to Pittman Orchard – 2.21 miles (3.5 Km)

Pittman Orchard to Conashaugh – 2.4 miles (3.9 Km)

Conashaugh to White Pines – 1.8 miles (2.9 Km)

White Pines to Schneider Farm – 4.1 miles (6.6 Km)

Schneider Farm to Jerry Lees – 4.9 miles (7.9 Km)

Jerry Lees to Eshback Access – 1.8 miles (2.9 Km)

Jerry Lees offers a shady trail for biking.

Eshback Access to Egypt Mills – 1.8 miles (2.9 Km)

Egypt Mills to Bushkill Access – 2.4 miles (3.9 Km)

Bushkill Access to Bushkill Village – 1.7 miles (2.7 Km)

Bushkill Village to Park Headquarters – 2.0 miles (3.2 Km)

Park Headquarters to Owens – 0.7 miles (1.1 Km)

Owens to Turn Farm – 1.2 miles (1.9 Km)

Turn Farm to Riverview – 0.5 miles (0.8 Km)

River View to Smithfield Beach – 2.2 miles (3.5 Km)

Smithfield Beach to Hialeah – 1.9 miles (3.1 Km)
Old Mine Road- New Jersey
Old Mine Road is a 34 mile scenic biking route for those who want to enjoy road biking. The Old Mine Road runs parallel to the Delaware River on the New Jersey side. The route treads through lush forests, historic sites and past  agricultural fields. This road was constructed in the mid-1600s, connecting the Hudson River to Philadelphia to Pahaquarry Mines. Today, the Old Mine Road connects multiple sections of roads with the Delaware Recreation Area's main passage in New Jersey. Old Mine Road is a must -see sight for cyclists from spring through autumn. Although the road is over a 100 years old, it still retains its rustic age-old charm. The route has a steep descent and a couple of major climbs, it is   moderately hilly,and has beautiful landscapes around every turn.
Old Mine Road bike trail starts at the Kittatinny point visitor's center and ends near Millbrook Village (depending on our direction of heading). It is exceptionally scenic and takes you along rolling hills and natural valleys of Western Sussex County. There are two major climbs and a steep descent on this route. You can expect some traffic during weekends and in peak seasons.
Points of Interest for Cyclists on the Old Mine Road
Millbrook Village
Millbrook Village is a major history and heritage site, which depicts village life in the valley during the late 19th and 20th century. During summer weekends and special events National Park Service employees and volunteers from the village society dress up in period dress, and demonstrate folkways/handcrafts such as spinning, weaving, and blacksmithing.
Peters Valley School of Craft
This non-profit corporation promotes and encourages education and excellence in   craft.Peters Valley School of Craft hosts adult summer workshops, youth programs   special studio programs, public exhibitions and outreach programs.The corporation has studios in eight disciplines- blacksmithing ,ceramics, fiber surface design, fiber structure, fine metals ,photography , special topics and woodworking.
Dingmans Ferry Bridge
The historic Dingmans Ferry Bridge is the last privately owned toll bridge on the Delaware River and one of the last privately owned bridges in the United States. Riding your bike on the Dingmans Ferry Bridge is an exciting experience, the bridge makes a characteristic rattle noise when you ride over the floorboards, which are held in place with anchor plates and collar nails. Bicyclists can cross the bridge for free, but pedestrians are prohibited on the bridge. The total length of the bridge is 530 feet (160 m) and the width is 18 feet.
Delaware View House
Delaware View House is one of the few hundred buildings that survived the Tocks Island Dam Project of the mild 60s. The house has a wrap-around porch that offers a clear view across the Delaware River valley up to Bushkill. If you prefer to enjoy  a  loop trail, you follow Old Mine Road and Rt.NPS  615 through New Jersey to cover 50 miles of paved biking trail. The route has just a little traffic but offers exceptional rural scenery. So what are you waiting for? Let's grease those wheels and put the pedal to the metal.
Places to stay during a biking trip in Delaware Water Gap National Recreation Area
There are numerous campsites in Delaware Water Gap National Recreation Area like Dingmans Campground (PA), Appalachian Trail Backpacker Sites(PA) , Mohican Outdoor Center (AMC) (NJ), and Group Campsites (NJ).The camps have access to basic amenities like restrooms, drinking water and visitor centers. You may also opt for private vacation rental homes with HolidayKeepers. Our vacation   rentals are located in multiple locations around the Delaware Water Gap Area and Poconos. All our accommodations are loaded with world-class amenities like modern kitchens, private pools and Jacuzzis, spacious and comfortable bedrooms, grills, barbeques, and luxurious bathrooms.You can choose from our varied list of properties like cabins, cottages, villas, mansions and lake houses.Get in touch with us for bookings and more information.