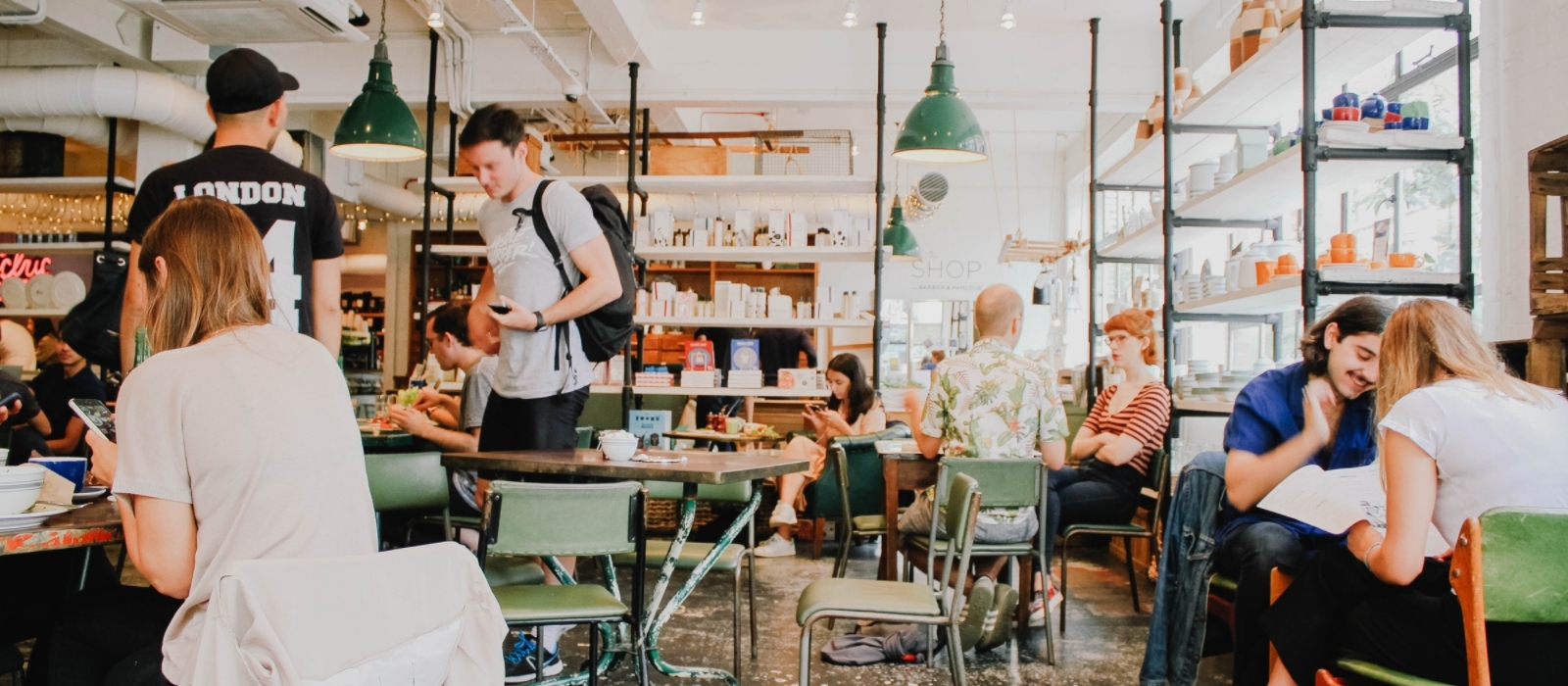 What if your vacation was a platter? The journey is your starter, food is your entree and adventure is the dessert. How does it sound? Exciting and yummy? Well, imagine your vacation a perfect concoction of these three ingredients. We believe food is the main ingredient of any vacation recipe and hence needs special attention. We gathered every detail of the best places where you can find awesome food and restaurants around the Delaware gap. 
1. Sycamore Grille restaurant and bar(jaw-dropping variety)
What impresses you most? The pleasure of your tastebuds or the ambiance of the eating spot? Sycamore Grille restaurant and bar is the perfect mix of both. Whether it is the lady lamp standing at the corner or the ala carte menu comprising gluten-free dishes, the restaurant never disappoints its customer. Feel the crispy bacon with sweet dates and satin-smooth goat cheese melting in your mouth. Eat crab cake, sandwiches, or black bean and polenta burger, the experience will be equally pleasurable. Every dish of Sycamore Grille restaurant is equally mouth-watering because of its texture and marvelous taste. From seasoned pork as the delicious appetizer around Delaware water gap to roasted leg lamb during easter, the place is  spellbinding  when it comes to the best food in town. 
Location- 92 main street, Delaware water gap, PA, 18327-7700
Facility
– Best for dinner especially late night, lunch (seasonal), gluten-free and easter menu available separately, Dine in and curbside facility available 
music and entertainment nights( best on Friday night)
Timing
– Tuesday – closed
              Other days (12- 9 pm)
Best dishes
– Seasoned pork, Baked Brie and fig, Sweet chilli shrimp, California cobb salad, chicken basket and fries, coconut chicken, Burrata and crispy eggplant, fried calamari, mozzarella sticks
Tip
– Stuffed chicken florentine and grilled chicken mahi-mahi are toothsome.
2. Village Farmer and Bakery (Baking Shaking)- 
Some old American touch and fluffy cakes, pastries, and savories will strike your mind with their distinct aroma and taste. It is Delaware's one of the oldest eating spots to kickstart your journey and fill your belly with baked items. Additionally, handmade jams, pickles, jellies, canned veggies, and pies will make you visit the place again. People often visit the place post adventurous activities to get an instant sugar rush and get prepared for the journey ahead.
Location
– 13, Broad St, Delaware water gap, PA, 18327, United States
Facility- Breakfast and lunch, Seating area available, wheelchairs for the elderly customers
Timing
– 8 am to 8 pm ( all 7 days a week)
Best items
– Chicken and turkey pot pie, pork sandwich, Fruit custard, and chocolate pie, hot dog, fish lobster rolls, Cannoli, chocolate mousse, Apple blueberry crumb, Poconos famous MoonShadows farm jams and pickles, yogurt (peach, banana, and apple)
Tip- Eat your favorite food beside the waterfall which is located just behind the bakery shop. It will increase your pleasure tenfold.
3) Inti Peruvian Cuisine (Latin American)
 Are you the biggest fan of Peruvian cuisine or just craving something unique? Undoubtedly, it is the perfect place to get a taste of Latin American food. Your favourite fish and chicken cooked in a unique Peruvian style. Hearty salad platter as a by-product and Peruvian juices your taste buds will always remember. 
Location- 266 river rd, east stroudsburg,PA, 18301
Timing- Monday to Friday( 5:00 pm to 9:00n pm), Saturday (2 to 10 pm), Sunday (closed)
Facility- Dine in, takeaway and delivery. Famous for dinner specifically
Best items- Steak and french fries dipped in soy sauce, Roast chicken Salmon Maracuya, Empanadas, Shrimp Ceviche, Peruvian style seafood paella, seafood chaufa
Tip- Order Peruvian juice with appetiser and Leche de Tigre(traditional tiger's milk) for the best experience
4) Minisink hotel (the American love)
 A rustic surrounding, comfort food, and hospitable management. Although nothing fancy, the restaurant will surely give you a fresh vibe with all the adventures nearby. Spots for water rafting, hiking, and spas are available around the Minisink hotel. People often visit the place for outdoor adventures and end up visiting the hotel for some mealtime. If you are on a road trip and Minisink hotel appears by chance in your vicinity, do not forget to grab a bite from this restaurant.
Location- Minisink hotel, 110 post office road,
Timing- 12 to 10:30 pm ( Monday to Sunday)
Facility- Lunch, dinner, and breakfast (Dine-in, curbside, and no delivery)
Best items- Burgers, Nachos, Pizzas, Stromboli, Italy and Poland specialty sandwiches, chicken wings, house-made fries, beers, and cocktails.
Tip- Try to reach the place by 8:00 pm for smooth service. The kitchen gets closed by 9:30
5) Llama ice cream (South American flavors)
 Let the cold lava burst in your mouth in the form of rich, smooth, and creamy Llama ice cream flavors. The scoops offered by the restaurants are large and filling and that too at a reasonable price. The service is quite fast and smooth. 
Location- 266 river rd, East Stroudsburg, Monroe, Pennsylvania
Timing- 1 to 8 pm
Facility- Dine in, takeaway, and delivery
Best items- Guava, salted caramel, strawberry, coconut, strawberry, chocolate, Tamarind, Soursop, and red velvet are the best flavors of Llama ice cream. Additionally, oreo cookies, figs and rum, and bubblegum flavors are some new favorites among visitors. 
Tip- Try cinnamon crunchy churro toppings on ice cream for a heavenly experience.  
6) The Landmark restaurant (Hearty meals)
What does a foody need?A large area to dine in, wholesome fresh meals, and friendly staff. Sunnyside up, french fries, potatoes, and hot coffee is the most preferable combo among the visitors. The restaurant serves food wholeheartedly in large amounts. It will not be an exaggeration to say that you will never leave the place empty stomach.
Location- 809 seven bridge Rd route 209 N, East stroudsburg, PA. 18301, 1943
Timing- Contact restaurant for inquiry
Facility- Breakfast, lunch, and brunch
Best items- Pancakes, meats, sunny side up, chicken fried steaks, traditional lager(local beer), chicken gyro with fries, mashed potatoes, red velvet cupcake, and chicken sandwich
7) Joe Bosco BBQ (Barbeques)
Joe Bosco is a family-owned restaurant located in the Delaware gap area. The name of the restaurant is inspired by the special bond shared between the owner's father Joe and his pup Bosco. The restaurant serves the best barbecue salads and meats in the area. The restaurant is a perfect combination of the highly skilled cooks and the barbecue knowledge they have acquired by traveling.
Location- 55 broad street, Delaware water gap, PA, 18327, United States
Timing- 12 to 8 pm( Wednesday to Sunday), Monday and Tuesday closed
Facility- Lunch, dinner, and brunch (Dine-in, curbside pick up, and no delivery option)
Best items- Burger, pasta and french fries combo, sausages, ribs, chicken sandwiches with mac and cheese
Tip- Order beef brisket for the main course and avocado mousse for dessert. 
8) Cafe Duet (King size breakfast)
Have some hot coffee, cookies, and banana bread on a beautiful morning. Cafe Duet, although small in size, has some impressive reviews. The high-quality ingredients and lip-smacking taste of the baked items are nothing less than a heavenly experience for food lovers. Whether it is recharging yourself for office work or just a casual coffee time with your friends, the place is a favorite spot for every occasion.
Location- 35 N, 7TH Street, Stroudsburg, PA, 18360, United States
Timing- 8 am to 3 pm( 7 days a week)
Facility- Breakfast, lunch, and brunch
Best items- Santa mama coffee, brownies, Belgian waffles, Belgian waffles(Le Chocolat and classics), breakfast sandwich, Vegan rainbow sandwich, Crunchy kale salad, Roasted mushroom & smoked Gruyere sandwich, Ham and cheese sandwich. Last but not least, freshly baked croissants.
Tip- Try to grab a seat in the backyard of the restaurant. The awesome environment will add more taste to your food item.
Conclusion
Delaware fortunately is not only a hub of adventurous activities but also of infinite food spots. The top 8 restaurants mentioned above are all one of a kind and have their specialty. We have mentioned their special dishes, location, and timings separately for your convenience. You can take a glance and decide which food, restaurant, and locality suits you best and plan your visit accordingly