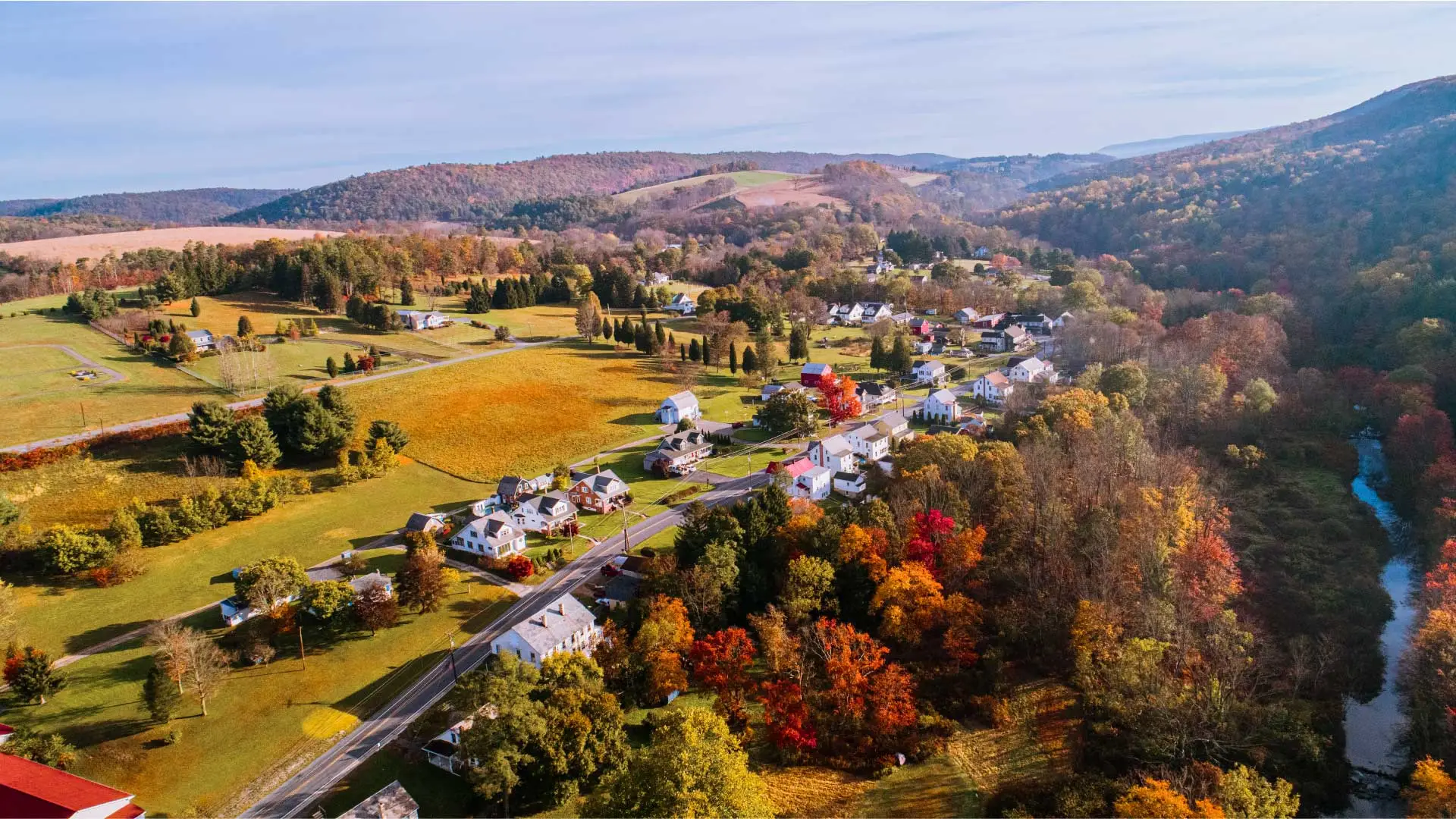 Once a sporty, always a sporty. Whether it is summer, winter or fall, an agile and lively-spirited human always looks for outdoor opportunities. To make their task easy, we are providing some of the best fall activities and their respective venues in the Poconos mountains. 
1. Hike on the Poconos happy trails!
Shohola falls trail-The beginner-friendly trail
 Shohola falls trail is pure bliss for people who love beauty and adventure equally. Visit the place in Autumn morning and feel enchanted by the cascading Shohola waterfalls gushing into the rocky canyon of mountains. Try hiking with your kids or the potential hikers to give them a taste of hiking. Celebrate the moment of peace while appreciating the sound of water flowing from the rocky mountains.  
The total distance of the loop – is 0.62 miles
Time taken to complete the trail– 14 minutes
Caution- Dogs are allowed however keeping them on a leash is mandatory
McDade recreational trail- The biker's trail
"Fall beauty is where nature is". The saying stands true in the context of the McDade recreational trail. The fusion of the breathtaking blue sky and the green surrounding appear surreal during the fall season. Talking about the activities, the mixed difficulty level of trails adds up as a benefit for a hiker of every level. 
Distance of the McDade trail- 32 miles
Time to complete the trail- 7 hours 4 minutes
Wallenpaupack trail is one of the most suitable trails for people of beginner level. This easy and gentle 2.6 miles trip along the Big lake is nothing less than a blessing for families who are interested yet not experts when it comes to hiking. As the visitors move along their way, they come across places like the Wallenpaupack visitors centre and Wallenpaupack environmental education centre. Additionally, you can also take a stroll at 1.2 miles on Wallenpaupack creek trail to get a close-up view of the Poconos. Wildlife.
Distance of Wallenpaupack trails- 2.6 miles out and back trail
Time to complete the trail- Approximately 50 minutes
This 300 feet cliff was named after Washington Author Irwin by his close friend "Philip Hone". Philip Hone was the first president of Delaware, first mayor of New York city and namesake of Honesdale Borough. The moderately challenging trail is not only famous for scenic views but also for activities like hiking, biking and birding. And if you want some alone time in the vicinity of natural beauty, the Irving cliff trail can be one of the best options on your solitude spots checklist.
Length of the Irving trail- 1.6 km
Time to complete the trail- 35 minutes
2. 
Hold your horses in Poconos' horseback riding 
Mountain creek riding stable
Feel your hair flying in the air while you ride on a stallion in the Mountain creek riding stable. Not to forget, the beauty of the stable's natural surroundings becomes tenfold in the leaf-peeping season- fall. And the best part about this spot is that you don't have to be an experienced rider to partake in horse riding activity. An experienced guide will accompany you throughout your time on the horse if you feel nervous during the deed. Additionally, the stable offers group trail rides for family and friends, pony rides for young children and private trail rides for experts. Mountain creek riding stable is open all 7 days a week so you don't have to go through your schedule while planning a visit.
3. Explore the lakes and recreational areas
 Delaware Water Gap recreation area
The true colours of nature fall foliage decuple in the September- October month. With 150 miles of hiking trails, the area offers breathtaking areas to indulge in adventure activities and nature photography. Experts often recommend future travellers take route 209 if they love scenic drives and awesome natural beauty.
Nothing feels better than enjoying the Wally lake fest that happens every year during the fall season. Whether it is relaxing in family-size pontoons or giving paddleboarding a try, no other lake is as heavenly for the fall season as lake Wallenpaupack. Additionally, you can also visit the Lakehouse marina located at a distance of 5 miles from Lake Wallenpaupack. 
4. Shoot a 4 at Poconos' golf club
The country club at Woodloch springs
Experience spring colours while playing at this 6579 yards golf course. The lush green forest, meadows and wetlands of the country club woodloch await your presence. The golf course provides the facility of 18 holes, 4 sets of tees and alternating pin placement. Additionally, the club is also popular for offering instructional programs for novices and intermediate players. And when it comes to food and activities, the country club is there to provide you immense joy with its deleterious cuisine and first-class game sessions.
Paupack hills golf course
Features like narrow fairways, 5 water hazards, 48 bunkers and undulating greens surely make the Paupack hills golf course suitable for players of every skill level. Opened in 1974 and designed by the designer Tom Fazio, this golf course is a perfect example of beauty, authenticity and style. On the other hand, the joy of playing golf in the leaf-peeping season is a good fortune for the ones who want to up their game during fall. Despite its hilly landscape, this 18-hole golf course offers a very straightforward and smooth outlay to the players. 
5. 
Reel in a big one while fishing at the Poconos 
These 422 acres of Promised land state park promise you every recreational activity during the fall season. However, fishing is its speciality. Indulge in fishing during daylight hours of the fall season and catch species like largemouth and smallmouth bass, Pickerel, Muskellunge, Catfish, and Trout. Sunfish and Yellow Perch. However, you should not catch Trout during the fall season as its season wraps up around Labour Day weekend. 
This 345 acres of a lake in Poconos provide a clean and beautiful surrounding for fishing during the fall season. People in and around the Poconos visit the spot, especially for fishing. The fishing category comprises smallmouth bass, Walleye, Crappie, Bluegill, Perch, Chain Pickerel and Catfish. 
6. Train rides and some fascinating times
Stroud Bridge line offers 3 main rail options apt for the fall season- Pocono Express, Foliage limited and Honesdale Express.
Does leisure time beside rivers feel like an awesome idea? Well, Pocono express brings your idea to life. The 1.5-hour-long excursion of the Lackawaxen river with Pocono express is something you will always cherish. Visit the place with family or friends and capture these moments in their camera or your memory. 
Foliage limited 
As the name suggests, the trip is famous for fall foliage in Poconos. Take the foliage Poconos trip in October to experience the most visually pleasing scenes. Enjoy the most beautiful autumn colours while your train takes you on a 25 miles long journey touching delightful nature spots in the Poconos.   
Honesdale express
Explore historical sights of Honesdale town. Imagine yourself sitting in the time machine era while the Honesdale express takes you through the town's old buildings and monuments.   
     4. Lehigh Gorge scenic railways
Some like greenery and lakes while some find nature incomplete without wildlife. It is for this latter category that the Lehigh Gorge scenic railway is total bliss. Not only will it take you on a stroll to mountain landscapes, and altitudes but also wildlife-rich areas. Whether it is feeling warm during springs or cool breeze during fall, every season in Poconos is soothing with Lehigh Gorge scenic railways.
Best place to stay in Poconos during fall foliage
The beauty of foliage becomes tenfold in the Poconos mountains. Poconos is a heart-winning travel destination known for its vibrant scenic views, astonishing recreational areas and comfortable vacation rentals for fall season. If you are planning to spend your fall foliage days in the Poconos, book holiday keepers for homely space, world-class amenities and activity areas located nearby the properties.